Features
Men In Black International: release date, trailer and more
Men In Black International cast, trailer, release date, photos, news and everything else you need to know about Earth's last defence
Sony seems to have settled on a spin-off approach as it looks to build on its Men In Black series of movies. Following the template set by Jurassic World, it's pressing ahead with a fourth movie in the series, which will bring in new characters within the same universe. As such, don't expect Will Smith and Tommy Lee Jones to appear in the new film.
Instead, Chris Hemsworth and Tessa Thompson (Thor: Ragnarok) are reuniting to headline Men In Black International, and is it wrong to be so excited about this already? We're being carried along on a wave of enduring love for the Revengers of Ragnarok!
Anyway, yes, news is starting to leak in from all corners about MiB4 and we've rounded it all up for here. Check back for regular updates as we get them.
Men In Black International trailer
The first trailer arrived just ahead of Christmas, giving us a peek at some of the action we can expect. See Tessa Thompson get fitted for the iconic suit! See the team drive a flying car! See Chris Hemsworth planning to eat a taco at 9.30 in the morning! Check it out…
Men In Black International release date
Men In Black International is due to be released in UK cinemas on 14 June 2019.
Men In Black International first look
Chris Hemsworth revealed the first look at the film via his Twitter account, posting a still of himself and co-star Tessa Thompson suited and booted on the streets of London (hence the International of the title), brandishing some funky-looking weaponry and "ripping aliens a new one".
In a follow-up tweet, Hemsworth continued: "We immediately drew our laser guns and took down one of the largest crime syndicates in the city. Happy to say the streets of London are now safe again. You're welcome, world."
Men In Black International plot
Men In Black 4 is a sequel, but it's also very much a reboot – hoping to kickstart the franchise for a whole new generation who might not even have seen the originals. 
At one point, the film was going to be a weird crossover comedy with 21 Jump Street called MIB23 – but that idea seems now seems to have branched off into a separate project that still somehow seems to be sort of in development. 
We don't know much about the plot specifics just yet, but we obviously know that it's going to involve Agent H (Hemsworth) and Agent M (Thompson) working together to fight the scum of the universe.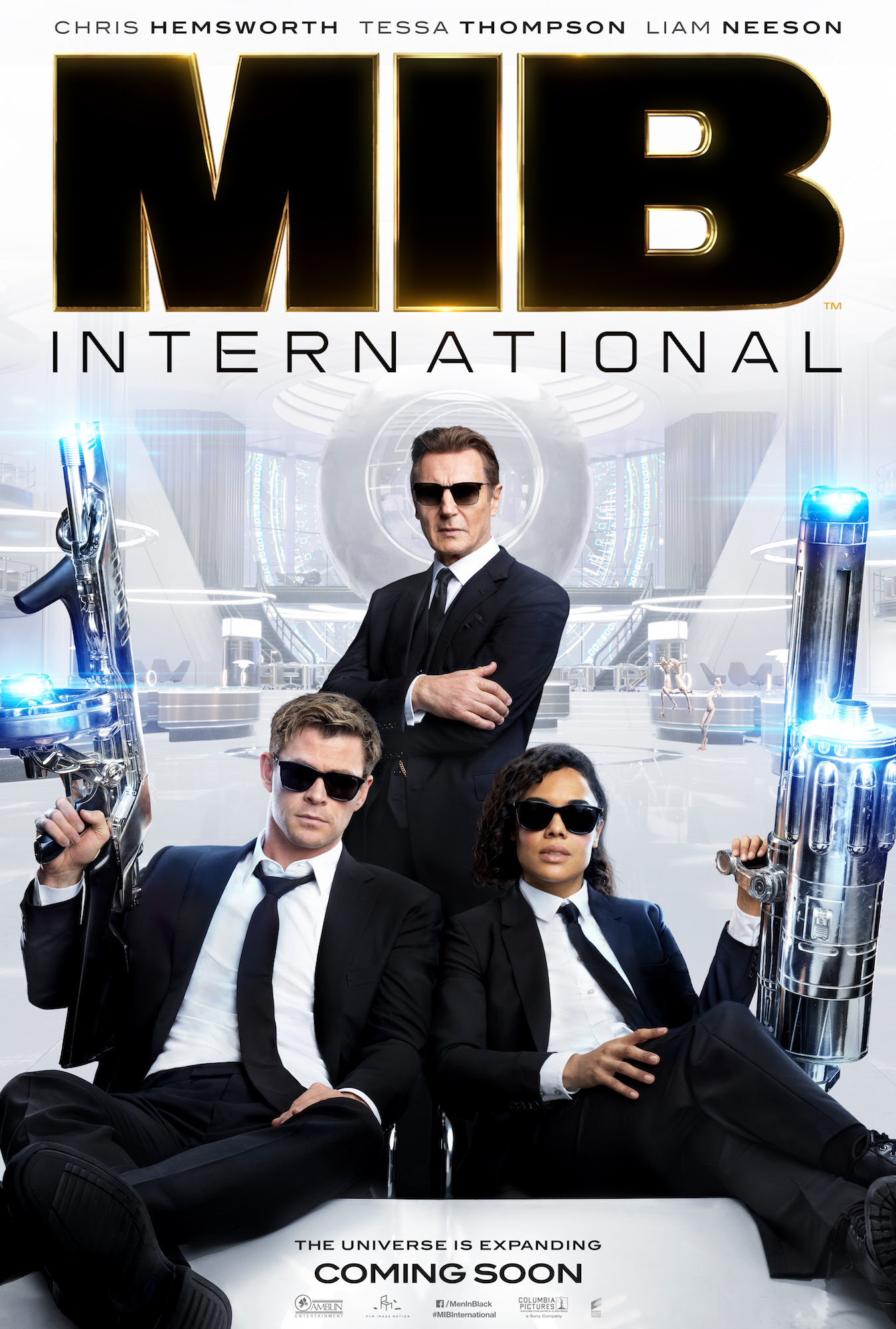 "We're trying to put a lot of humour in it like the previous ones," Hemsworth told Variety. "These are obviously some big, big shoes to fill, so we're working our butts off on it to make something pretty epic and fun.
"They're trying to change up the locations, make it feel unique and different to the last ones as well. So I think you might even see some different countries, maybe. Some different cities than you've seen in the previous Men In Black movies."
Thanks to Hemsworth's wrap-day selfies (see below) we know that those locations include London, Morocco, Italy and New York – making this sound more like a Bond movie than a MiB sequel. 
Men In Black International cast
F Gary Gray (The Fate Of The Furious) is directing this one, from a screenplay by Matt Holloway and Art Marcum (who wrote Iron Man). Steven Spielberg is on board as executive producer too, so the pedigree behind the camera is pretty high.
Obviously, Smith and Jones aren't returning (but don't rule out a cameo), but Hemsworth and Thompson are taking their place as the film's two mismatched agents.
Liam Neeson was the first co-star named for the film, joining the cast as the head of the UK MiB. We also know that Emma Thompson will reprise her role as Agent O in this fourth movie, being (possibly) the only link between this film and the three that came before it. 
Neeson found himself involved in a bit of controversy early on in 2019 while promoting his latest flick, Cold Pursuit. His comments, as you may know, were extremely not good, and ended up in him admitting he roamed the streets as a younger lad, looking for any black person to murder in cold blood, after one of his friends was raped by a black person. Then he ended up doubling down on it. Extremely, extremely not good.
"If they can magically de-age every actor in the MCU [Marvel Cinematic Universe], they can digitally replace Liam Neeson in MIB and they should," said one Twitter user about Neeson's forthcoming appearance in MIB4.
While we're not aware of any confirmed plans to digitally replace Neeson, it's a very real possibility that his role could be minimised before the film's release.
The Big Sick's Kumail Nanjiani is also set to play "Pawny", a comedy alien sidekick, and Rebecca Ferguson has signed on to play… someone. Since the cast list already seems pretty full, it's a pretty good bet that she'll be playing some kind of baddie. 
Last up, Rafe Spall is also signed-up in a supporting role, alongside French dancing brothers Les Twins – aka Laurent and Larry Nicolas Bourgeois – who are best known for being back-up dancers for Beyoncé… Dancing twins might sound a bit weird, but if the new film doesn't at least try to top this music video, we want our money back:
Men In Black International filming
Filming began in London in July 2018, and wrapped on 17 October.
A couple of behind the scenes pics from the UK shoot leaked online, via Dark Horizons. Embiggen the pics below for a closer look at the (admittedly, fairly fuzzy) snaps…
Hemsworth marked the end of the shoot by posting a set of lovely selfies. Click the pics below to see them all, but honestly, they're all just snaps of Hemsworth pouting with his co-stars.
The only things the post does reveal are the locations that the film was shot in, with Hemsworth name-checking London, Morocco, Italy and New York. 
"Thanks to all the fantastic cast and crew who took part on this epic journey and our director F. Gary Gray," he tweeted. "Cheers for the fun times, big laughs and solid memories. Can't wait to show what we've put together."