News
Mel Gibson is a Gun-Toting Santa Claus in Fatman Trailer
Yes, you read that right: Mel Gibson is Santa Claus, but in a bullet-firing action movie called Fatman.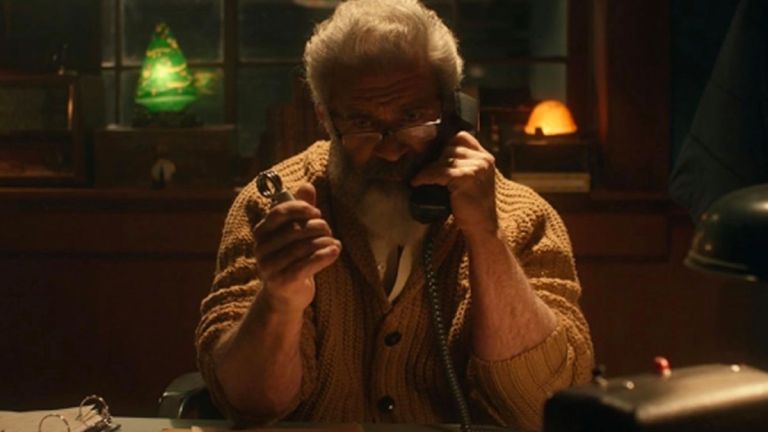 In what is definitely not a case of conventional casting, Mel Gibson is playing Santa Claus in this year's action-comedy hybrid, Fatman. And he has the gun-toting trailer to prove it.
As revealed in the latest bit of marketing, Fatman marks the first time someone has looked at Gibson's often resplendent gray beard and said, "Santa." The Oscar winning filmmaker who's also notorious for virulent outbursts is going to portray that not-so-jolly Chris Cringle in this new movie from the writer-directing pair of Eshom and Ian Nelms. The two, who previously helmed Small Time Crime, direct Gibson as a Santa at the end of his ropes. Business is declining and to make ends meet, Chris has partnered with the U.S. military to deliver toys to good little boys and girls. Unfortunately for some, he also still delivers coal.
Thus enters 12-year-old boy Billy (Chance Hurtsfield), a precocious and naughty lad who is infuriated by receiving a lump of coal for Christmas. So he retaliates by hiring Walton Goggins as a hitman appropriately credited as "Skinny Man." In a battle of Skinny versus Fat, Goggins' hired gun is sent packing to the North Pole where he's expected to put a bullet in Santa's head. But as Gibson's Santa already contends in the trailer, "Some kids with a deer rifle put two holes in the sleigh and one in me. All I have is a loathing for a world which has forgotten me."
But a Santa without hope is a Santa without fear, and with antagonistic forces rising among his allies and new enemies, he will celebrate "the season for Fatman to get even," as per the film's press release.
It's an obviously gonzo premise and one that defiantly wallows in its bad taste. But the idea of "Dark Santa" stories is nothing new. From horror slashers about maniacs in Santa costumes like Silent Night, Deadly Night (1984) to actual thrillers where Santa is a force to be reckoned with, a la Rare Exports (2010), scary Santa is a staple of B-cinema. But never has he been potrayed as a weathered and aging action her or played as such by an Oscar winner—who has a checkered history both on and off the screen where matters of religion are concerned.
Fatman also co-stars Marianne Jean-Baptiste and is due to arrive early for a little anti-Christmas cheer on Nov. 13 in theaters, and Nov. 17 on VOD.