Features
Mary And The Witch's Flower interview
Ahead of its UK release, we talk to the director and producer of Mary And The Witch's Flower, and their new studio, Ponoc...
If you loved the output of Studio Ghibli – Spirited Away, Kiki's Delivery Service, Ponyo, and so forth – then you'll no doubt fall for Mary And The Witch's Flower, too. A delicate fantasy about a little girl, a broomstick, and her adventures in the English countryside, it has all the visual flair you came to love from Japan's most venerable animation house.
There's a good reason for that, too: Mary And The Witch's Flower is the debut from Studio Ponoc, a firm set up in 2015 by several staff who worked together at Studio Ghibli. Its founder is Yoshiaki Nishimura, the producer who collaborated with Isao Takahata on his last film, the electrifying Princess Kaguya. Mary's director is Hiromasa Yonebayashi, a longtime Ghibli animator and the director of Arietty and When Marnie Was There.
All that experience shows in Studio Ponoc's debut: Mary And The Witch's Flower has all the colour, movement and depth of a Ghibli film, as well as other themes and story elements that Hayao Miyazaki himself would no doubt recognise.
With Takahata's passing earlier this year and Miyazaki working on what might be his final film right now (he retired in 2014, only to emerge again a couple of years later), it's not currently clear what the future holds for Studio Ghibli. But for hand-drawn animation in general, it seems to be in safe hands with Studio Ponoc – and its founders certainly seem optimistic about the future of their chosen medium.
As Mary And The Witch's Flower makes its UK debut, here's what its director and producer had to say about its making, their new studio, and their memories of the late Takahata-san.
This is no doubt an obvious question, but choosing the right project was surely vital, because it also establishes the tone and identity of a new studio and what it makes next. Can you talk a bit about that?
Hiromasa Yonebayashi: After we left Studio Ghibli and launched Studio Ponoc, we wanted to portray a girl who's full of energy. Our previous work, [When Marnie Was There], was about the internal journey of a girl – it was a very, very quiet piece. We wanted to portray something completely opposite with Mary; we wanted to portray a girl who acts before thinking, and we wanted the work to be full of action. We were looking for an original text, and that's when we encountered this book.
Also, I worked at Studio Ghibli for 20 years, and we learned the beauty of hand-drawn animation through working there. We wanted to create a work packed with the charm and beauty of hand-drawn animation.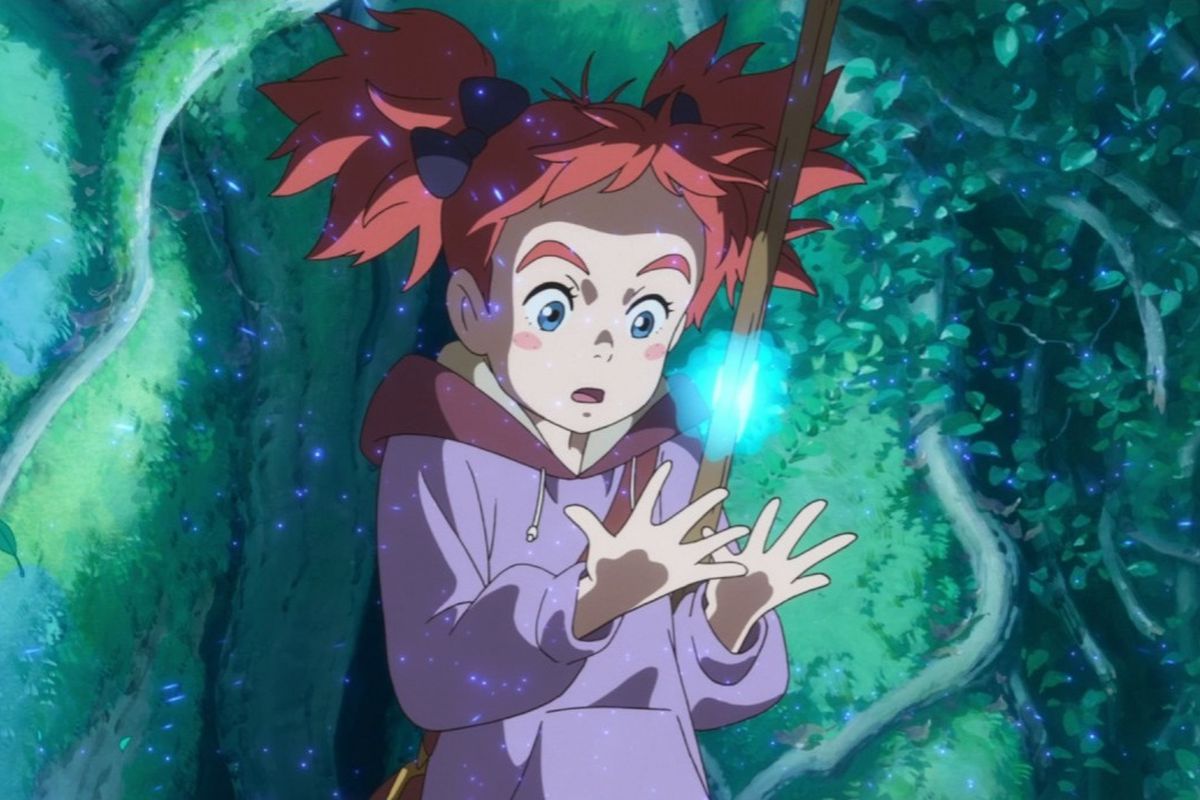 As you say, there's a lot of action and movement in this film, compared to Marnie. Can you talk a little bit about how you devised the action in Mary?
HY: There's the original book, but we had to create a lot of visual aspects from scratch. It's a fantasy world – for example, Endor College, we had to design that from scratch. We had a lot of discussion about what it should look like. For example, in Harry Potter, it's sort of a gothic style, but gothic wasn't right for this design. With Mary, it's more of a mixture of architectural styles. Lots of animals get formed into other creatures – those were designed from scratch. It was very hard, but at the same time it was enormous fun.
So how does the working culture at Ponoc compare to Studio Ghibli? Because obviously it's new, and you don't have figures like Takahata and Miyazaki there, overseeing things.
Yoshiaki Nishimura: With Studio Ghibli, all of us created work that Mr Miyazaki wanted to make. Towards the end of Studio Ghibli, the character of their work deeply related to their lives – themes of life and death. So the approach with Studio Ponoc, we share the same values as Mr Miyazaki and Mr Takahata – we want to make films with the same values and the same beauty.
Now that both Mr Yonebayashi and I have children, when we were making Mary, they were between nine and 10 years old. Now they're 10 to 11 years old. We had a clear vision that we wanted to make a quality film for children that could also be enjoyed by adults. We have a strong belief in this, and we'll go on believing this. That's the main difference between Studio Ghibli and Studio Ponoc.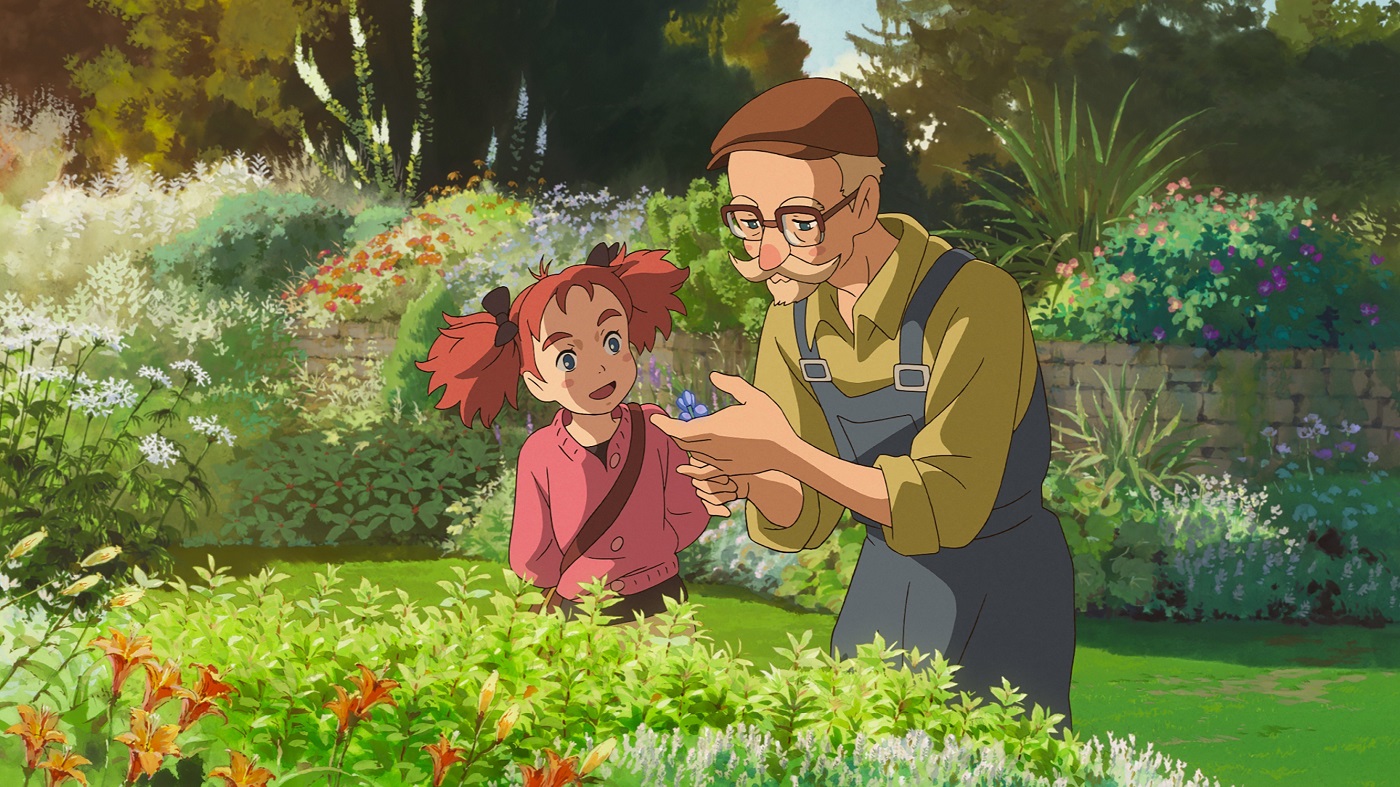 Are you pleased with the reception Mary's received in Japan so far, and have you decided what you want to make next? Do you have a project in mind?
YN: Mary's been shown in many different countries, and we've seen lots of people enjoy the film, so we're very grateful. What we created will, we think, resonate with people everywhere, beyond their country or age. That's what we wanted to do with Mary – you have to be more universal, so that everyone can feel that they can relate to it.
HY: I'm working on a short film which will open in the summer this year. Three of us are also making short films. And on top of lots of hand-drawn animation, we're going to mix in lots of new computer graphics [techniques] as well – we're working with a new team, and still exploring what our next work is going to be.
Very quickly, I wonder if you could share your memories of Isao Takahata, because he very sadly passed away recently.
YN: I worked Mr Takahata for 15 years – I produced Princess Kaguya as well. Very close to his sudden death, I met with Mr Takahata, and we were talking about a film we would have liked to have made together. I have a deep respect for Mr Takahata, and everyone at Studio Ponoc was deeply saddened by the loss. Our respect for him will  continue, and we're determined to inherit his philosophy and will carry on making animation.
Thank you so much for your time.
Mary And The Witch's Flower is out in UK cinemas on the 4th May.