Reviews
Magic Mike XXL review
Channing Tatum returns to headline Magic Mike XXL. It's better than you think...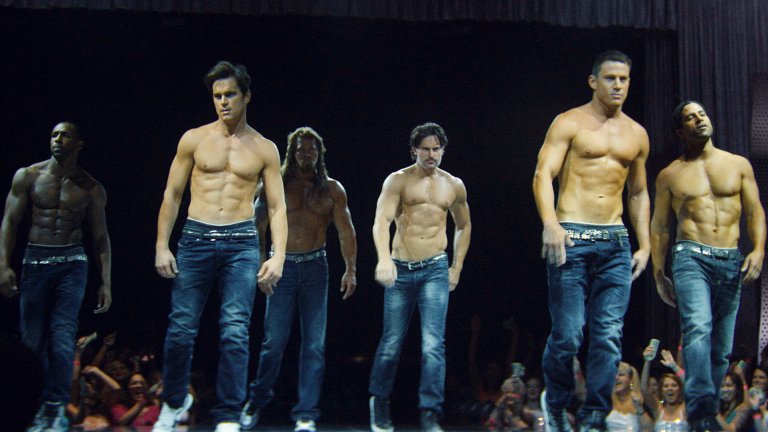 The gradual reveal of Channing Tatum as a box office magnet and sorely underestimated movie star was staggered over the first half of 2012. The Vow and 21 Jump Street were both hits that showed off opposite sides of his range, but his two collaborations with Steven Soderbergh set him on his current path.
Long renowned as an actor's director, Soderbergh cast Tatum in a minor role in Haywire, which is how he came to be attached to Magic Mike, a semi-biographical project based on the actor's experiences as a stripper in Tampa, Florida. The latter was a sleeper hit that assured Tatum's status as an A-lister, but a sequel hardly felt inevitable.
However, in the same week as Terminator Genisys has shown just how low the bar is for sequels, Magic Mike XXL turns out to be good counter-programming by expanding upon and ultimately surpassing the first film in just about every way imaginable. And as it turned out, the first thing that had to go was all of that pesky plot.
Three years after the first film, "Magic" Mike Lane (Tatum) has managed to get his beach Womble enterprise off the ground, selling his handmade flotsam and jetsam furniture. Business isn't bad, but it's not so good that he can afford to pay for his lone employee's health insurance either. Unusually, financial gain isn't what spurs Mike to return to stripping.
Nevertheless, the former Kings of Tampa – Big Dick Richie, (Joe Manganiello) Ken, (Matt Bomer) Tarzan (Kevin Nash) and Tito (Adam Rodriguez)- come calling as they're about to head on a road trip from Florida to South Carolina, planning their final show as a group at a prestigious convention.
Mike eagerly joins them as they pile into a food truck and set off, with work phones and old costumes literally going out of the window as they resolve to freshen up their act for one final fling. It's a far cry from the recession-era character study of the first film, which has been tossed aside like so much surplus clothing in favour of making this an outright comedy.
The stage sequences are stepped up considerably too, as you might expect from the size label in the title. Soderbergh, who has retired from directing since the first film, returns as editor and cinematographer (under a pseudonym) for now director Gregory Jacobs and brings the experience of last time with him as the choreography and staging become ever more elaborate and impressive.
The flimsy plot set-up also has some similarities with this summer's Pitch Perfect 2, (and even cements Elizabeth Banks as the gatekeeper of Hollywood's most unlikely national conventions in a similar role) but there's no competition to be won, or even any pressing need for the characters to get back into stripping.
As a result, the film has a loose and episodic road trip structure, in keeping with the lighter and funnier approach. But Magic Mike was marketed as a lighter and funnier film than it turned out to be and XXL isn't just baiting the hook again. It's giving the audience what they want and its characters are held to the same standard.
When the gang set off, sans Matthew McConaughey's MC Dallas, Mike suggests that if they're doing this again, they should do it their own way – none of the Kings can fathom why pyrophobic Richie would continue to stick to his fireman act so stubbornly. The tone of the whole film is emphatically set by the following scene, in which Richie is challenged to make a grumpy convenience store clerk smile with a drug-fuelled impromptu performance that stands as the most hysterical sequence of the film.
Whatever the more mercenary reasons behind Warner Bros greenlighting this sequel, the characters aren't giving lap dances to pay the rent this time – nobody has embarked on this trip for any reason other than pleasuring women, of all shapes and sizes, and never making that pleasure into the butt of the joke.
The film wouldn't pass the Bechdel test, but it's the ultimate proof of why that oft-cited mantra isn't a box-ticking measure of what makes a film's gender politics good or bad. Just in case every subsequent scene of female-focused performance doesn't hammer the point home, it's firmly underlined by another line later on when Mike drops the line "My God is a she" into conversation with fellow traveler Zoe (Amber Heard).
Zoe gets short shrift compared to Cody Horn's Brooke, who served as Mike's previous love interest, but the other new female characters measure up better. Jada Pinkett Smith is on fire as Rome, the MC of an exclusive club where she praises the female clientèle as queens, and Andie McDowell makes a surprisingly ribald appearance as a divorced southern belle who wants to get back in the saddle and brings a particularly ludicrous sub-plot to its climax in the process.
The returning male cast give hugely athletic and likeable performances throughout dance scenes and bro-downs alike, with Tatum pulling off the most impressive moves and Manganiello stealing most of the funnier scenes. There's also a surprising stand-out turn from Community's Donald Glover as a character who would have fit right into the first film as an aspiring musician who moonlights as a performer at Rome's club, but he too has a great monologue that chimes more with the sequel's position about how making people happy is its own reward.
We've written a fair amount about this year's mainstream erotic cinema thus far, including 50 Shades Of Grey and The Boy Next Door and we realise that not all of our readers aren't necessarily the target audience for Magic Mike XXL. Speaking personally, the first film wasn't my cup of tea, but this one won me over with easy charm, marvellous technical craft and an earnest and genuine approach in all things.
Whether you feel you would be into this or not, it's objectively the most positive film about male and female pleasure that we've broached all year, and inarguably the best film of the bunch too. Neither of the aforementioned films took much pleasure in sex in the end, but this sequel gleefully flaunts some mind-boggling pelvic sorcery and offers no more than a fun time with no expectation of a follow-up in the offing. Most refreshingly, it leaves you feeling that if Magic Mike Triple X should materialise in the next couple of years, it will be because the audience wants it.
All in all, it's a film that lives up to its title. Magic Mike XXL is a couple of sizes up from its more thoughtful predecessor – a shallow, preposterous and yet entirely enjoyable cocktail of burlesque and bro comedy. It bombards female characters and viewers alike with good humour and tremendous choreography with no more ambition than to put a smile on their face and as it turns out, there can be no nobler goal for a film about, er… male entertainers.
Follow our Twitter feed for faster news and bad jokes right here. And be our Facebook chum here.