Features
How Lord of the Rings Influenced The Green Knight
Director David Lowery and Dev Patel reveal the inspirations and secrets behind The Green Knight.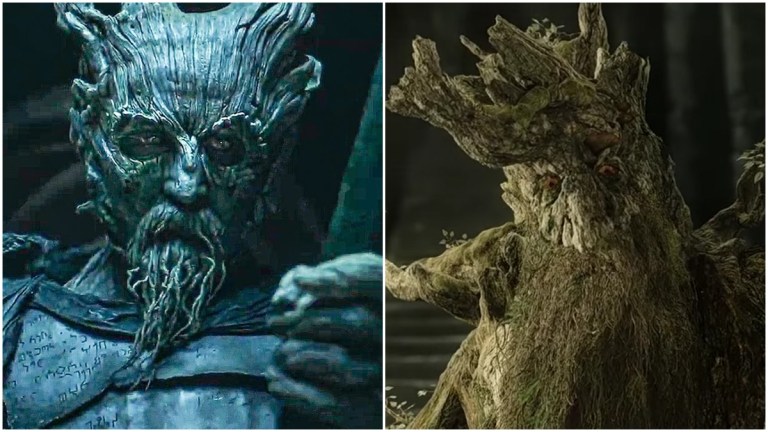 To this day, scholars will debate with you exactly why the Green Knight is ever so green. As the ambiguous and otherworldly antagonist of the 14th century epic poem, Sir Gawain and the Green Knight, this emerald-hued force is described to be head-to-toe the color of grass. Even his majestic steed is of a viridian complexion. The story ultimately explains where the Green Knight came from, but not how or why he is the way he is.
By contrast, David Lowery has offered at least a partial answer in his version of the tale, A24's The Green Knight, which is in U.S. theaters now. While Lowery's film basks in the nuances and subtleties of the original text, and adds some of its own, there is no confusion about what the Green Knight is. Appearing like a pagan god assembled from the foliage and dead weeds and barks of the forest, the titular character played by Ralph Ineson in the film appears as much like the pagan symbol the Green Man as he does a knight of an unusual hue.
When we sat down with Lowery and actor Dev Patel to discuss their new film, we brought up how Lowery dreamed up such a wild interpretation of the character, and intriguingly the director credits another writer who was a famous advocate for Sir Gawain and the Green Knight: Lord of the Rings author J.R.R. Tolkien. It should also be noted that Tolkien provided the definitive translation of the poem from Middle English in 1925.
"For me, I did a lot of sketches early on of what I wanted the Green Knight to look like," Lowery says. "I always knew he would look like he was made out of a tree. I love the Ents from Lord of the Rings and I wanted the Green Knight to be a cousin of Treebeard, so to speak."
Lowery refers to the walking, talking tree-giant of Fangorn Forest who first appears in the second literary volume of LOTR, The Two Towers. The character was also voiced by John-Rhys Davies in Peter Jackson's Lord of the Rings film adaptations. However, while Treebeard was mostly computer-generated in that film as the Ents marched on Isengard, Lowery ultimately opted for something more tactile in quality for The Green Knight.
"We thought about using a puppet, an oversized puppet, to portray the Green Knight, or a combination of animatronics and an actor," Lowery explains. "Ultimately though, I realized the best thing to do would be to have a really great actor whose performance would shine through whatever prosthetics we put on him. And Barrie Gower, who did all the makeup for Game of Thrones, he designed and built the prosthetics around Ralph. And the great thing about Ralph is that he is an incredibly imposing actor. He's very tall, his voice is unmistakable, but he's also a comedian. He is really funny, and I love that he was able to play the Green Knight with a twinkle in his eyes. Even though his eyes are covered in this contact lens, you still see that twinkle there."
Patel, who played several pivotal scenes across from Ineson in the makeup, including when his Gawain beheads the Green Knight with Excalibur only for his foe's severed head to laugh at him, attests to the effectiveness of the approach.
"His voice can send shivers down your spine," says Patel. "I remember just being at breakfast in the hotel, and you can hear when Ralph is in that breakfast. You hear him [like] the voice of destiny across the way. But yeah, he was amazing. [It's] a testament to his personality that he was never bemoaning that the costume was heavy. I remember there was a tiny little hole they poked inside of the thing, and sweat was just oozing out and not a single pore of his skin is [visible]. It's all covered."
Despite his prosthetic entombment, Ineson was always able to offer an imposing presence, even when he played the Green Knight with a perverse fatherly sweetness. In one critical scene, Lowery recalls he told the actor to play the Green Knight like "you're Santa Claus." As he recounts that note now with a chuckle, he turns to Patel and asks, "How was that for you? Did [Santa] come through at all?"
Patel responds, "I was consumed with terror. I wept myself into a frenzy."
The Green Knight is playing in U.S. cinemas now.