News
Kevin Smith Reveals Trailer for New Film Killroy Was Here
Kevin Smith unveils the first trailer for his horror movie Killroy Was Here. He also gives a timetable for a release date.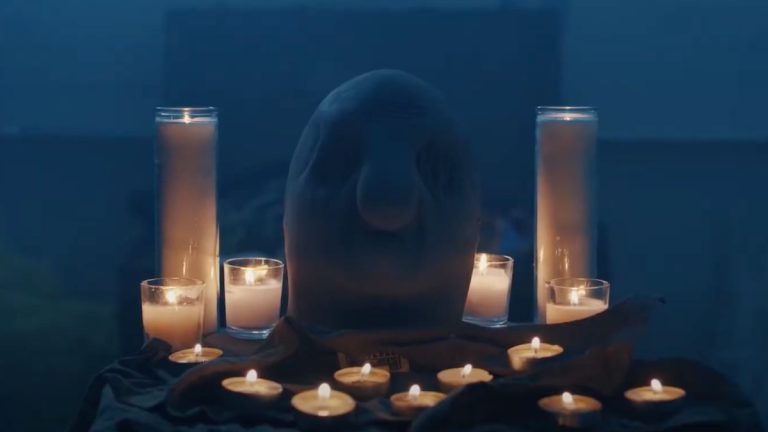 Once upon a time Kevin Smith had a dream to make a Krampus movie—a horror anthology film based around the anti-Santa Claus monster of Germanic folklore. But then Michael Dougherty went and made Krampus in 2015, so Smith had to improvise. Luckily this is the guy who made Clerks for $28,000—being creative with resources is kind of in his wheelhouse. Thus began the genesis of Killroy Was Here, an all-original horror movie that looks to be very much in the vein of one of Smith's previous cult chillers, Tusk.
A film that Smith made in tandem with students at the Ringling College of Art and Design, Killroy Was Here has been a bit of an enigma for Smith fans over the years. Working from a screenplay by Smith and Andrew McElfresh, Smith and his crew of budding filmmakers began shooting in Sarasota, Florida in 2017. But after Smith suffered a heart attack that same year, the movie's fate became a mystery. But that is no longer the case after Smith debuted "a trailer" (he hesitates to call it the trailer) during his Comic-Con@Home panel Saturday night.
"I had a heart attack and it all went away for a little while," Smith said during his digital An Evening with Kevin Smith fireside chat. "Then I went vegan, lost some weight, and finally I could go back out into the world… So I went back to Sarasota, and the kids came back, and we all went back to work on Killroy, and it was just bliss. Then we made Jay and Silent Bob Reboot, so Killroy kind of went to the backburner. Now that Jay and Silent Bob Reboot is done, Killroy has moved back up to the front, and so we're almost finished with this, almost ready to take it out into the world."
Describing the film as a horror anthology in the tradition of Creepshow (or V/H/S, he adds for those younger than 40), Smith revealed that it is a series of short stories all circling one original, monstrous creation.
"It's got a theme that runs through it, in as much as our monster Killroy, and all these little stories that happen around him," Smith said. "He's kind of like a kid Avenger. If you fuck with kids, Killroy will show up." In the below trailer, which begins at the 48-minute mark, you can see for yourself what kind of a show this Killroy puts on… plus Jason Mewes as a Bob-ified janitor!
While the trailer only briefly glimpses the monster and his phallic nose, it may look familiar to long-time Smith fans. Indeed, Smith confirmed during the panel that the Killroy creature was designed by Bob Kurtzman, who created the grotesque Mr. Tusk creature for Tusk, as well as "Iron Bob" in Jay and Silent Bob Reboot.
"He looks incredibly goofy," said Smith. "I was like, 'I need our bad guy to be burned and melty and shit, but he's gotta ultimately look like that Killroy drawing with a bald head and nose that hangs over the fence [saying] Kilroy was here.' And so Bob designed something that's kind of fucking horrifying but it's also horrifying and goofy at the same time. I mean, if you look real close when you see Killroy for the first time, he looks like he's got a giant dick for a nose and stuff. But basically it's supposed to be like his features were melted."
Smith also credited working with young hungry filmmaking students as the highlight of making the movie, reminding him of his early years when he was maxing out credit cards to film Clerks, a future entry in the National Film Registry of the Library of Congress.
"It was so good for the soul, because they've got the spirit of what makes it fun. Like I've talked about the experience of being on Cop Out and how it wasn't a fun [experience], because of some cats… this is the opposite of that."
Smith promised the finished film will be out by early 2021. He then added, "Maybe by the end of 2020, who knows? If we even have an end of 2020, hopefully we're all still here."
We better be, because as the title says, Killroy already is.