News
Justice League: The Snyder Cut Teaser Footage Reveals Darkseid
Check out the first unseen footage from The Snyder Cut of Justice League, coming to HBO Max in 2021.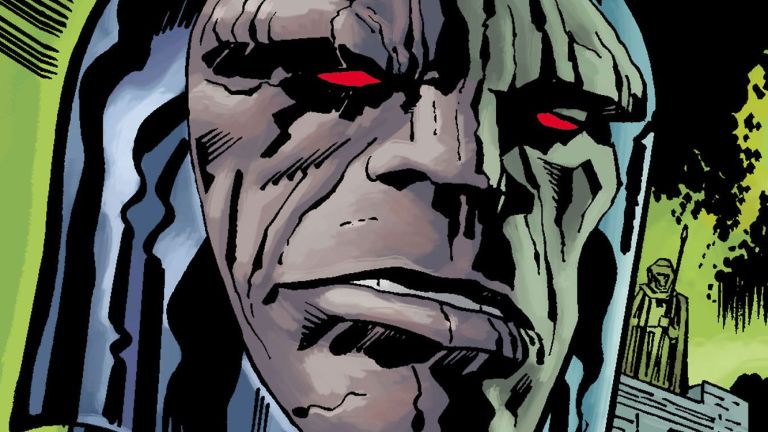 Warner Bros. is wasting no time in hyping up Zack Snyder's Justice League, the legendary "Snyder Cut" which will finally make its debut on HBO Max in 2021.
The Snyder Cut footage was first revealed via Jason Momoa's Instagram page before it made it to official HBO Max channels. Momoa has long been a vocal proponent of the #ReleaseTheSnyderCut movement, and it was Snyder himself who pursued Momoa for the role of Aquaman.
The big hook here isn't the ancient depiction of Darkseid that it appears Gal Gadot's Wonder Woman has stumbled on (and been unsettled by), even though this is indeed new footage. Instead, it's the reveal of actual footage of Darkseid. While that's the same image of the character we've previously seen in stills and concept art, it's still a big deal to get him here.
Check it out:
Diana definitely recognizes that image of Darkseid, and it's probably calling to mind that flashback scene from the movie where we saw the early days of the DCEU with the Amazons, a pantheon of heroes, and even a Green Lantern taking on the armies of Apokolips.
That voiceover you're hearing is Jesse Eisenberg's Lex Luthor, and the infamous monologue from the end of Batman v Superman: Dawn of Justice, where he was predicting the arrival of forces from Apokolips. At the time, it seemed pretty clear he was referring to Darkseid, although we ended up with Steppenwolf instead. However, Justice League's Steppenwolf didn't really have a hell of a lot in common with the DC character created by Jack Kirby, and instead was just a typical CGI-assisted blockbuster heavy. Whether that was a function of the film's original vision getting watered down in rewrites or reshoots remains to be seen.
Darkseid remains one of the greatest villains in all of comics, and his name deserves to be mentioned alongside the Joker or Marvel's Doctor Doom and Magneto. The only difference is that Darkseid hasn't had the high profile live action portrayals of those other characters just yet. Ray Porter had been signed to voice Darkseid in Justice League, so we may finally hear his performance when the Snyder Cut is released.
Speaking of which, there's no release date for Zack Snyder's Justice League just yet. All we know is that it will arrive on HBO Max at some point in 2021. Even the format of it is still a mystery, as it could come together as a very long movie (remember, it was originally supposed to be released as two parts) or it could end up as a limited series. One thing is certain, though, we're going to see LOTS more footage long before it comes out. The next date to watch is August 22, the DC FanDome event which will feature an appearance by Zack Snyder and likely a full trailer (and more) for the film.
We'll update this as more information becomes available.