News
Jurassic World: Dominion Director Says Fans 'Underestimate' Size of Original Cast's Roles
Jurassic World: Dominion director Colin Trevorrow says many are underestimating how big a part Sam Neill, Laura Dern, and Jeff Goldblum play in new movie.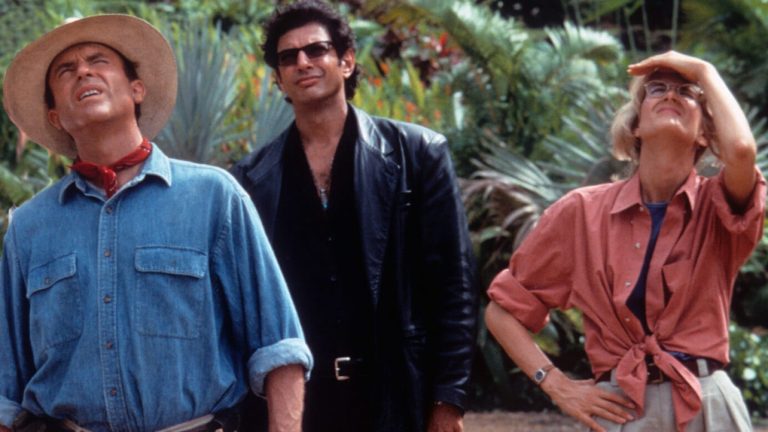 One of the most exciting things for fans of the original Jurassic Park is that the film's three leads, Sam Neill, Laura Dern, and Jeff Goldblum, will all be reprising their roles in Jurassic World: Dominion. As the third and final (at least according to marketing) Jurassic World film, the picture is intended to be a finale for both the current Jurassic World trilogy of films that began with the Colin Trevorrow-directed blockbuster in 2015, and the original Jurassic Park movies, including Steven Spielberg's 1993 classic.
Yet there has been some small skepticism in certain quarters, where it's being snarked the original trio will only be appearing for a scene or two, a la Goldblum's cameo as Ian Malcolm in Jurassic World: Fallen Kingdom. However, this is not the case, according to Trevorrow, who gave some hints about the film when we sat down to discuss the new animated Netflix series, Jurassic World: Camp Cretaceous.
"I think people may be underestimating the size and importance of Laura Dern, Sam Neill, and Jeff Goldblum's characters in this movie," Trevorrow said during a roundtable conversation with fellow Camp Cretaceous executive producer, Scott Kreamer. "It very much is an ensemble and that element, the ability to take these beloved characters from almost 30 years now, and understand how they interact with each other in the context of a world that we've never really seen before and not been able to witness until now. It's very exciting. I'm having the time of my life."
Indeed, Trevorrow again reminded fans that this is the film he's been waiting to make since first breaking the story for the first Jurassic World movie.
Said Trevorrow, "Every day, this is the movie I've been waiting to make from the beginning. I think it's the one that we've spent the past two movies building to. It really was part of a larger story, part of a design."
While the first movie scratched the itch of imagining what a fully functional Jurassic Park would look like, complete with tourists who are having fun before they become dino-chow, the sequels, particularly the one that Trevorrow is currently filming, are about realizing Michael Crichton's original fear from the source novel: Genetic science running amok and humans creating a dino-Frankenstein's Monster that will cause an extinction level event. It's a big story, and one that allowed room to finally see Neill again as Dr. Alan Grant and Dern as Dr. Ellie Sattler.
Of course even if Jurassic World: Dominion is a conclusion to the current trilogy, and an apparent ending to the stories of Chris Pratt and Bryce Dallas Howard's newer protagonists, the movie is unlikely to close the Pandora's Box that is dinosaurs in the wild. As Trevorrow hinted during our discussion, there appears to be a possibility of seeing more of the Camp Cretaceous characters in live-action movies down the road.
When asked about the possibility of seeing the characters or events of the Netflix series influencing movies down the road, the director said, "We have built a real foundation here [with the animated series] that if the audience chooses to let us go forward, we really can weave this this quilt together in a way that is really new and really exciting, and pretty unexpected. All we need is permission from the audience to do so."
The building of this "quilt" is still only a possibility, with Netflix having not yet officially ordered a second season of the cartoon. But as Goldblum's Malcolm might say, life finds a way…
Jurassic World: Camp Cretaceous is streaming on Netflix now. Jurassic World: Dominion opens on June 11, 2021.