News
Joaquin Phoenix Pays Tribute to Heath Ledger's Joker at SAG Awards
Joaquin Phoenix says he is standing on the shoulders of Heath Ledger after winning a SAG award for Joker.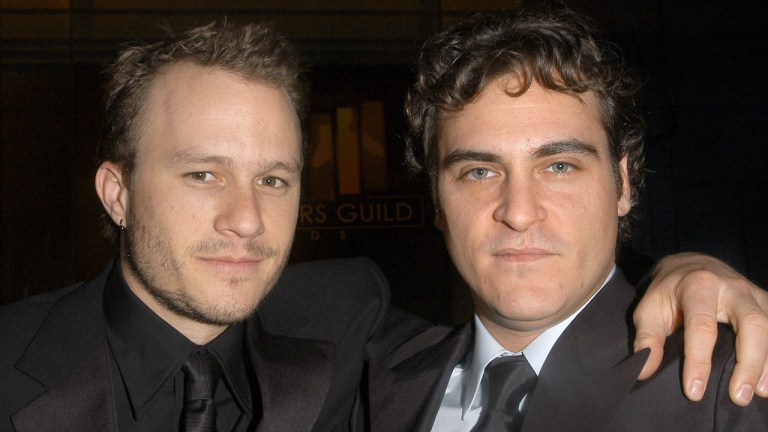 Joaquin Phoenix hails from a particular era and generation, both in Hollywood and the larger American culture it exists in. Growing up and coming of age among "Generation X" talent in the 1990s, Phoenix was of course brother to the great River Phoenix, who passed away far too soon, and friends and peers with much of the other up-and-coming talent of that time: actors like Leonardo DiCaprio, Christian Bale, and Heath Ledger. Last night, Joaquin Phoenix paid tribute to all three's presence, one way or another, when he won the Screen Actors Guild award for Best Actor due to his eerie turn in Joker.
Taking to the stage after beating DiCaprio and Bale (as well as Adam Driver and Taron Egerton), Phoenix tipped his hat to all of his fellow nominees, offering a humorous anecdote about his memory of losing many roles to DiCapiro when they were both coming up as teenagers, as well as always being in awe of Bale's commitment and work ethic. Yet, with a bit of melancholy, Phoenix also acknowledged Bale's co-star in The Dark Knight: Heath Ledger, who in his final fully completed role famously portrayed the Joker 11 years before Phoenix took a crack at the clown.
Said Phoenix, "And really, I'm standing here on the shoulders of my favorite actor, Heath Ledger."
Before Phoenix became the heavy odds-on-favorite to win the Best Actor Oscar, Ledger picked up all the same awards in 2009. His legendary turn as the Joker, which in its way was far more malevolent and gleeful than Phoenix's rather tragic interpretation, earned the late Australian actor the Golden Globe, SAG, and Oscar for Best Supporting Actor. Sadly, however, he didn't live to see any of those accolades or even the finished film, as Ledger passed away in January 2008 due to an accidental overdose of prescription drugs. He was only 28.
Phoenix himself was friends with Ledger, both arriving in Hollywood around the same era, with Ledger being five years younger than Phoenix. So it's a touching tribute and further reminder of Ledger's own legacy with the Joker character, and the loss of talent and warmth that came with it.