Features
Indiana Jones 5: Why James Mangold Replaced Steven Spielberg as Director
Indiana Jones 5 wowed fans at D23, but some folks are still surprised that Steven Spielberg gave up the director's chair. But he has his own very good reasons...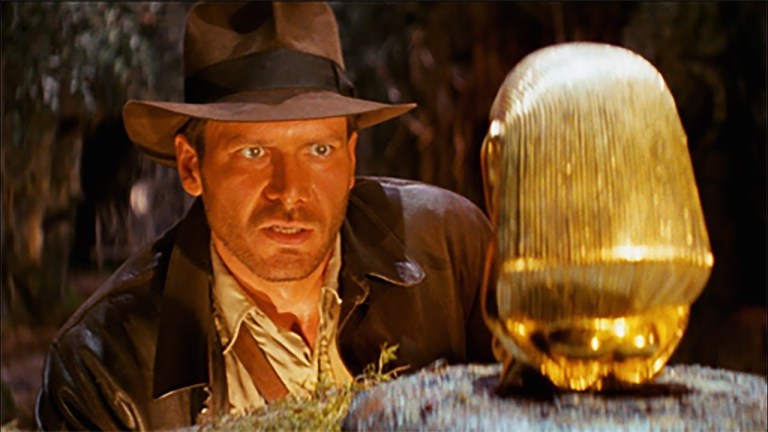 This past weekend at Disney's D23 Expo, an emotional Harrison Ford showed a room packed with Indiana Jones fans the first official trailer for Indiana Jones 5. Standing onstage alongside producer Kathleen Kennedy, co-star Phoebe Waller-Bridge, and director James Mangold, Ford said, "Indiana Jones movies are about mystery and adventure, but they're also about heart, and I'm really, really happy that we have a really human story to tell, as well as a movie that will kick your ass."
Ford also told the crowd, "This is it," confirming that this will be the last time he'll don Indiana's signature hat onscreen. Ford's exit from the franchise will come after another large piece of the Indiana Jones creative team already metaphorically hung up his own whip; director Steven Spielberg, responsible for helming the first four films in the series, handed the reins over to Mangold of Logan and Walk the Line fame. But why?
After officially dropping out of the picture back in February 2020, it was reported that Spielberg had "a desire to pass along Indy's whip to a new generation to bring their perspective to the story," according to Variety. It makes sense that after the lukewarm response to 2008's Indiana Jones and the Kingdom of the Crystal Skull, a film that Spielberg reportedly needed convincing to direct in the first place, the director would want to see fresh blood injected into the beloved franchise. Spielberg has remained onboard Indiana Jones 5 as a producer and creative consultant, which further proves the filmmaker remains dedicated to the character he had such a large hand in creating. Perhaps Spielberg knew for a new chapter to be warmly received by younger audiences, a fresh perspective from a hungry director was needed.
Enter James Mangold. Mangold, who directed the universally acclaimed last chapter for Hugh Jackman's Wolverine, Logan, as well as Ford v Ferrari, was tapped to take over Indiana Jones 5. Producer Frank Marshall told Collider that Mangold was a perfect choice because of "his love of the franchise. He's a wonderful filmmaker. I think he also has a relationship with Harrison. It was all of the right pieces coming together at the right time." Marshall added, "Steven is staying on as a producer, so we've got the best of everything."
Certain fans of the franchise have been wary of the torch passing between Spielberg and Mangold, but Mangold himself has tried to assuage fears, taking to his Twitter account to shut down unearned criticism of the picture during production. After one "journalist" told fans to temper their expectations about the project, Mangold responded directly and said, "Maybe, just maybe, I won't let you down. I cherish old Hollywood pictures. Give me a little air to make the film. Then make your judgments, okay?"
Obviously, when taking over directing duties on an iconic film franchise such as Indiana Jones there is going to be some skepticism, but when speaking with Comic Book, Mangold was sure to relay that his head and heart are in the right place, and that his experience working on Logan was particularly valuable.
"Like in all my work, I'm always trying to find an emotional center to operate from," Mangold said. "I think the most important thing is, in an age when franchises have become a commodity, that serving the same thing again. At least for me, in the dances I've had with any franchises, serving the same thing again, the same way, usually just produces a longing for the first time you ate it. Meaning, it makes an audience wish that they just had the first one over again. So you have to push something to someplace new, while also remembering the core reasons why everyone was gathered."
He went on to compare his approach to Indy with his take on the Wolverine.
Said Mangold, "When you're dealing in a world of a very pressured franchise—for all of the things, and there were many that I freed myself from in the canon, in the baggage, to try and make the best story—the core values of Logan, of Wolverine, and of Charles Xavier and the X-Men, were something that I felt we never abandoned… Those core issues were at the heart of the movie. And in any franchise I take in, I'd always be trying to capture and make sure that we preserve those core ideas that are at the center, because that's why these stories are more than franchises. They're the fairy tales of our contemporary culture."
So while Mangold was onstage with Ford, giving a small audience their first taste of Indiana Jones 5, it doesn't mean that Spielberg is sitting at home resting on his laurels. The director was at the Toronto International Film Festival this week, premiering his new film The Fabelmans, a semi-autobiographical look at the director's childhood and his relationship with his parents. It appears that Spielberg is in a more reflective, personal stage of his career, looking back on his past and his own mythology instead of revisiting his works of fiction.
So while we'll certainly miss Spielberg's flair behind the camera with Indy, the legendary filmmaker's talents are being put to good use. As far as Mangold, the man chosen to occupy the director's chair, we appear to be in great hands.
Indiana Jones 5 hits theaters June 30, 2023.