Features
Hunger Games: The Ballad of Songbirds and Snakes Explores the Origin of Evil
Exclusive: Director Francis Lawrence takes us into the dark past of the Arena and its greatest villain, Coriolanus Snow, in The Hunger Games: The Ballad of Songbirds and Snakes.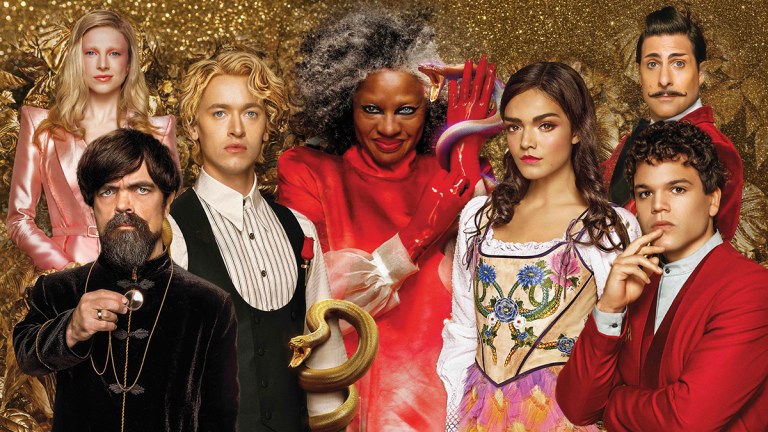 This article appears in the new issue of DEN OF GEEK magazine. Get your copy here.
Fans might have been surprised when author Suzanne Collins announced a new novel in her bestselling Hunger Games series, but director Francis Lawrence was not. Working closely with Collins and producer Nina Jacobson on The Hunger Games: Catching Fire and The Hunger Games: Mockingjay Part 1 and Part 2, there was always some idea that the dystopian world of Panem still had stories left to tell.
The Hunger Games: The Ballad of Songbirds and Snakes looks back at one of the most important periods in Hunger Games' history—the development of the deadly games themselves. Francis Lawrence is talking with Den of Geek magazine about returning to a very different arena with a very different protagonist—a young Coriolanus Snow, not yet president of Panem and more than 60 years away from terrorizing Katniss Everdeen. Returning to the world of the original trilogy through the eyes of that series' main bad guy comes with challenges, but also provides an opportunity to tell a unique origin story for both the villain and the world that shaped him.
"I think people really like watching characters break bad," Lawrence says. "It's fun to watch The Joker become The Joker. It's fun to watch Anakin become Darth Vader."
Far from the distinguished, wealthy statesman portrayed by Donald Sutherland in the 2012 film adaptation, The Ballad of Songbirds and Snakes introduces the future dictator as an 18-year-old senior attending the Capitol Academy High School. Tom Blyth (best known for Epix's Billy the Kid) plays Coryo, as his schoolmates have nicknamed him, at a crossroads. His parents both died during the First Rebel War against the districts and despite living in a luxurious penthouse with his Grandma'am (Fionnula Flanagan) and cousin Tigris (Hunter Schafer), his once prestigious last name is all Coryo has left to bank on. On the brink of starvation themselves, one more tax hike threatens to put the surviving Snows on the streets.
As the 10th Hunger Games approaches, Coryo, as a newly-minted Mentor to the female District 12 tribute, Lucy Gray Baird (Rachel Zegler), seizes his opportunity to restore his family's status.  Bitter, ambitious, and under pressure, the young Coriolanus Snow soon reveals his own dangerous survival skills.
"I think that was the biggest challenge," Lawrence admits when discussing Coryo's complex character. "We have to get an audience to sort of empathize with him, understand what he's going through, and sort of feel for him and honestly kind of root for him."
Casting the perfect future symbol of Panem's fascist cruelty and foil to the resistance heroes was crucial to unlocking President Snow's humanity. Lawrence knew he likely wanted to cast someone lesser known but with an abundance of charisma that could hint at the leader to come.
"When Tom came on board, he obviously had real charisma. There's a sophistication to Tom and an intelligence and sense of control with Tom that I really liked. And sort of a subtlety. Those kinds of aspects just reminded me of Donald [Sutherland]. Tom just holds himself in a very specific and poised way. And I thought that was a great parallel for Donald."
Coryo's charisma must also support the charm of Lucy Gray, whose talent as a folk singer makes her a fan favorite in the games. While Katniss may be the most famous District 12 tribute, she was not the first, nor was The Girl on Fire even the first female District 12 tribute to leave her mark on President Snow. Acclaimed for her performance as Maria in Steven Spielberg's recent adaptation of West Side Story, Rachel Zegler sings for Lucy Gray's new audience…and her life.
The chemistry between the lead actors was apparent from the production's early days, which began in early 2022.
"We did this Zoom chemistry read, and we were all in different spots. I had Rachel sing 'Wildwood Flower,' this old Carter Family song that I loved, to Tom," Lawrence says. "I just wanted to watch him listening to her sing and have Rachel sing to him."
Coryo and Lucy Gray need each other to overcome their different predicaments. Performance is a big theme throughout The Ballad of Songbirds and Snakes, and the power imbalance between a Capitol mentor and an unwilling tribute nearly assured of an impending violent death isn't lost on either star-crossed lover. He hides his true, bitter self from his peers to court influence, and Lucy Gray needs to win over her mentor before she can hope to win the games.
"Lucy Gray is a very different kind of character from Katniss. She's able to manipulate. She's a survivor and has different ways of trying to survive."
The early Hunger Games were very different from the 74th year that Katniss and her male District 12 counterpart, Peeta Mellark, competed in. The tenth Hunger Games marks some important debuts, including the arena gifts from Capitol audience sponsors and the odds that may (or may not) be ever in tributes' favor. The flamboyant Flickerman host is new here, too, though, in The Ballad of Songbirds and Snakes, it's Lucretius "Lucky" Flickerman, played by Jason Schwartzman, a relative to The Hunger Games' memorably creepy emcee, Caesar.
Also absent from the early Hunger Games are the elaborate arenas of Katniss' time. But fans missing the choreographed tidal waves, poison gas, and clock faces of The Hunger Games and Catching Fire will find no less thrills in The Ballad of Songbirds and Snakes. The pyrotechnics are definitely still there, but the playing field itself is more like a Roman gladiator arena.
"What I really enjoyed is that [the Hunger Games in post-war Panem] feels much more rooted in reality and feels more authentic and impactful because of that. You can imagine there's really nowhere to run, nowhere to hide," Lawrence says.
This is also a weaker Capitol than audiences have seen before, fresh from "winning" the first war against the rebellious districts. The Snows weren't the only wealthy family brought to desperate ends, and the city reflects the postwar turmoil in its design. Lawrence and production designer Uli Hanisch (Cloud Atlas, The Queen's Gambit) leave rubble on the streets, spindly cranes building and rebuilding a foreboding Capitol skyline.
"We definitely were looking at reconstruction eras, stories post-World War II. I think that influenced ways of looking at cities not long after big, big battles and heavy loss. Looking at Germany, Year Zero, and The Third Man and things like that."
Lawrence is drawn to projects with an emphasis on world-building, and it's continued to be the biggest appeal of returning to the Hunger Games. The Ballad of Songbirds and Snakes is, after all, a period piece set in a fictional world. Bringing the Capitol's darker days to visual life allowed Lawrence's team to create the beginnings of a realistic feel that could be in conversation with the original series' look.
The unforgiving regime of The Capitol is the true evil in the Hunger Games world—every Panem citizen could be punished by those in power. By contrast, District 12 grows wild and green, an Appalachian-inspired analog that is also in keeping with the rebellious nature of its female tributes, Katniss and Lucy Gray. Returning to a world that became a cultural touchstone and was even embraced by real-world political movements felt gratifying to Lawrence, as was getting to reunite with frequent collaborators, including composer James Newton Howard.
Ultimately, Lawrence hopes audiences will enjoy the grand scope of The Hunger Games: The Ballad of Songbirds and Snakes' storytelling and see different facets of a world that is full of hope, corruption, and the morally gray spaces between. The real heart of Collins' prequel novel casts Coriolanus Snow as a young man who has opportunities to become less self-serving, more admirable, brave, and even romantic, but who is also a natural at navigating The Capitol's political and social arena.
"Snow lands on top" is the Snow family motto, but what Coriolanus has to lose to get there makes him the perfect child to grow into the perfect villain to cast a long shadow over The Hunger Games.
The Hunger Games: The Ballad of Songbirds and Snakes opens in theaters on Nov. 17.