Features
Hugh Jackman Gets Nostalgic About Reminiscence and Wolverine
Hugh Jackman tells us about his new science fiction noir, Reminiscence, and what Wolverine memory from X-Men he'd like to relive.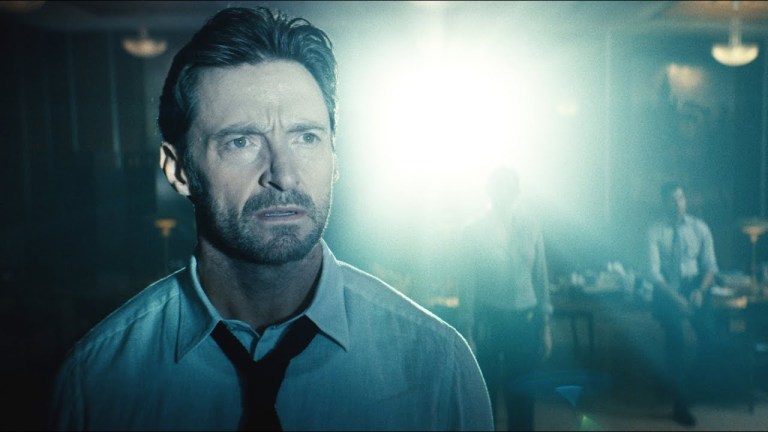 Hugh Jackman is not a particularly nostalgic person. Which is interesting when you realize he's more than once inhabited characters obsessed with looking backward. And that's never been truer than for a guy like Nick Bannister, Jackman's broken protagonist at the heart of Reminiscence.
Like a certain feral X-Men antihero, Nick suffers from a lifetime of trauma and fractured memories that hurt more than help. But unlike Wolverine, no one would mistake Nick as a hero—not when his day job in a post-civil war future is to let folks get lost in their idealized memories. With new military technology that allows you to relive any moment in your life, Nick provides opium to the masses, and an escape from a world with no actual future as the waters continue to rise due to climate change. Soon even Nick would rather just swim down, lost in reveries and the specter of his old flame (Rebecca Ferguson).
It's downbeat stuff, befitting writer-director Lisa Joy's vision. After three seasons of robotic apocalypse in Westworld, the filmmaker has turned in her white and black hats for something much grayer and noir. Maybe that's why Jackman at first tells us he definitely does not suffer from nostalgic golden age thinking like Nick… well, most of the time.
"I'm 52 now," Jackman concedes. "I may be getting a little more nostalgic, particularly around family and around friends. I've noticed I have a whole group of my mates from when I was growing up, and now we've got a separate group which is just the high school mates. So I'm like 'Oh yeah, we're turning into those guys.' We're reminiscing a lot, talking about old teachers, about this person and that person. So maybe that's just part of age, but it's interesting since our movie cautions people against living in the past too much. That stops you from creating new memories."
As the actor explains, life is always about trying to move forward and not becoming stuck in one moment.
"I do constantly try to challenge myself and move on and find new things," Jackman considers, "meet new people, do new things I've never done before. It's just something I've always found inspiring or exciting."
With that said, he admits to a lifelong fascination with broken characters who can't do those things. After all, Reminiscence isn't his first noir. Arguably that began with Denis Villeneuve's mournful thriller, Prisoners. And then, of course, his signature role has always had a bitter edge to it, as well as a preoccupation with looking to the past and memories he thought he's lost.
"Wolverine is certainly very much like that," Jackman says. "There are similarities with Nick, the character I play in this film, and Wolverine. The tough exterior born out of pain and brokenness on the inside. Nick, my character suffering PTSD and clearly struggling from being a war hero or a war veteran. I find those characters very interesting, I enjoy getting into them. As an actor there's a lot to play. I think as an actor that's what I'm attracted to the most. The more internal conflict the better."
And would he like to relive any of his Wolverine memories?
"Yeah, I'll tell you one of the moments I'd like to relive around Logan," Jackman says. "It was the first time I saw X-Men in a cinema with audiences. And I did it because Tom Rothman, who was one of the execs at the time at Fox, said if you want to understand this movie, you have to go and see it with an audience in Times Square at 10pm on a Friday night. And I was like, 'Alright.' No one knew who I was at the time, I could just go anywhere, the movie hadn't come out. So I just walked in, sat up in the back, I watched the movie, and [it was like] woah. We don't watch movies like that in Australia. There's no yelling and screaming and cheering, no 'Yo Wolverine!' and booing [the villains]."
"That was awesome," he continues. "I would love to go and relive that moment, because I was super nervous, it was my first movie and I didn't know what to expect. I'd love to go back and just really enjoy that."
Jackman may not be able to, but as Reminiscence suggests, that might be for the best.
Reminiscence is nor in theaters and on HBO Max.