Features
How Jumanji: Welcome To The Jungle proved doubters wrong
It's become a surprise commercial and critical hit - so what has the new Jumanji film got right?
Spoilers lie ahead for Jumanji: Welcome To The Jungle.
Over the weekend, I was back at my local multiplex to see the quite wonderful Coco. On the way in, I saw the manager of said picture palace, and we had a bit of a chat. He's a friendly man, and just the kind of manager you want: always checks that everyone's okay, is there if anything goes wrong.
He's also good for a bit of insider chat, too. And we got talking about Jumanji: Welcome To The Jungle.
I don't think I was alone in inwardly sighing when I first learned of a reboot/sequel to Jumanji. I don't hold massive affection for the original (although I thought Zathura was great), but still enjoyed it. Still, I know it's a film important to the childhood of many, and I do get the appeal. Plus, it's an ever-poignant reminder at just how good the late Robin Williams could be in family movies.
Even as the cast fell into place for what would become Jumanji: Welcome To The Jungle, the response was not enthusiastic. It was a good ensemble – The Rock, Karen Gillan, Jack Black, Kevin Hart – but the well of remakes and reboots has been thoroughly poisoned in recent times, and that's hard to shake. That director Jake Kasdan – who was behind the much stronger Zero Effect, Orange County and Walk Hard – was coming to the project off the back of Bad Teacher and Sex Tape was not encouraging.
Things didn't improve when the first cast shot hit, with Karen Gillan in a skimpy outfit, whilst her three male stars were kitted out in more practical junglewear. The response from the filmmakers – that of course proved to be true – that it was relevant to the plot sounded like the usual bobbins response to an uproar. And when trailers failed to win people over, it'd be fair to say that few had Jumanji: Welcome To The Jungle earmarked as the surprise blockbuster treat of Christmas 2017.
And yet that's exactly what it became. Chatting to the aforementioned manager of my local multiplex, he confirmed too that the film wasn't an instant success. Lots of snow in our local area coincided with planned preview screenings the week before Star Wars: The Last Jedi came out (where presumably Sony was trying to rake in some cash before Star Wars took it all away), and expectations were downgraded as a result. Then, when Pitch Perfect 3 opened well just before Christmas, said manager admitted that he'd swapped screens around, so that Pitch Perfect had more seats, and Jumanji had fewer.
But then Jumanji's audience built. And built. And built. Even last weekend, over a month since those first preview screenings, showings of Jumanji: Welcome To The Jungle were filling up. Even as Pitch Perfect 3 has dwindled, Jumanji has soared.
This is not just a UK thing, either. Four weeks into its run in the US, Jumanji topped the box office again in the States over the weekend, adding $27m to its take. Its American takings now stand at $283m, with the film set to breach $300m next weekend. If you put together the American takings of Ferdinand, Pitch Perfect 3 and The Greatest Showman – all quite successful films – they still wouldn't outgross Jumanji.
But this is far more than a story about a commercial success. Because Jumanji is that rarest of things in modern blockbuster circles. A film that's building its box office off word of mouth. That's hanging around because more and more people are being told to see it, or are going to see it twice.
I truly believe the last six months or so has been an utterly golden period for family movies, particularly ones where a full family can go, and be entertained by the same film. To explain, if you look at something like My Little Pony, I turned around during that to see a bunch of parents looking as baffled as me, whilst their offspring were rapt. With Paddington 2, conversely, three generations of my family were beguiled from start to finish. Sure, we took different things from the same moments, but it was such an inclusive movie.
In the last six months, we've also had Captain Underpants, Wonder and now Coco that I think all fall into that category. And Jumanji: Welcome To The Jungle is firmly part of that too.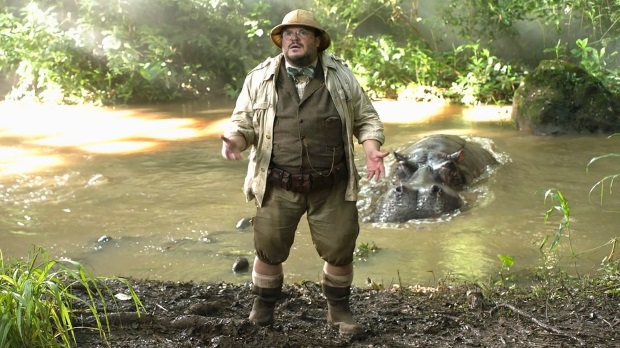 It does so much right. Firstly, it understands the difference between respecting what came before, and outright reverence and references to it. It positions itself as a light, belated sequel to the first film, with a few bits in there for fans of that movie, but no foreknowledge required. And certainly no beating you over the head with references.
Secondly, it finds space to be its own thing. And by slyly integrating flavours of The Breakfast Club and 90s videogame culture into the mix, it finds an identity and spark of its own. Furthermore, the casting proves to be a delight. It's not something I'd want to spoil if you haven't had the pleasure of the film yet, just that each of the four leads gets moments in the spotlight, surprising character choices and terrific belly laughs.
And that's the other thing this Jumanji does. It remembers to be funny. Really, really funny. I wasn't expecting to laugh my proverbial socks off at the film, but that's just what I did. And there are precious few moviegoing experiences that beat seeing a very funny film with a big crowd, who are all also into it. From what I can ascertain, that's happening a lot with Jumanji. Pretty much everyone I've spoken to about the film has found the same. Their kids loved it, they loved it. Not often that happens.
It would have been easy, with such a strong lead quartet, to find the laughs and the moments through improvisation, allowing the four to goof around and have fun, and bash together a solid three star film. But this one feels like the real heavy lifting was done where it was supposed to be done: on the page. That the screenplay, credited to Chris McKenna, Erik Sommers, Scott Rosenberg and Jeff Pinkner was worked and worked and worked until it was right.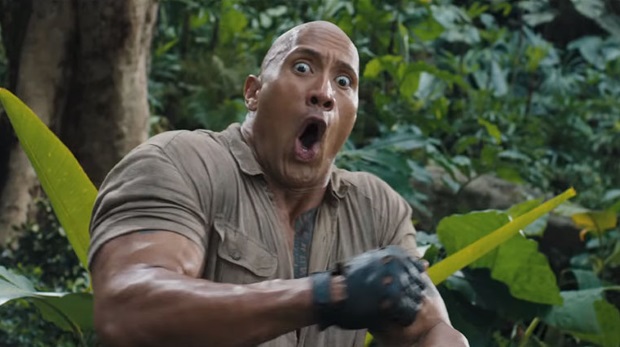 I may be wrong. It may all have come together in the edit. It may have been luck on set. But I don't think so. I don't think you get a consistently entertaining 119 minutes on an unforgiving big screen by chance. Because this Jumanji isn't about moments, it's about a big, fun, coherent family adventure movie, with really big laughs.
Competition has been thin on the ground for the first half of January, that's given Jumanji a relatively clear run at soaking up more pounds and dollars. But still: nobody saw this coming. And with the film now hitting big in China as well (and its Japanese release still a couple of months off), the $90m production has a sporting chance of an $800m+ gross. If its success encourages more studios to treat family audiences properly, and invest proper ideas and thought into any planned remakes, even better. But for me personally, I'm just keen to see it again. Can't remember the last remake/belated sequel/brand extension I thought that about…