News
Hocus Pocus Sequel: Bette Midler Comments on Her Possible Return
Though there has been no official announcement, it certainly sounds like Bette Midler will be back for the Hocus Pocus sequel.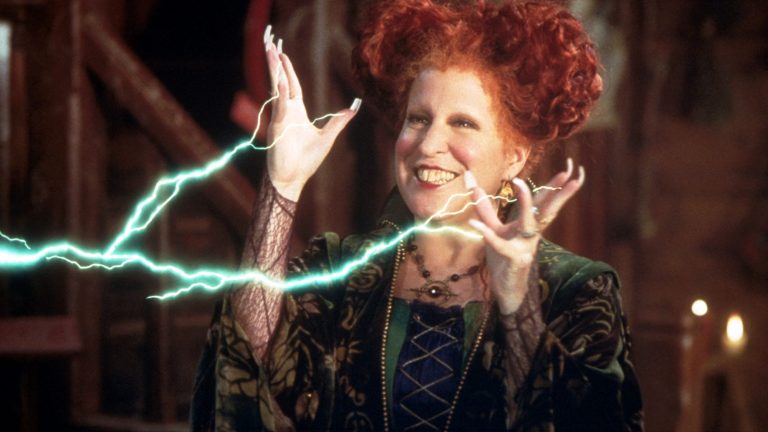 When news of the Hocus Pocus sequel finally moving first broke on Collider in October 2019, it was unclear, at that point, how much of the original film's cast would be returning. While sources said that writer and co-producer Jen D'Angelo had been "tasked with finding a way to bring back the original cast of Bette Midler as Winifred, Sarah Jessica Parker as Sarah, and Kathy Najimy as Mary," there haven't been many cast-related announcements since then. Until now.
ET recently chatted with Midler about her new film, The Glorias, and the subject of the Hocus Pocus sequel came up. While Disney has yet to confirm the return of Midler, Parker, or Najimy, Midler told ET that she is "absolutely" up to reprise her Sanderson sister role, adding that "We're just talking logistics" and "I can't wait to fly!" Could a more official announcement be just around the corner? It certainly sounds like it. 'Tis the Halloween season, after all.
What do we know about the Hocus Pocus sequel? Well, we know Adam Shankman will be directing, taking over from Kenny Ortega who directed the 1993 original. Shankman has previously directed films like Hairspray and A Walk to Remember. He is also attached to produce Disney's Enchanted sequel, titled Disenchanted. While Mick Garris and Neil Cuthbert wrote the script for the original, based on a story by Garris and David Kirschner, D'Angelo wrote the script for the Hocus Pocus sequel.
The original film follows teen boy Max Dennison, who moves from California to Salem, Massachusetts only to accidentally bring the trio of soul-sucking witches back to life. The movie ends with Max, his crush Allison, and little sister Dani, vanquishing the Sanderson sisters without losing their souls in the process. While there has been talk of bringing back the witches for the sequel, there is no word yet on if the film is also looking to bring back Omri Katz (Max), Thora Birch (Dani), or Vinessa Shaw (Allison).
Hocus Pocus has become a Halloween classic, watched annually by many families across America, but the film wasn't a box office success. Released in July of 1993, the film had a meager box office showing before becoming the seasonal favorite it is today—the kind that warrants its very own sequel.