Features
Green Lantern Cast: When Even Talent Can't Save a Sinking Ship
Green Lantern has a terrific cast for a superhero movie, as indicated by how many of them succeeded in other superhero movies. Yet no one could save this....
Our favorite movie stars can usually buoy a bad production into being passable, but sometimes a film is so misguided that not even a great cast can save it. Look at any one of Garry Marshall's holiday movies, Brian De Palma's infamous Bonfire of the Vanities adaptation, or shudder at the thought of Movie 43 and you'll see that no number of Oscar winners or box office titans can save a truly bad film. It doesn't matter if George Clooney is in your cowl when the Batsuit has nipples on it.
A notorious, shining example of the "great cast, bad movie" phenomenon is 2011's Green Lantern. Making a paltry $220 million on a $200 million film budget (let's not bring up marketing costs) and gaining near-universal derision from critics, Green Lantern is one of the most high-profile bombs of the 2010s. Featuring Ryan Reynolds as the titular "space cop," Green Lantern also featured performances from Blake Lively, Tim Robbins, Mark Strong, Taika Waititi, Peter Sarsgaard, and Angela Bassett, with vocal performances from Michael Clarke Duncan, Geoffrey Rush, and Clancy Brown. It's a practical murderer's row of talent that was wasted on a muddled superhero snooze fest with bad CGI.
Ryan Reynolds and Blake Lively
Reynolds himself has gone to great lengths to trash the film and his involvement, even going so far as to insert digs into his other superhero franchise via the far more successful Deadpool 2. It's interesting to compare Reynolds' performances in his two big superhero projects; whereas Deadpool is Reynolds at his most impish, delivering something quippy and dripping with personality, his Hal Jordan in Green Lantern is bland and anonymous. Only Reynolds' scenes with Lively have any juice to them, and it makes sense considering the two would marry after meeting on the set.
Still, the flirty scenes featuring the pair does not save either of their performances from feeling wooden and stilted. Which is all the more baffling since both charismatic performers tend to only spark more when they're sharing the stage, or riffing off each other, including in marketing for Reynolds' other unexpected casting: as Detective Pikachu.
Angela Bassett as Amanda Waller
The film's overstuffed plot also keeps some of the other actors from showcasing their talents. Bassett, an Oscar nominee after her ferocious performance in What's Love Got to Do with It in 1993, should've stolen the show as Amanda Waller, but her character is barely a blip in the bloated proceedings. Many DC fans don't even recall that Waller was a part of the Green Lantern film. But then it took even several attempts with the peerless Viola Davis playing her in Suicide Squad movies until they got it right.
Robbins appears to be completely phoning it in as Sen. Hammond, and poor Peter Sarsgaard has the opposite problem, going way over-the-top as villain Hector Hammond. Sarsgaard and Reynolds might as well be starring in completely different movies; if Reynolds had matched the gonzo panache that Sarsgaard brought to his performance, perhaps the film would be more fun.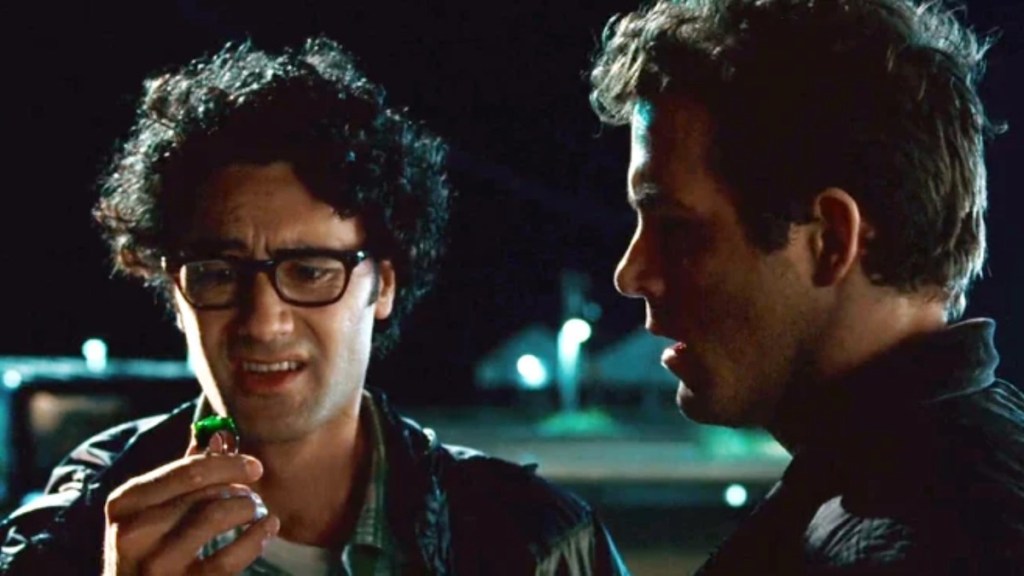 Mark Strong and Taika Waititi
Meanwhile Strong as Sinestro and Waititi struggle to overcome bad writing. Waititi's recent performance in Free Guy proves he's one of the most fun comedic performers gracing screens today, even when he isn't casting himself as a vampire or an imaginary version of Adolf Hitler. But before any of that, Green Lantern saddled him with a boring "minority best friend" supporting role that does him no favors.
Strong makes an impression as Sinestro, but the film makes the mistake of presuming there will be a sequel, so they hold back on giving Sinestro a meatier part in favor of going with a ridiculous space cloud that is voiced by Clancy Brown as the film's Big Bad. Which must've made sense in a committee room somewhere.
The most frustrating part about rewatching Green Lantern with hindsight is that we now know that many of the performers can excel in comic book movie parts. Reynolds has turned Deadpool into a household name and one of the most beloved comic book movie characters of the century. Bassett brought gravitas and grace to Black Panther in a supporting role worthy of her time. Strong got another crack at playing a DC baddie in Shazam! and helped to make that film one of the very best entries in the DCEU. He also turned out to be a strangely affecting presence in the comic-based Kingsman films. And Taika Waititi has shined both in front of and behind the camera in the MCU, essentially saving the Thor franchise by injecting equal amounts of humor and pathos while voicing a sidekick that is the opposite of trope-y or forgettable. He also picked up an Oscar for screenwriting, so there's that.
Now streaming on Netflix, Green Lantern is worth a watch just to see how one film could squander so much talent. HBO Max is hard at work bringing a new Green Lantern adaptation to the streaming service featuring Finn Wittrock as a different lantern, Guy Gardner. Hopefully, the new series doesn't get lost in evil's might and waste the time of its cast and audience alike.