News
Godzilla vs. Kong Director and Writer Talk Future of The MonsterVerse
Now that Godzilla vs. Kong has finished its final round, where do you take the MonsterVerse from here? Director Adam Wingard and screenwriter Max Borenstein have ideas.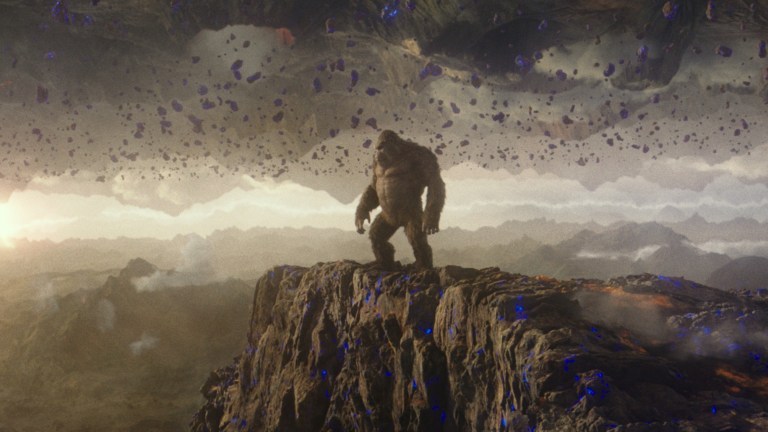 This article contains spoilers for GODZILLA VS. KONG.
Godzilla vs. Kong is the fourth movie in the so-called MonsterVerse–following Godzilla (2014), Kong: Skull Island (2017), and Godzilla: King of the Monsters (2019)–and it's the culmination of the mythology and story arc built up over the previous three pictures. The MonsterVerse series so far has led to this climactic battle between the two most powerful Titans on Earth, and with the film's ending leaving their futures open-ended, the question is where does the MonsterVerse go next?
We have our own ideas and theories about how it should go, but of course the real answer to that query is first dependent on whether the studios behind the MonsterVerse, Warner Bros. Pictures and Legendary Entertainment, want to move forward with a fifth film (or more). That will be determined by the success of Godzilla vs. Kong, which so far is showing surprising strength in overseas theaters (where it opened a week earlier) and will be the first major tentpole-style film premiering in the U.S. as most theaters around the country fully reopen. How much the movie's box office is affected by its concurrent launch on HBO Max remains to be seen.
Should Godzilla vs. Kong prove successful enough to turn a profit for the studios (and bring more eyeballs to HBO Max), director Adam Wingard says he's ready to return and make a new entry.
"I know where I would go," the filmmaker reveals to Den of Geek. "Right when I finished this film, I sat down with Legendary and I told them, 'Look. I'm really proud of the movie and everything we've accomplished. And if you guys are interested in doing another one of these, this is the way I would do it. I just want to throw my hat in the ring because I'm really proud of this film.'"
Wingard says that making Godzilla vs. Kong–his first big-budget studio film after years of working in the indie world with movies like You're Next and The Guest–was a learning experience that got him ready to make another giant monster movie.
"(Quentin) Tarantino said the reason he did The Hateful Eight was because after he did Django Unchained, he felt like he'd just now figured out how to really do a Western," Wingard continues. "Similarly, I felt like after making a monster movie, now I finally have all these skills of how to work with characters that are 300 foot tall. I want to flex those skills more because I have a lot of passion for it and I know where I would take it."
Godzilla vs. Kong ends with a kind of truce between its title champions: after they team up to defeat the menace of Mechagodzilla, Godzilla returns peacefully to the ocean while Kong assumes rule of the underground Hollow Earth ecosystem. There may be other adventures waiting down there, or more monsters emerging above (or way above–like from space), but Wingard says it's too early to commit to a specific idea.
"I would love to do another and I know where I'd go, but I don't want to say anything too detailed, because if anything, a lot of things could change," explains the director. "Even if I was hired to do another, let's say, maybe we come up with an even cooler idea. So I know where I'd go with it, but I don't want to box myself in any corners."
Screenwriter Max Borenstein, who's had a hand in crafting either the script or treatment for all four MonsterVerse movies, says that ideas for a fifth film have been spoken about.
"There have definitely been ideas thrown around," Borenstein confirms to us. "I can't say I'm appraised on the absolute latest right now, but I know that it's all about this being the kind of Avengers moment, and hopefully people respond and audiences will dig the way that we've kind of wrapped up this initial chapter of the MonsterVerse."
Godzilla vs. Kong is out now in theaters and streaming all month on HBO Max.