Go Inside the Making of We Bare Bears: The Movie (Exclusive)
See how We Bare Bears: The Movie was first pitched with an exclusive look at a bonus feature featuring storyboard artist Sarah Sobole.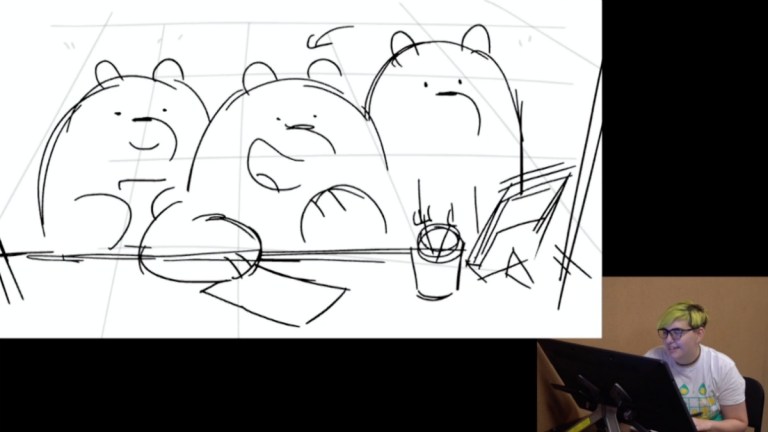 We Bare Bears: The Movie was an absolute delight and even thought it released at the end of June I'm still thinking about it. The way it managed to balance the comedy and melancholy of the series with its absolutely riveting message is one that'll speak to generations to come. We got a chance to speak with Daniel Chong about the film when it came out but there's even more We Bare Bears: The Movie behind-the-scenes content that's coming soon!
The movie will hit DVD on September 8, 2020 and will be stacked (in true We Bare Bears fashion) with a commentary track, the movie pitch, deleted scenes, and more! Cartoon Network was kind enough to give us a first look at a section of one of those bonus features, the movie pitch! In the clip you'll find below, director/executive producer Daniel Chong gives us an explanation of the food truck pitch sequence and we then get to see it being delivered by storyboard artist Sarah Sobole!
It's so wonderful to see how a movie like this comes together. Sobole's delivery of the lines was wonderful and it's great to see these storyboard drawings. It gives an insightful look into the process of the making of the film and how much effort it takes to pull it off. We can't wait to see more of this and the other bonus features when We Bare Bears: The Movie is released on DVD! If you need more information about the film we've got some from the press release, which you can read below.
In We Bare Bears: The Movie, when the bears' love of food trucks and viral videos gets out of hand, it catches the attention of the menacing Agent Trout from the National Wildlife Control, who pledges to restore the "natural order" by separating them forever. Chased from their home, Grizz decides there's only one thing they can do to find refuge – move to Canada! The Bears embark on an epic road trip filled with new friends, dangerous obstacles, and massive parties. But most importantly, the perilous journey will force the Bears to face how they first met and became brothers, in order to keep their family bond from splitting apart.
Are you going to be picking up We Bare Bears: The Movie when it hits DVD on September 8, 2020? We know we will, it's the perfect send off for a franchise that will make you laugh, cry, and think. What more could you ask for?