News
The Behind the Scenes Casting Drama That Reshaped Forgetting Sarah Marshall
Jason Segel wrote the part of Forgetting Sarah Marshall's Aldous Snow for Charlie Hunnam, not Russell Brand, but when Hunnam backed out, it caused friction in the Judd Apatow inner circle.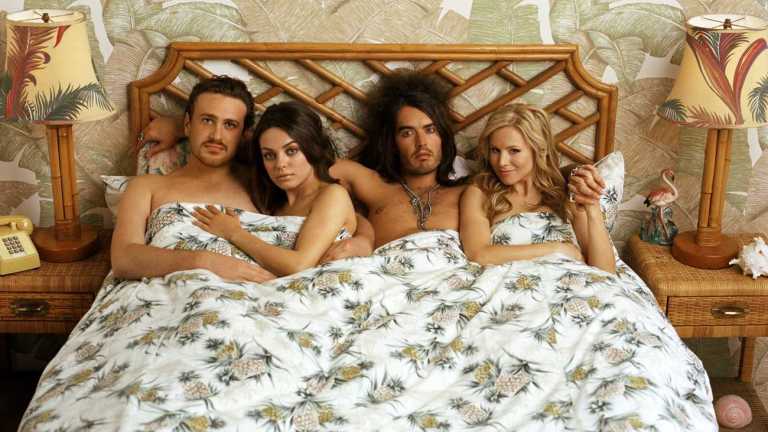 Judd Apatow-produced rom-com Forgetting Sarah Marshall is beloved by many, and managed to create so many incredible comedy moments with a cast who seemed happy to take a leap of faith with writer and star Jason Segel in that particular stage of their careers.
Along with Segel, director Nicholas Stoller cast Kristen Bell, Mila Kunis, Bill Hader, Jonah Hill, Paul Rudd, Jason Bateman and more in the tale of a jilted boyfriend who is struggling to get over his famous ex, but Segel had written the special part of insufferable rock star Aldous Snow for his close friend Charlie Hunnam, who was coming off Fox's short-lived sitcom Undeclared – another Apatow-shepherded project.
But Hunnam would eventually leave Forgetting Sarah Marshall after the first table read, and in a new interview with Collider, the actor has opened up about why he quit the movie, and how his exit opened the door for Russell Brand to blast his legendary performance as Snow onto the reels of movie history.
Hunnam's comments about leaving Forgetting Sarah Marshall come 12 years after the film's release, when he was asked if he would want to work with Apatow et al again in the future.
"I don't know specifically about that group," Hunnam mused. "I would certainly work with Judd. I don't know if he'd be interested in working with me. He has not demonstrated that desire, over the last few years. So, I think that might answer the question for us."
The Sons of Anarchy star then decided to give Collider what he called a "world exclusive" about his decision to leave Segel's project, which he said "wasn't very well received by the inner circle."
"It's funny, I'll tell you a little story," he teased. "Jason Segel wrote Forgetting Sarah Marshall for he and I to do together, and he wrote that role [of Aldous Snow] for me. I went and I did the table read and it was very successful. Judd was producing. I was in a dark night of the soul in my career, at that point, and felt as though I needed to seize the trajectory and that just wasn't really aligning with, at that period of my life and career, what I wanted to be doing. Jason was one of my best friends, which is why he wrote the film for me, but I had to tell him, 'I'm so sorry, I'm not gonna do this.' It was one of those things where that wasn't very well received by the inner circle of that production. I had to stand my ground and say, 'Listen, it's nothing personal. I'm just following my North star. I'm just in a weird spot and I'm trying to define for myself what the path forward is.'"
Hunnam went on to suggest that dropping out of the movie haunted him for a while …until he randomly saw Russell Brand doing stand-up comedy during the festive season.
"It was one of those things where it was really difficult for me for the few months after that or a year after that, and then I saw this piece of stand-up," he explained. "I didn't know who Russell Brand was, but I saw this piece of stand-up that Russell Brand did on Christmas day with my mom. It was just this liberating moment where I said, 'Obviously, that's the dude who should have been playing that role. Clearly, I just needed to step out of the way of the universe manifesting itself, the way that it was supposed to.'"
There no longer appears to be any question in Hunnam's mind that Brand was the right choice for Aldous Snow, even if it meant disappointing his old crew at the time.
"My relationship with Jason gave birth to that character, but there's no way I could have done it justice the way Russell Brand did."
Brand followed up Forgetting Sarah Marshall with several other studio projects off the back of his standout performance as Snow, including Rock of Ages, Arthur and Get Him to the Greek, while Hunnam pretty much put comedy in his rear-view mirror.