Features
Florence Pugh's Best Roles: What to Watch After Black Widow
Florence Pugh steals the show in Black Widow. Check the British actress out in these other scene-stealing roles.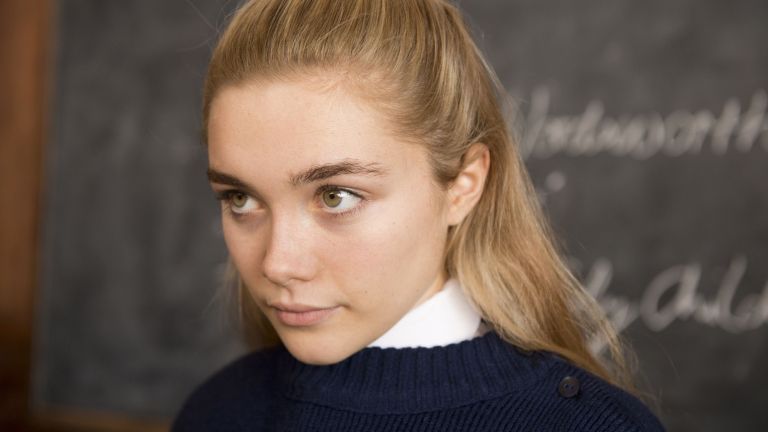 Black Widow, the Marvel Cinematic Universe's prequel centering on Natasha Romanoff as she works to take down the Red Room in the period following Captain America: Civil War, premieres in theaters and on Disney+ Premier Access this Friday (and is playing in the UK now!). In the film, British actress Florence Pugh steals the show as Natasha's little sister who was also brainwashed into becoming a Soviet assassin at a young age.
If you're looking to check out other work from Pugh, you're in luck. The 25-year-old thespian has made quite a name for herself over her relatively short career, regularly elevating good material to great with her performances, and already earning an Oscar nomination. Here are some of our favorite roles…
Midsommar
Prior to Black Widow, Pugh was perhaps best known to certain audiences as the flower crown-wearing protagonist Dani in 2019's Midsommar. Ari Aster's brightly-lit folk horror has a lot going for it, but it wouldn't work if not for Pugh's grueling work as audience surrogate, as we are all made to witness the slowly-dawning terror of a Scandinavian pagan cult's savage midsummer festival in which she's ominously crowned the May Queen. Watch at your own risk.
The Falling
In Pugh's first feature film role, the actress stars alongside Game of Thrones' Maisie Williams as best friends at an all-girls school in the 1960s where a mysterious fainting epidemic breaks out amongst the teen girl population. (Pugh's real-life older brother, Toby Sebastian, featured as Trystane Martell alongside Williams in Game of Thrones.) As a feminist psychological horror, The Falling is worth a watch in its own right, but it's also amazing to see just how good Pugh is from the very beginning of her career.
Side note: In The Falling, Pugh also demonstrates her musical ability. Before getting into acting, Pugh posted song covers on YouTube.
Little Women
Pugh played Amy, the youngest of the March sisters, in Greta Gerwig's 2020 adaptation of the beloved Louisa May Alcott novel, Little Women. This cast is an embarrassment of riches, but, for many, Pugh is the standout, bringing nuance and likability to a complicated role. Her Oscar-nominated performance spans years, requiring Pugh to play ages 12 to 18—and she somehow mostly pulls it off?
Fighting With My Family
In 2019, Pugh played real-life wrestler Paige Knight in this biopic based on the 2012 documentary about the English pro wrestler's journey from wrestling with her family in the UK's World Association of Wrestling to trying out and making it big as part of the WWE. Like pretty much all of Pugh's projects, there is a lot to like about Fighting With my Family. Past the strength of the true story, Pugh's co-stars include Lena Headey, Nick Frost, and Dwayne Johnson (in a meaty cameo role).
Lady Macbeth
Arguably Pugh's breakout role, 2016's Lady Macbeth sees the actress taking center stage in this adaptation of 19th century Russian novella Lady Macbeth of the Mtsensk District. Pugh stars as Katherine, a young woman married to an old and rigid man in rural Northumberland circa 1865. Like other films on this list, the Victorian tragedy is not for the faint of heart, but it's worth it for Pugh's mesmerizing performance.
Little Drummer Girl
For the most part, Pugh has stuck to cinematic roles, which makes 2018 TV miniseries Little Drummer Girl a bit of an outlier. But let's be real: the BBC adaptation of the John le Carré novel isn't your typical TV project. All six episodes are directed by Korean filmmaker Park Chan-wook (The Handmaiden) and include actors like Michael Shannon and Alexander Skarsgård—this miniseries may have been broadcast on TV, but it has more in common with feature film projects than much of the TV landscape.
Pugh stars as Charlie, an aspiring actress in 1979's UK who is recruited by Mossad agents to infiltrate a Palestinian group plotting terrorism in Europe. The character acts as both an audience surrogate and a source of mystery for the viewer, as Charlie becomes further embroiled in the ethically complex scenario. This is one of the best le Carré adaptations out there, and includes some of Pugh's best work.
Don't Worry Darling
Okay, this one isn't actually out yet, but Olivia Wilde's follow-up to directorial debut Booksmart is already making waves on the internet for obvious reasons. Co-starring Harry Styles, Chris Pine, Gemma Chan, and Wilde herself, Don't Worry Darling is being billed as a psychological thriller. It stars Pugh as a 1950s housewife living in a utopian experimental community in the California desert with her loving husband (Styles), who discovers a disturbing truth. Yep, I'm in.
Black Widow
Black Widow, the MCU prequel centering Natasha Romanoff in the period between Captain America: Civil War and Avengers: Infinity War, has been a long time coming. The movie was meant to launch Phase 4 of of the MCU, but passed that role to WandaVision due to COVID-19 disruptions to the theatrical distribution model. Pugh plays Yelena, Natasha's sister and fellow Black Widow program trainee. It's unclear, at this point, what Yelena's role in the MCU might be moving forward, but given Natasha's fate in Endgame, we're expecting to see a lot more Pugh in the MCU.
What is your favorite Florence Pugh role? Let us know in the comments below.