News
Firestarter Remake Lands Zac Efron for Lead Role
Zac Efron has been cast for a lead role in the Blumhouse co-produced Firestarter remake, revisiting the classic Stephen King story.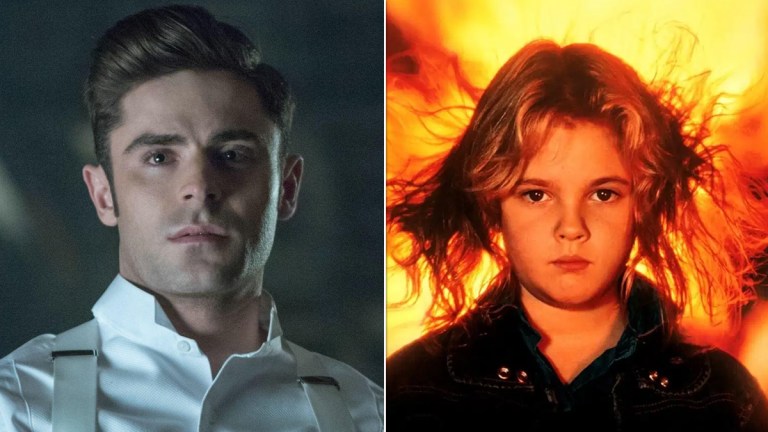 Firestarter, the Stephen King novel-turned-film, is already cemented in pop culture history with the iconic 1984 poster image of child star Drew Barrymore, who's seen ominously emotionless in front of a blaze caused by her unbridled pyrokinetic powers; an image that was a clear inspiration for Stranger Things' Eleven. However, the current crop of King-adapting films and television will see a Firestarter remake, which now has a headliner in Zac Efron.
Studios Universal, Blumhouse and Weed Road are moving forward with efforts for a Firestarter remake movie, and have announced its first cast member in Zac Efron, who will serve as one of its headlining stars, although his character was not disclosed. He will be in front of the camera for appointed director Keith Thomas (The Vigil), who works off a script by Scott Teems (Halloween Kills), joined by producers Jason Blum and Akiva Goldsman (who was the originally-tapped director). The project, of course, will remake director Mark L. Lester's 1984 film, for which Stanley Mann wrote the script adapting King's 1980 novel.
While the announcement was mum on details regarding Efron's character, it might be deduced—should the remake follow the character attributes of the traditional Firestarter story—that Efron, who's fielding a headlining role, is likely here to play Andy McGee, the father of eponymous young Firestarter Charlie. In a crucial, plot-setting occurrence, he and future wife Vicky once participated in an experiment that granted them telepathic powers and, years later, resulted in daughter Charlie's destructively fiery powers. Indeed, the role of Andy was a prominent one in the 1984 film, as played by David Keith, and seems age-appropriate for Efron, who turns 33 this October.
Efron, the former teen star of the High School Musical film franchise, has been on a bit of a break from onscreen roles, last seen in 2019 Matthew McConaughey movie The Beach Bum and a transformative performance as serial Killer Ted Bundy that same year in Extremely Wicked, Shockingly Evil and Vile; a role that came after a two-year onscreen break from co-starring in 2017 musical movie The Greatest Showman with Hugh Jackman and Zendaya. The actor's current onscreen docket consists of directors Glenn Ficarra & John Requa's dramedy movie, King of the Jungle, and another 1980s remake project, Three Men and a Baby, for which he is currently the sole attached member of the titular trio.
Of course, the key component of the Firestarter remake project, Charlie McGee, has yet to be cast. Starring in the 1984 movie certainly helped put Drew Barrymore on the map post-E.T., but, at this point, we don't even know if the remake intends to follow the original story with Charlie as a 9-year-old child, and it might be aiming for an older version of the character. Such a notion wouldn't even be without precedence, since we got to see an adult version of Charlie, as played by Marguerite Moreau, in the 2002 TV miniseries follow-up, Firestarter: Rekindled, which aired on the Sci-Fi Channel.
The Firestarter remake doesn't have a disclosed production or release window, but we will keep you updated as the news arrives.