News
The Empty Man Trailer Teases Horror Film Adapting Cullen Bunn Comic
Horror movie The Empty Man, starring James Badge Dale, will be rushed to theaters by the end of October.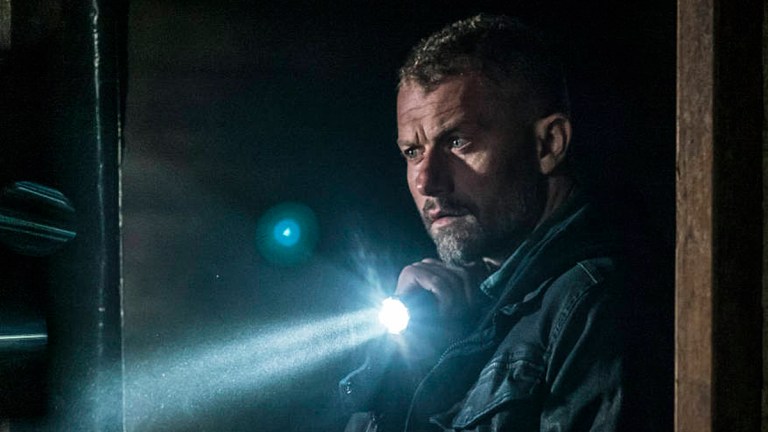 The Empty Man, a supernatural horror film, has become a surprise straggler in a shrunken pandemic-era lineup of films still actually headed to theaters… and it's coming sooner rather than later, as evidenced by 20th Century Studios' release of the trailer.
James Badge Dale headlines the horror flick, which adapts The Empty Man comic book series from Boom! Studios (for which Fox is a stakeholder,) created by esteemed writer Cullen Bunn with art by Vanesa R. Del Rey. The film also serves as the feature directorial debut of David Prior, who worked off an adaptation screenplay he wrote, bringing nearly two decades' worth of experience filming shorts and documentaries, notably shorts connected to director David Fincher's 2011 version of The Girl with the Dragon Tattoo.
Familiar summoned supernatural urban legend creature concepts from genre offerings such as (just to name a few,) the remake-set Candyman and The Slender Man will obviously come to mind once the trailer for The Empty Man establishes its premise. Check it out just below.
As the official synopsis for The Empty Man reads:
"After a group of teens from a small Midwestern town begin to mysteriously disappear, the locals believe it is the work of an urban legend known as The Empty Man. As a retired cop investigates and struggles to make sense of the stories, he discovers a secretive group and their attempts to summon a horrific, mystical entity, and soon his life—and the lives of those close to him—are in grave danger."
Star James Badge Dale comes into the film having last been seen on Starz mystery series Hightown, which ran its inaugural season from this past May to July, with a second season eyed. He's known from roles in films such as Iron Man 3, World War Z, 13 Hours, The Departed and HBO miniseries The Pacific. He's joined in the cast by Marin Ireland (The Umbrella Academy), Stephen Root (Perry Mason), Ron Canada (National Treasure), Robert Aramayo (Game of Thrones), Joel Courtney (The Kissing Booth) and Sasha Frolova (Red Sparrow).
Vexingly, The Empty Man is abruptly eyeing a theatrical release for the end of October (yes, 2020). The film first went into development back in 2016, and Fox put it on a fast track for subsidiary 20th Century Studios in 2019, during which Dale was tapped as its star, and an initial release date of August 7, 2020 was set. Of course, 2020 would happen, sidelining the vast majority of post-Q1 releases, existentially jeopardizing the theater industry as major movies either bypassed the year entirely or opted for streaming or VOD releases. It's a dilemma that even director Christopher Nolan's touted theatrical champion, Tenet, failed to remedy with its paltry worldwide impact. Consequently, The Empty Man's theatrical plans are not only unconventional for the mere fact that they exist, but compounded by their mysterious urgency. Ironically enough, the comic series source material attributes the story's supernatural events as being connected to the spread of a hallucination-causing virus. Make of that what you will.
The Empty Man Release Date
The Empty Man is scheduled to hit theaters (such as they are these days,) on Friday, October 23. – That's only one week from this writing, by the way.