Features
Elvis: Where You've Seen Austin Butler Before
Before he was the King, Elvis actor Austin Butler played an Elven hero and a heartthrob in many a teen drama. He was even in a Tarantino flick!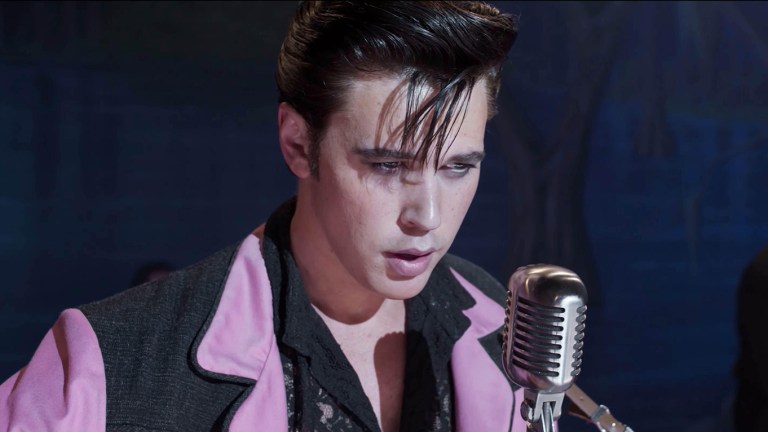 While reviews of Baz Luhrmann's Elvis are a little mixed as to how successful the director's signature frenetic style was for a biopic about the King of Rock'n Roll, critics and audiences seem to unanimously agree that star Austin Butler has captured the spirit of Elvis Presley. In fact, Butler has so taken on the King's mantle—the hair, the eyes, the hips—that even Presely's surviving family, including wife Prisicilla, daughter Lisa Marie, and granddaughter Riley Keough have enthusiastically endorsed the film. Lisa Marie declared Butler "channeled and embodied my father's heart and soul beautifully."
It's a career-making turn for the young actor. But if you're just as wowed by the transformation, you might not realize you've seen this shaggy-haired blonde on your TV screens (and in a number of memorable movie roles) over the past decade or more.
As a teen, Butler made the Disney and Nickelodeon TV show circuit via a mix of one-off and recurring roles on Zoey 101, Hannah Montana, iCarly, Wizards of Waverly Place, and other shows that his fellow Millennials grew up on. But it was on a bevy of teen dramas where he began to really get a foothold, with his career taking off in the 2010s, including where he played a far more nefarious historical figure a Quentin Tarantino movie…
Life Unexpected (2010)
No doubt trying to recreate the success of series like Gilmore Girls and One Tree Hill, this 2010 teen drama saw 16-year-old Lux (Britt Robertson), who grew up in the foster system, track down her birth parents (Shiri Appleby and Kristoffer Polaha), only for a judge to deem that all three must live together as a quasi-family. This high-concept premise needed a grounding in familiar teen fare, which is where 19-year-old Butler's love interest Jones Mager comes in: a high school quarterback who Lux initially deems too "Abercrombie" for her lifestyle, but who winds up being the stabilizing influence she needs.
The Bling Ring (2011)
To be clear, the Lifetime movie and not the Sofia Coppola one starring Emma Watson. Butler had a small role as Zack Garvey, who seems to be an amalgamation of his past and future roles: a transfer student who wants to find friends but also be normal. He winds up caught up in some girls' dramatic and outlandish adventures. Check, check, check.
Switched at Birth (2011)
Butler played a love interest in this 2011 ABC Family series about teenagers Bay Kennish (Vanessa Marano) and Daphne Vasquez (Katie Leclerc), who discover that they were switched at birth and raised in very different socioeconomic upbringings. Butler had a supporting role as James "Wilke" Wilkerson III, a friend of Daphne's biological brother Toby (Lucas Grabeel). The most popular YouTube results for a lot of these teen-drama roles involve clips of a shirtless Butler—a precursor to his current hip gyrations, perhaps?
The Carrie Diaries (2013-2014)
Butler entered the heartthrob big leagues in 2013 with the CW's short-lived Sex and the City prequel, The Carrie Diaries, where he had the tricky challenge of embodying Carrie Bradshaw's (AnnaSophia Robb) first love when we all knew she was destined to wind up with Mr. Big. As sexy (but sensitive!) transfer student Sebastian Kydd, he set the bar for all of Carrie's future flings by marrying their sparky chemistry with some actual vulnerability.
Arrow (2014-2015)
In 2014, Butler had a brief stint on the CW's Arrow as (you guessed it) another love interest: charismatic DJ Chase, who spins intrigue for Thea Queen (Willa Holland). At least in this case, he got to turn the (turn)tables on poor Thea when it was revealed he was secretly working for Ra's al Ghul!
The Shannara Chronicles (2016-2017)
Butler got his first big starring role in the 2016 fantasy series adapted from Terry Brooks' Sword of Shannara trilogy; he played Wil Ohmsford, a human/elf healer destined to save the world with the help of the mystical Elfstones and an ancient sword. The role gave Butler more to work with than past parts, between Wil's discovery that he is the last of the Shannara bloodline of kings and queens, and the far-future world in which magic and demons transform familiar settings like San Francisco.
While the series came to a stumbling end, changing networks and being unable to get a third season greenlit, it still clearly served as a springboard for Butler to jump to the big screen.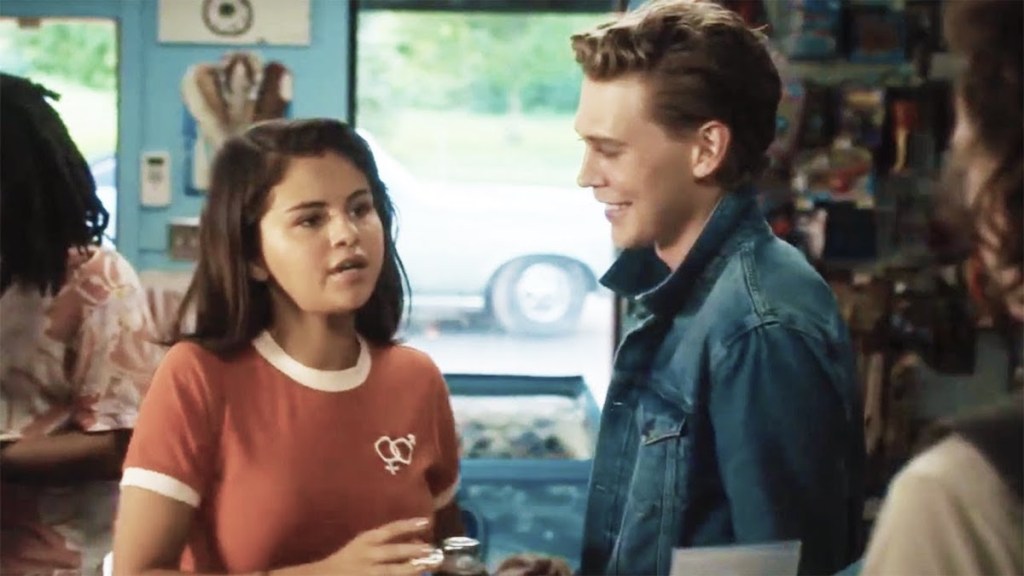 The Dead Don't Die (2019)
Continuing his habit of playing moody love interests (or at least potential ones), Butler appears in Jim Jarmusch's much anticipated (and ultimately disappointing) zombie comedy, The Dead Don't Die. He portrays one of two male companions road tripping alongside sweet Zoe (Selena Gomez). The trio drive into the story midway through like teenagers from a more traditional slasher movie. On the drive in, they're ironically listening to the faux-country song on which the film derives its title. And after being cued up as young outsiders to evaluate the flesh-eating carnage that is to follow, the three characters are then… eaten off-screen.
Hapless law enforcement officers played by Bill Murray and Adam Driver later find their remains at a seedy hotel where Driver dryly understates, "Oh, that's bad."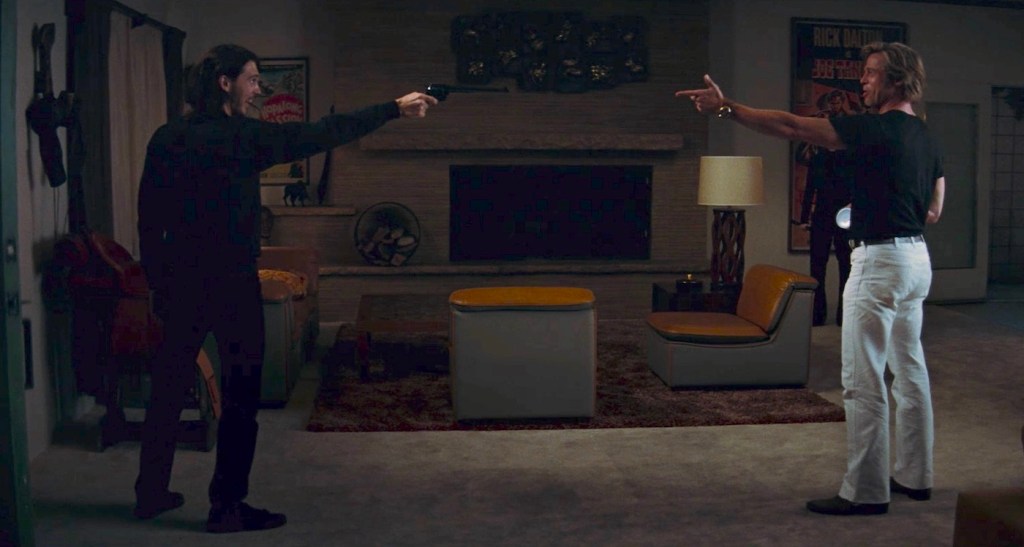 Once Upon a Time… in Hollywood (2019)
In Quentin Tarantino's bloody tribute to the end of Hollywood's golden age, a movie which is crammed with celebrity cameos, Butler nonetheless stood out as Charles Denton "Tex" Watson, the muscle of the Manson Family who in real life committed most of the murders. We first see him in the film as cool on horseback and behind the barrel of a gun, hinting at foreboding things for anyone who knows what happened to movie star Sharon Tate (Margot Robbie in this film). But Tarantino changes history in his film. First by ridiculing the killers who massacred five strangers (one almost nine months pregnant) in 1969. When they drive up Cielo here, they're mocked for being hippies, and Butler in particular is singled out for looking  like "Dennis Hopper" by a whiskey-slurping Rick Dalton (Leonardo DiCaprio). When they decide to break into his house instead, Brad Pitt's high as a kite stuntman, Clif Booth, smirks that he once saw Tex "on a horsie!"
It's okay, no one would stand a chance against Pitt on LSD and DiCaprio with a flamethrower. Although Butler's Tex never got to tell Dalton he had a lunchbox with his face on it.
So what's Butler's encore to Elvis? He will next play the villain in Denis Villeneueve's Dune: Part Two as Baron Harkonnen's scheming nephew Feyd-Rautha Harkonnen. He'll also be partnering with Tom Hanks again in Apple TV+'s war drama Masters of the Air.