Features
Early Man: behind the scenes of Aardman's latest movie
We go behind the scenes of the making of Early Man, a hand-crafted delight from Aardman...
There aren't many Oscar-winning animation studios that you can get within a few minutes of by driving along the M5. In an otherwise-anonymous looking industrial estate just on the outskirts of Bristol though, down from a decent set of services, lies Aardman. The same Aardman that's given us Wallace & Gromit, Shaun The Sheep, Morph, The Pirates! and more. The same Aardman that sellotapes a piece of paper to a traffic cone to make sure you have a parking space.
And the same Aardman that's on the final stretch as I went to visit of what promises to be a real family treat, Early Man. It's the first film that multi-gong-collector Nick Park has directed himself since Wallace & Gromit: The Curse Of The Were-Rabbit. It's a story set in caveman times, that throws in a bit of football too. What's more, he's introducing a fresh bunch of characters, something Park felt was a challenge he wanted to take on. "It's a real job to have a story where you introduce brand new characters, and make them compelling from the beginning", he admitted. "We've probably had more storyboard goes and treatments of the first ten minutes than any other part of the film". That said, the film, Park promises, opens with a Ray Harryhausen tribute too.
The film is almost entirely being put together at Aardman's Bristol site – save for some digital work being done up the road – and when we walked around, it was a predictable hive of activity. Signs on the wall indicated which weekends needed to be worked as the film hit crunch time (signs also advertised a crew screening of The Thing: we'll wait and see if that becomes an influence!), and over 30 individual sets, each being overseen precisely by an animator trying to get a few seconds of footage a day, were being used simultaneously. The production floor is thus a maze of curtains, dim light, and twisty corridors.
Draw back the black curtains of one of the sets, and you've met with nothing short of outright craft at work. Stunningly realised, detailed sets (and we won't spoil them, but go looking for some of the signs in the background when the film comes out), immaculately lit, and with individual hand-crafted characters that allow for the dozens of expressions we've come to love from Park's work. One animator may work on one sequence on one set for up to two to three weeks at a time, working diligently in solitude to craft the animated, with reference footage available on a monitor just to the side. On the set next door, chances are there's someone doing the same.
The equipment they're using is reachable, if expensive. A digital SLR camera, rigged to a controllable robotic arm, all connected to a computer that's running a copy of Windows 10. There's a sense that you could buy half of what you needed, technically, off the High Street. I last went around Aardman when it was making The Pirates!, and back then, the operating system of choice was Windows XP. There's clearly been some investment.
But what you can't buy is the talent, and the attention to detail. The walls of the art department brim with sketches and designs for the film, whilst scale models of the sets stand, measured to the millimetre. Head to where the models are made, and you appreciate instantly that absolutely everything the camera sees is made by a human being. Aardman utilised 3D printing on The Pirates!, one of its early films. Here, the thumbprints are back over the characters, as everything's hand-modelled again. Nick Park wanted, and got, a tactile, hand-crafted feel to his characters.
He takes sole director credit on this one too for the first time. It's little secret that on his last feature, the aforemention Were-Rabbit, Park was a little frustrated by the story notes he kept getting from DreamWorks Animation, that was backing the movie. Park, rightly protective of his characters and stories, rejected the majority of these notes.
DreamWorks, for its part, was said to be torn between trying to be respectful, understanding that it didn't own the characters, and tailoring the movie for an American audience. It's unclear quite how many bruises were sustained by both sides, but perhaps it's telling that it took over a decade to get Park directing a feature again (although he's hardly been slumming it: Wallace & Gromit: A Matter Of Loaf & Death was made a few years after). It's telling, too, that Park chose a new bunch of characters, over which he could have control from day one. And that, he told me, was one of the reasons he wanted to direct by himself. To feel back in control. The downside is it's kept him away from his beloved animation floor more than he would like. But conversely, the feature itself very much has his stamp on it. His grunts are in their too, lent to the scene-stealing character of Hognob.
Also on the casting side, there's quite an ensemble. Maisie William, Eddie Redmayne, Timothy Spall and Richard Ayoade are also joined by Gina Yashere and Johnny Vegas. Tom Hiddleston, meanwhile, landed one of the lead voice roles off the back of an interview the actor did on The Graham Norton Show! Hiddleston has appeared on Norton's sofa a few times, and showcased his talent for accents. Park, when casting, admits he browses lots of YouTube videos, and he stumbled across Hiddleston doing De Niro, and though he was the person he needed.
As for the story? Early Man is a film set at the dawn of time, focusing on the character of Dug and his sidekick Hognob, who come up against the formidable for Lord Nooth, and have the small matter of a football match to play (with a bit of help from a character called Goona. Football fans can probably get the reference there).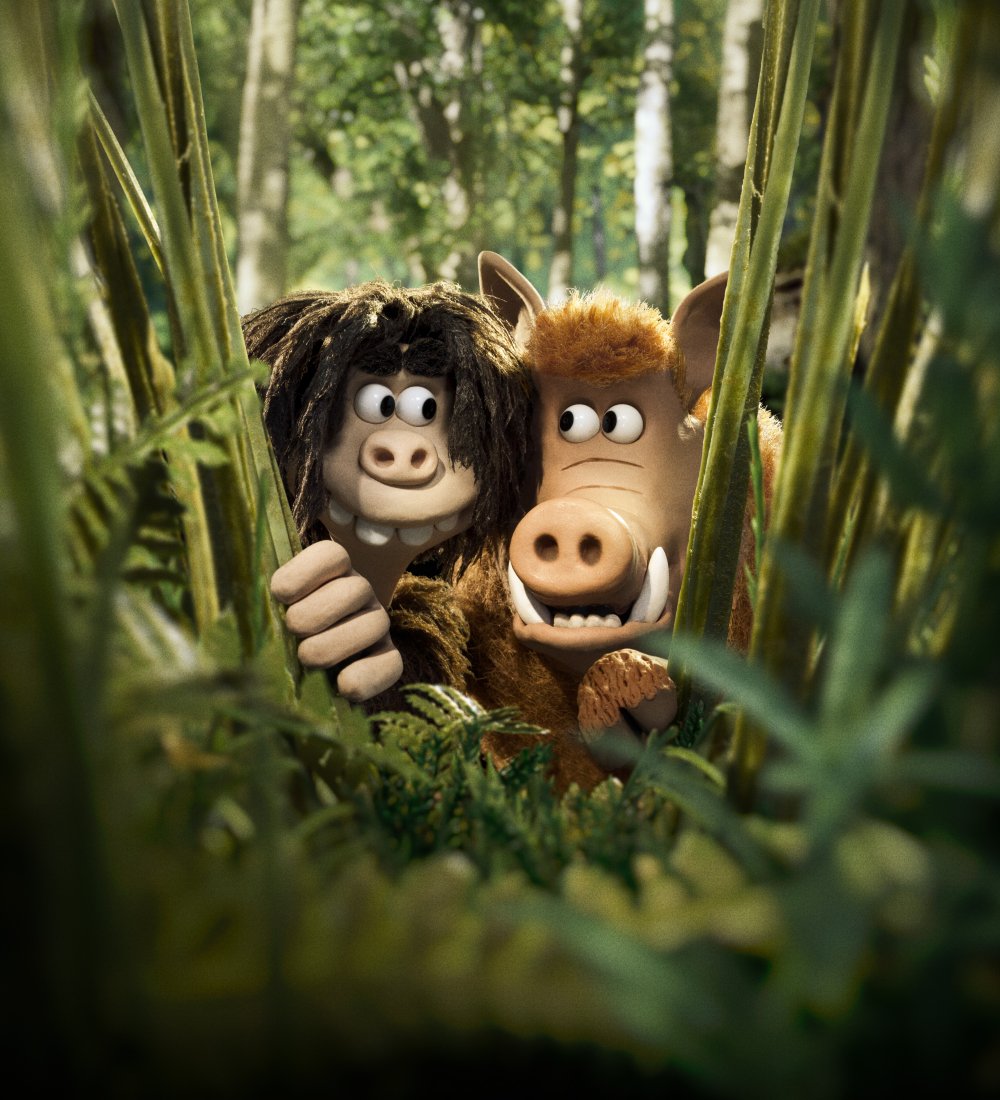 Modestly budgeted by modern day movie standards – the price tag is believed to be in the $50m region – Early Man nonetheless is described as an "epic" for Aardman. The schedule, that ultimately saw the film completed just three weeks before release, was a tough one, even more so when you consider that trailers for the film too were specially shot, and had to be accommodated.
After spending several hours inside, it feels like a Doctor Who-style moment when you're then back outside, and back in the real world. The roar of the M5 nearby, the battle for a parking space on an industrial space back on. But then there's something special about Aardman, a resolutely British company whose craft, manual labour and willingness to go the long way around means that a new film from it feels like a very big event. In the case of Early Man, it is. And even as its sets ultimately get cleared away to make way for the new project to hit the floor – Shaun The Sheep 2, no less! – to get a glimpse into the sheer graft of its world is a treat. Even if I did hit my parking cone on the way out…