News
Don't Breathe 2 Set with Director Rodo Sayagues
A sequel to the 2016 box office smash home invasion horror film, Don't Breathe, is coming, with Stephen Lang back as the Blind Man.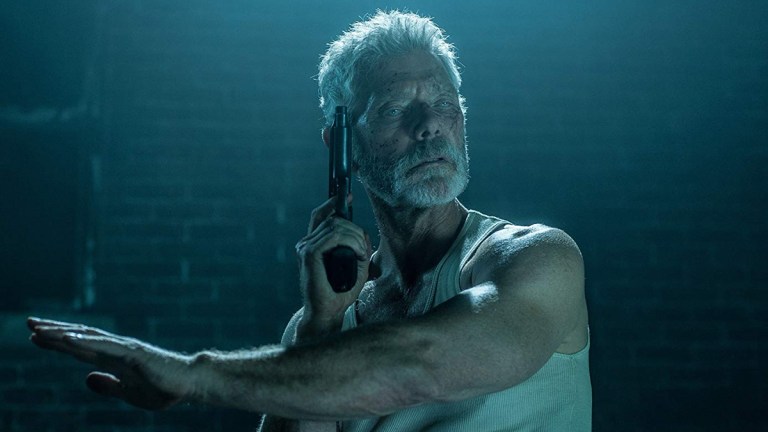 Don't Breathe arrived in 2016, achieving acclaim, both critically and at the box office, with director Fede Alvarez having conjured something that's increasingly rare: an original horror concept, in this case of a blind man (Stephen Lang) who goes (way) too far dishing out just deserts to would-be home invaders. Interestingly, with the film having grossed $157 million worldwide off a microscopic $9.9 million budget, sequel plans quickly started after the film's release, but they only just got off the ground in the beginning of 2020.
Rodo Sayagues will occupy the director's chair for Don't Breathe 2; an appointment made by Alvarez that's close to home, since Sayagues was his co-writer for the original movie, as well as the 2013 Evil Dead remake movie. Sayagues will make his directorial debut with the sequel, which he also co-wrote with Alvarez.
However, the most important element of the original film is confirmed for Don't Breathe 2, with Stephen Lang set to reprise his role as "The Blind Man," Norman Nordstrom, who dished out dread and death in the dark to a trio of hapless home invaders, one of whom was Rocky, played by Jane Levy, who ended up as the final girl to the sight-deprived slasher antagonist. The veteran actor, Lang, signed up for the sequel with a backlog that's currently dominated by director James Cameron's four Avatar sequels, with the actor currently filming a role reprisal from the original 2009 film as the bellicose Col. Miles Quartich.
For now, Don't Breathe 2 s plot details are mostly being kept a secret, but a report from THR offers a brief tease explaining that it will be "set several years after the home invasion of the first movie, with the Blind Man living in quiet solace…until his past sins catch up to him." Consequently, with a story that's seemingly disconnected from the events of the first film, we might not see the return of Jane Levy's Rocky, who safely made it out of the home invasion ordeal without punitive consequence, since the Blind Man did not give her up to authorities.
Director Rodo Sayagues will be backed by returning producers in Fede Alvarez, Sam Raimi and Rob Tapert of Ghost House Pictures, and Good Universe. The film will be backed by the studio coffers of Sony Pictures Worldwide Acquisition and its Stage 6 Films division.
Don't Breathe 2 Release Date
Don't Breathe 2 doesn't have a release date set. However, the film is slated to begin production in April, which seemingly has it on track for 2021.
We'll keep you updated right here on Don't Breathe 2 as the news arrives!
Joseph Baxter is a contributor for Den of Geek and Syfy Wire. You can find his work here. Follow him on Twitter @josbaxter.