Features
Doctor Strange in the Multiverse of Madness Box Office More Than Doubles First Film
Doctor Strange in the Multiverse of Madness crushes the box office benchmark of its predecessor and comes within a hair's breadth of $200 million.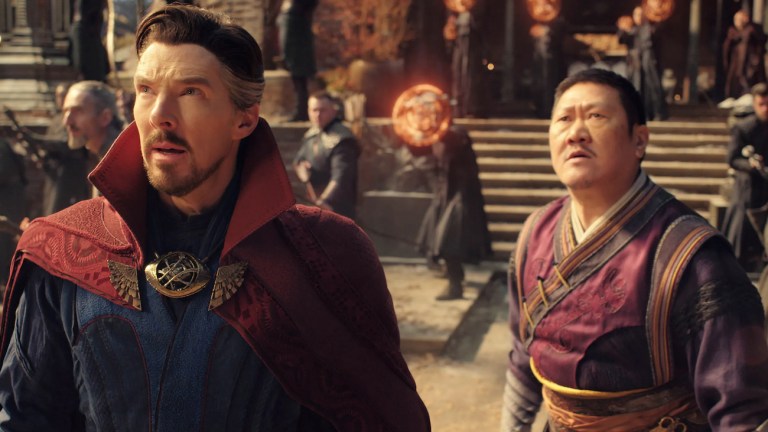 By the Vapors of Vishanti, Doctor Strange has proven to be a Sorcerer Supreme when it comes to the box office machine! The exploding popularity of the character, or at least his rising prominence in the Marvel Cinematic Universe pecking order, has hit a watershed moment as the good doctor now has an opening weekend bigger than any of the Iron Man movies. Indeed, Disney is reporting Doctor Strange in the Multiverse of Madness is estimated to be conjuring a box office haul of $185 million over its first three-ish days in the U.S.
That number is remarkable because it more than doubles the opening of the first Doctor Strange movie in 2016, which debuted in November 2016 with a respectable, if not earth-shattering, $85.1 million. Conversely, Doctor Strange in the Multiverse of Madness is only a stone's throw away from the $200 million benchmark that's only been crossed by Marvel five times, three of which were Avengers movies. In fact, the only "solo" MCU movies to score higher were Spider-Man: No Way Home, and Black Panther.
The implications of this haul seem immense, but what do they mean? Is Benedict Cumberbatch's Stephen Strange really as beloved as Spider-Man and Black Panther now? And are audiences digging Multiverse of Madness nearly so much as last year's generally beloved No Way Home?
The latter question is easier to answer, but generally speaking the movie seems more warmly received than internet chatter of it being "too scary" or "too violent" for kids suggests—presumably made by adults who somehow never saw Raiders of the Lost Ark, Jaws, or Beetlejuice in their own youths. With that said, Doctor Strange 2 doesn't seem to be sharing the same euphoric reception of No Way Home, which grossed an astonishing $260 million in its first weekend, the second highest debut ever. While NWH earned a golden (and exceedingly rare) "A+" CinemaScore from polled audiences, Multiverse of Madness bows with a more measured "B+."
To be clear, a B+ from the industry pollsters is seen as (faintly) acceptable, but it does suggest word-of-mouth is not overly enthusiastic, which always is a warning sign to studios. It also speaks to perhaps why the movie was so front-loaded, with Multiverse of Madness earning an astounding $90 million on Friday alone, yet still being unable to cross $200 million. This is probably due to a more diverse pool of opinion among moviegoers than NWH or Black Panther. But despite that humbler grade from audiences who were scientifically polled, Doctor Strange is going to make almost as much as the first two Avengers movies did in their openings. How did that happen?
Well, beyond the obvious effect of inflation, this mostly speaks to the strength of the Marvel Studios factory system and its ability to build an established brand of trust with moviegoing audiences. While the first Doctor Strange movie seemed to hit a ceiling that a lot of first-time Marvel Studios origin films do when they star a comic book character of lesser mainstream popularity—Shang-Chi still opened at a respectable but more modest $75.4 million just last year—the sequel comes after the character held a pivotal role in Avengers: Infinity War. Indeed, he got to be the one who teased the title of the subsequent Avengers mega-spectacle ("We're in the endgame now"), and perhaps more importantly spent most of the movie trading barbs with the far more popular characters of Iron Man, Spider-Man, and the Guardians of the Galaxy.
That association seems to have to rubbed off on Strange, whose popularity as an extension of those characters has demonstrably grown. Just as importantly though, the new Doctor Strange movie was marketed as a crossover event in the same ballpark as an Avengers movie (or one with three generations of Spider-Man). Wanda Maximoff (Elizabeth Olsen) is fresh off Disney+'s most popular Marvel series, WandaVision, and was heavily marketed as a co-lead in the film next to Benedict Cumberbatch. Additionally, it was heavily suggested in later marketing that fan favorites like Patrick Stewart as Charles Xavier from the X-Men movies and Hayley Atwell as Captain Carter (in live-action) would be making their MCU debuts. Apparently these revelations were to the chagrin of Marvel Studios President Kevin Feige, but it's hard to argue with the commercial results.
Additionally, this re-confirms the growing awareness that at least in the immediate aftermath of the first few years of the pandemic, audiences are more eager than ever to escape into familiar and conventional brands. It's why the busiest theater in the United States got attention over the weekend for showing virtually nothing but Doctor Strange in the Multiverse of Madness around the clock during the movie's first 36 hours in release, as well as why original movies like The Northman or The Unbearable Weight of Massive Talent struggle to find an audience.
For perspective, the spring's other multiverse movie, Everything Everywhere All at Once, has largely had a rapturous embrace from the audiences who've seen it and is the indie success story of the year. It's also only made $43 million worldwide since March, less than what Strange did on Friday in the U.S.
Yet, lest this seem like a down note, it should be acknowledged many critics (including this one) have praised Doctor Strange in the Multiverse of Madness for being a genuine Sam Raimi movie and for drawing a little outside the Marvel Studios lines when it came to elements like a smattering of horror and Gothic influences. The fact that when Marvel does this with a character who's already earned audience goodwill (thanks largely to a couple of Avengers movie appearances) is a good reinforcement for a studio that might be a little gun-shy following the disappointing critical and commercial performance of Eternals.
In other words, in the right circumstances this indicates Marvel can continue experimenting. Strange magic, indeed.