News
Doctor Strange 2's Horror Content Unveiled by BBFC
The British Board of Film Classification listing for Doctor Strange in the Multiverse of Madness offers fans a preview of Marvel's upcoming horrors.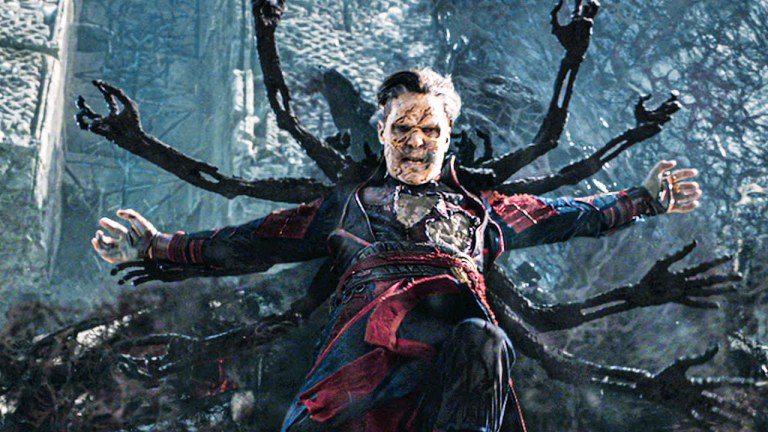 This article contains spoilers for Marvel's Doctor Strange in the Multiverse of Madness.
When Marvel Studios first announced that they were pressing ahead with a sequel to 2016's Doctor Strange, the news was welcomed by fans of the character and of the movie's returning director, Scott Derrickson. It seemed like the MCU was about to finally start embracing the kind of horror themes that run through a swathe of Marvel Universe comics. Retaining Derrickson, a favored creator who had previously helmed the likes of Sinister and The Exorcism of Emily Rose, seemed like the right choice.
But some pesky "creative differences" between Marvel and Derrickson would emerge, and soon the hunt was on to find a suitable replacement. Luckily, none other than Sam Raimi climbed aboard to direct Doctor Strange in the Multiverse of Madness after Derrickson's departure. After breaking into the horror genre with The Evil Dead in 1981, Raimi had also gone on to create a first Spider-Man trilogy for Sony. It seems like a match made in heaven, but fans have long wondered just how horrifying the sequel might end up being under the Disney umbrella.
A week ahead of the film's release, we can now get a decent idea of how far Marvel are willing to go when exploring the genre in the MCU, as the British Board of Film Classification have published their ratings info for the latest franchise entry. Describing the movie's plot, the BBFC summarizes Doctor Strange in the Multiverse of Madness as "a fantasy horror adventure in which a sorcerer comes to the aid of a young woman who can traverse different universes and is being hunted for her power" and runs down all the moments in the film that contributed to its 12A rating.
With some spoilers, here they are:
Injury detail: A large wound is seen in a man's leg, and there is occasional sight of blood and cuts to faces. Occasional close ups on a dead body show some stages of decomposition.
Threat and horror: Scenes of horror include demonic beings attacking people; a decomposing corpse being reanimated; people being burned by magical powers, leaving charred remains; and multiple 'jump scares'. There are also frequent scenes of threat, in which people are pursued by demonic entities and monsters, or threatened with magical torture.
Violence: Sequences include superhuman beings battling with fantastical powers, as well as use of weapons and fistfights. Stronger moments include a person being impaled, magical powers devastating a man's head, and the implication someone is cut in half. Fantastical creatures are attacked using different magical powers, resulting in brief gory injuries.
Language: There is use of mild bad language ('shit', 'crap', 'ass') and a partial use of 'son of a bitch'. Milder terms include 'God', 'hell', 'butt' and 'damn'. There is also occasional rude humour, and characters dealing with grief.