News
Darkman's Behind-the-Scenes Struggles with Universal Revealed by Filmmakers
The filmmakers involved with director Sam Raimi's sci-fi superhero hit, Darkman, reveal that it was secretly re-cut behind Universal's back.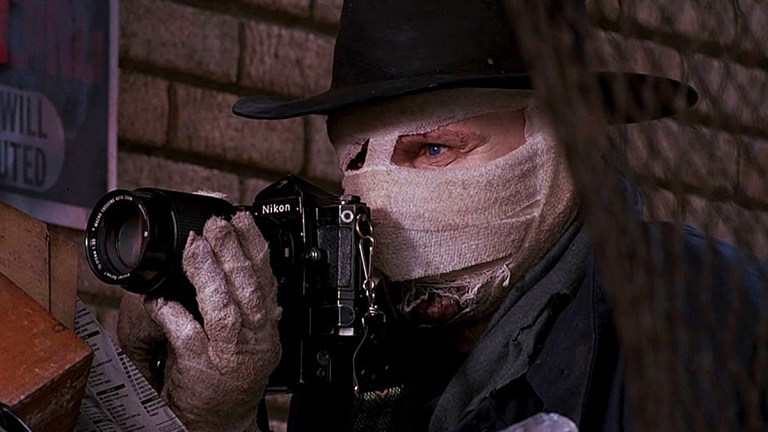 A groundbreaking entry in the superhero cinema genre, 1990's Darkman is celebrating its 30th anniversary. While the dark horse hit of a film served as a mainstream breakthrough for Evil Dead horror maestro Sam Raimi and a key headlining gig for star Liam Neeson, it was also the culmination of much behind-the-scenes friction between studio Universal and the filmmakers, who, on this occasion, shed some intriguing light on the experience.
Members of the cast and crew of Darkman participated in an oral history interview with THR commemorating the film's big 3-0; a conversation that proved revelatory regarding a fateful act of subterfuge perpetrated by eventual Spider-Man director Raimi and company against the wishes of studio Universal to secretly re-edit the film a mere 48 hours before it screened to critics. The film, which hit theaters on August 24, 1990, was a surprise hit (with no bankable filmmaker or stars to tout), topping the box office in its weekend debut, grossing $48 million worldwide against a $16 million budget. Yet, its favorable outcome actually occurred in spite of the studio's instructions for its length, tone, and just about everything else, for that matter.
Producer and repertory Raimi collaborator Robert Tapert reveals that Universal was not at all pleased with Raimi's original cut for Darkman (initially edited by David Stiven,) which prompted the hiring of their own editor, Bud S. Smith, who cut the film down to a trim 85 minutes from its intended two-hour form, yielding test screening results worse than Raimi's. Consequently, with the picture's outlook left bleak, Raimi and company, just days before critic screenings, decided to call an audible behind the studio's back and re-edited the entire film. As Tapert confesses of the move:
"I don't mind saying this now, and Sam will probably be unhappy, but the studio said, "There is nothing we can do to save this picture. Let's lock it [Smith cut approved]." So we locked the picture on Friday night at 5 p.m. We were incredibly disheartened and dispirited. And Sam's present editor, a guy by the name of Bob Murawski, said, 'There is a much better movie than what we are locking right now.' So, the decision was made that we would re-edit the movie. We spent 48 hours basically recutting the entire movie, restoring things we thought were important. We added nine minutes back in, things we really liked that the preview audiences would recoil from, but that was what it was meant to do. We locked it — and didn't tell anybody."
As Sean Daniel, former Universal production president, describes of the fallout from Raimi and company's temeritous move:
"[Universal Pictures Chairman] Tom Pollock was seriously f**king furious. I remember thinking, 'That is one ballsy guerrilla move.' Is it as big a breach of every conceivable protocol of delivering a movie in postproduction? Yes. Totally. It was an Ocean's Eleven maneuver."
Said ballsy guerilla move ended up giving the film a distinction that it had been sorely lacking during the editing process. The film, which was greenlit in the wake of the genre-similar phenomenal success of Tim Burton's 1989 Batman, was originally designed by Universal to siphon some of that momentum, but would take shape as a more-twisted, R-rated genre outing that only had a passing accessibility with the PG-13 Burton film. Indeed, Universal's plans for Darkman were tall and rather ambiguous, especially when facing the possibility of competing against other Batman genre clones (although, there didn't turn out to be too many).
Another aspect of the tension was revealed by repertory Raimi player and Evil Dead franchise star Bruce Campbell, who played a bit-part in the film, and provided voice work, notably whenever Raimi needed quick audio of Darkman yelling lines like, "Julie!" He explains his disappointment in Universal's cutting of certain scenes, and notably describes of one such instance:
"My favorite scene was cut because of a preview. [Colin Friels's] character starts to woo [Frances McDormand's character] Julie, and you go, 'Maybe this guy is all right.' Cut to his apartment and he's wearing a towel, and he opens up a box and throws gold coins on the bed. Then drops his towel dives onto the coins buck-ass naked. They do previews, and that scene kept popping up. An exec looks at me and goes, 'I'll give you a copy of that scene because it's never going to be in the movie.' And I was like, 'You pussy.'"
The project was clearly defined by differing visions, with the studio's original idea being to adapt a known comic book property in The Shadow. Yet, that film was already in development (initially with Robert Zemeckis), and ultimately manifested as the 1994 release starring Alec Baldwin, directed by Russell Mulcahy. Thus, we got a somewhat similar fedora-and-trenchcoat-rocking superhero story—developed by Raimi and written by several scribes at Universal's behest—following mild-mannered scientist Peyton Westlake (Neeson), who, after being attacked by gangsters in his lab, is left horribly disfigured, but endowed with enhanced strength, sending him on a stealthy-yet-wild vigilante's quest for vengeance. Westlake also spends time attempting to reconnect with wayward love interest Julie Hastings (McDormand) while bearing a bandaged-covered countenance when not disguised by the quickly-expiring synthetic masks he invented. While the trope-borrowing thematic parallels here to the chemical-vat-caused origin story of Jack Nicholson's Batman villain, the Joker, certainly signaled the studio's intent, it obviously didn't quite turn out that way.
Thusly, with Universal not quite sure what to do after Raimi's tonally-differing, 136-minute final cut was set in stone, the film's saving grace came about from Universal's marketing team. Tapert explains how the film was saved by its famous tagline, stating, "The marketing team liked the movie because they had a handle on it. 'Who is Darkman?' That was a stroke of genius." Sameth further explains, "The question was simple, memorable, had the title of the movie in it and super cheap to print on posters and stick those all over fences in major cities." It's a notion emphatically backed by Daniel who declares, "It would not have opened at No. 1 without 'Who is Darkman?'."
Nevertheless, Darkman proved to be a hit (albeit a modest one), and one could make arguments that it was either because or in spite of its behind-the-scenes struggles. Yet, unsurprisingly, it would also prove to be a one-and-done franchise outing for Raimi and his cohorts as well as the original main cast, save for Larry Drake's villain, Robert Durant. The franchise nevertheless continued on with two made-for-video sequels—1995's Darkman II: The Return of Durant and 1996's Darkman III: Die Darkman Die—both of which saw the future title player of The Mummy franchise, Arnold Vosloo, star as Darkman. However, while it was a brief flash in the pop culture panorama, don't be surprised if Darkman eventually enters the ever-ubiquitous reboot conversation.