Features
Darkest Hour: Examining Its Most Contentious Scene
How well you respond to Darkest Hour may well depend on how you feel about one particular scene. Spoilers ahead...
This article contains spoilers for Darkest Hour.
Debate continues to sway about the merits or otherwise of director Joe Wright's Oscar contender, Darkest Hour. The movie seems certain, with some justification, to land Gary Oldman a best actor Oscar statue for his portrayal of Winston Churchill. Notwithstanding the fact that Brian Cox also put in an excellent take on the former British Prime Minister in the less successful Churchill last year (a weaker film, but as good a performance), Oldman's work is superb, all the more so given the amount of make up and prosthetics he's buried under.
Darkest Hour is finding its audience too, telling the story of Churchill's ascension to Prime Minister, the considerable opposition to him, and the imminent threat to the UK at the start of World War II. With Hitler and German forces closing in, and 300,000 British troops stranded in Dunkirk (an event that's cropped up in four films and counting over the past year or so, with Dunkirk and Their Finest joining the aforementioned Churchill), Wright's movie plays out like an old-style Hollywood thriller if anything, and an accessible one. That latter point shouldn't be overlooked: this is a slice of history that's attracting a broad spread of people to multiplexes.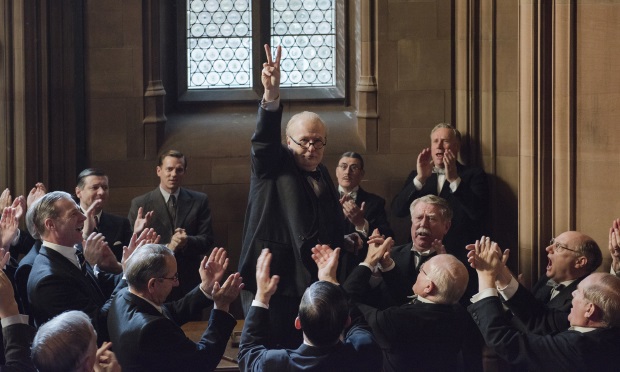 Those who like the film – and more seem to than not – praise the ability to distill and tell such a well-known story in a very compelling way (and it has a certificate in the UK that allows younger viewers in). Those who don't have argued that it over-simplifies things, and posits a far too simple one man versus the Nazis story.
But most debate centers around what's known as the tube scene, and that's where this article gets spoiler-y.
The vast majority of Darkest Hour takes place in dank corridors, the dim interiors of Westminster, and cabinet and committee rooms. We see Churchill being pushed and prodded by events, the mounting pressures against him from outside and within. We know that the film is leading up to a big movie moment, the kind where he has to stand up and make a decision that changes history. But the way that Darkest Hour presents this involves a leap of faith that it'd be fair to say not everyone is willing to take. And I do wonder if, ultimately, it fatally undermines the film.
For as the film gets into its final act, Churchill decides to go for a ride on the London Underground. I liked Darkest Hour, cards on the proverbial table, but I don't think many people – myself included – hesitated in quickly calling shenanigans when the scene developed. You sit there thinking," That couldn't have happened," and within seconds, without having to go anywhere near a history book, you can't help but conclude that it's a very obvious construct. Whether you go for it or not seems to center on whether that construct actually takes you out of the movie.
Notwithstanding the simple geography – we're in Thor: The Dark World territory here, as a single stop tube ride in Darkest Hour that should take a few minutes goes on for ten. Plus there are spare seats in the carriage! The scene simply feels made up. And in a film that's retelling a piece of history, that's a bold move.
It's not that cinema doesn't do this a lot when covering history, playing hard and fast with facts to service the demands of film drama and running times. Fairly recently, for instance, we had Patriots Day, the story of the hunt for the Boston marathon bombers, where Mark Wahlberg played a character who was an amalgam of three different real-life individuals. Braveheart took home Oscars, in spite of it being widely known at the time that the timeline of the film was all over the place, and portrayal of historical characters was haphazard. Argo, another Best Picture winner, transferred a lot of credit from Canada to the USA. It's not quite an endless list, but it sure feels it.
In many of those instances, though, the historical liberties are likely to be something you may not have been aware of until after you've seen the film (or unless you were forewarned: remember the controversy leading up to the release of U-571 in Britain, where even then-Prime Minister Tony Blair got in on the act?). In Darkest Hour, though, it feels like liberties are being overtly taken as you watch it.
The scene, then, sees Oldman's Churchill talking to the everyday citizens of London, as he faces pressure from his own colleagues to negotiate with Hitler. He courts their views, gets to know them, and hosts a small, intimate, less salubrious version of The Jeremy Kyle Show on a train carriage. Come the end of the prolonged chat, where everyone gets to have their say without talking over each other, they vehemently tell him to fight, which affirms his view that Britain shouldn't surrender and negotiate, and he pops off to give the speech that provides the dramatic high of the movie.
Conveniently, it seems as though a good demographic cross-section of the UK population has landed in the carriage concerned.
Joe Wright, for his part, has defended the scenes as "a fictionalization of an emotional truth," and there is a point there. The conclusion of the scene feels like a realistic reflection, even if the journey there has been odd. Wright and screenwriter Anthony McCarten built on the knowledge that Churchill would sometimes disappear, and the many historical reports that he would go and talk to people around London to get their opinion. Both have conceded that the scene didn't happen as posited in the film, with McCarten adding to The Wrap that it's "a perfect example of how you're trying to dramatize verifiable events that might have happened outside the time frame of your movie, but which are very, very valuable for the dramatist in showing critical aspects of your story."
Again, there's a point there. In terms of getting over the core drama in an economical way, the scene has its purpose. But, questions. Is it right to be so overtly fictional in a film that's so steeped in history, particularly relatively recent history? And is it the right approach when the scene appears to be taking so many people out of the film altogether? That complaints are not in short supply that it breaks the tone of the film?
What throws a further spotlight on the debate is it's clearly the key moment in the film. It's the scene where an embattled Churchill makes his decision for definite, and the one that – in terms of the narrative of the film – joins everything to the eventual ending. How else could what needed to be done be done? Well, that's not really the job of the audience to figure out. What's clear, though, wherever you stand on the argument, is that the pivotal scene in the movie feels odd. Well played, well staged, well done. But fake.
Does that ultimately matter? Well, for many it's clearly worked and proven the right decision. Darkest Hour has snagged six Oscar nominations, including one for Best Picture. Through its storytelling choices, it can cover the narrative it wants to cover in just over two hours flat. It's also finding an audience.
But beyond the initial box office run, and beyond awards season, does one scene undermine Darkest Hour's telling of a key piece of British, European, even global history? Time will surely tell. But the vehemence of the debate that's raging about the film right now suggests that Darkest Hour may end up on internet lists of historical inaccuracy for some time to come at the very least. You have to say, though, that it's in very good company there, with no shortage of very acclaimed films on it…