News
Carl Reiner's Life and Career Will Be Celebrated on TCM
TCM pays tribute to legendary comic master Carl Reiner by airing classics, including Where's Poppa?, All of Me, and Oh, God!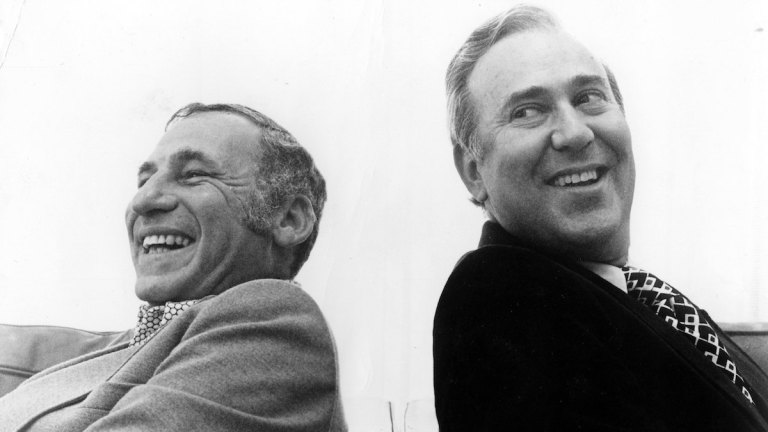 Carl Reiner had a particular genius for comedy. While some of his seminal works, The Dick Van Dyke Show and his directorial debut Enter Laughing, were autobiographical, Reiner was amazingly versatile. Two of his most contrasting pieces, Where's Poppa? (1970) and Oh, God! (1977) will be included on the bill as Turner Classic Movies celebrates the life and career of the writer, director, actor, and author with TCM Remembers Carl Reiner. The Carl Reiner programming tribute will happen on Tuesday, July 28.
Where's Poppa? is one of the darkest of comedies with the most devious sensitivity. It is intentionally in bad taste. George Segal wants to drive his own mother to suicide. And he's a lawyer and knows how to get away with it. It is brilliant. Oh, God! is its polar opposite. George Burns is God, and it might not have been too much of a stretch for him. The ex-vaudevillian had seen it all and knew more than he could ever say, people loved him. But golly, did they love John Denver, just a country boy, mind you, but the most sensitive singer-songwriter with a fiddle at the time.
All of Me is pure screwball joy when Steve Martin is a cynical corporate lawyer who has his body mistakenly invaded by an ailing heiress (Lily Tomlin) who wants a second chance at life. An terrific showcase for Martin's physical comedic abilities, there are scenes where he must play both himself and Tomlin at the same time, and the viewer never loses the sense of Tomlin's presence in the scene.
The Comic dares to catch Dick Van Dyke from a bad angle. The actor had only been cast in movies in which he was beloved at this point. He was the chimney sweep in Disney's Mary Poppins and wrote the kiss off song in Bye Bye Birdie. This is what he's like when he's not being funny? Except that it is funny.
Reiner is best known for his for creating and writing The Dick Van Dyke Show, but he was already beloved for his sketch comedy work with Sid Caesar and Mel Brooks. Brooks and Reiner's "2,000 Year Old Man" is a classic comic duet performance on par with Abbott and Costello's "Who's on First?" or Cheech and Chong's "Dave's Not Here." His collaborations with Steve Martin, including The Jerk (1979), Dead Men Don't Wear Plaid (1982), and All of Me (1984), are farcical signposts.
Reiner died at home with family on June 29 at the age of 98. Over his more than 70-year career, he gained a loyal following and was awarded nine Emmys, a Grammy, and the Mark Twain prize for American Humor. In 2018, Carl Reiner and his son, filmmaker Rob Reiner, were honored with the hand and footprint ceremony at the TCL Chinese Theatre in Hollywood during the eighth annual TCM Classic Film Festival. It marked the first time a father and son were jointly honored with a hand and footprint ceremony.
The following is the complete schedule for TCM's tribute to Carl Reiner:
TCM Remembers Carl Reiner – Tuesday, July 28
8:00 p.m. Enter Laughing (1966) – An aspiring actor gets a job with a broken-down theatre company.
10:00 p.m. All of Me (1984) – A lawyer's body is invaded by the soul of a recently deceased female client.
12:00 a.m. The Comic (1969) – A silent comic's rampant ego ruins the lives of those around him.
2:00 a.m. Where's Poppa? (1970) – A New York lawyer deals with an unhinged mother, a peculiar love life and other big city troubles.
3:30 a.m. Oh, God! (1977) – A grocer is selected by God to help spread a message.
TCM Remembers Carl Reiner airs Tuesday, July 28, beginning at 8 p.m., on Turner Classic Movies.