News
Bruce Lee to Get Definitive Criterion Collection Blu-ray Box Set
The Criterion Collection is releasing 4K restorations of Bruce Lee's iconic action movies as part of an impressive Blu-ray set.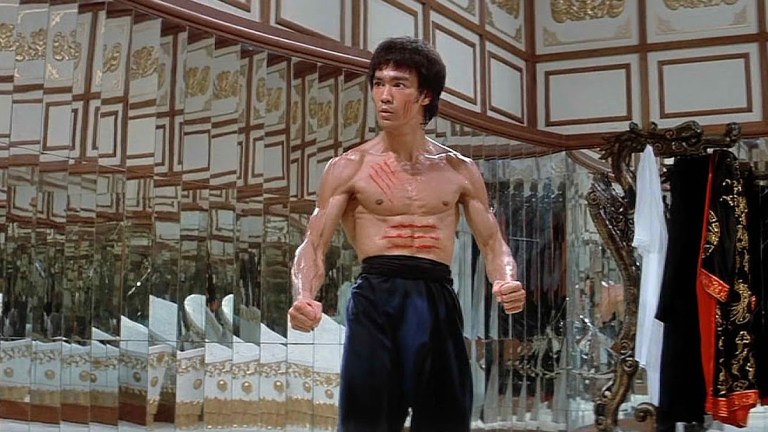 Bruce Lee's cinematic legacy may already be secure, but it's about to be boosted by impressive Blu-ray releases, courtesy of The Criterion Collection, that will see his five legendary, genre-transformative Hong Kong action films in a way we've never before imagine, digitally restored in 4K resolution.
The Criterion Collection has officially announced Bruce Lee: His Greatest Hits, which will be released on July 14. The 7-disc Blu-ray box set will showcase 4K digital restorations of fist-flying films, The Big Boss, Fist of Fury, Game of Death, and The Way of the Dragon. Additionally, Lee's signature film and iconoclastic actioner, Enter the Dragon, will also be included in this set; an eye-opening addition, since the film—as a co-production of Warner Bros. and Lee's Concord Productions shingle—is typically left off the vast array of budget releases and box sets for Lee's films. Indeed, Enter's presence here is two-fold, with one presented as a 2K digital restoration of 1973's original 99-minute theatrical version, and the other as a new 102-minute 2K-restored "special edition." Also included is a high-definition version of Game of Death II, the 1981 sequel film, which, in its opening, utilized archived footage of Lee before turning the film over to a new protagonist.
Check out the trailer just below for Criterion Collection's Bruce Lee: His Greatest Hits, and get properly pumped.
Audio for each of the five films will be presented in their original monaural soundtracks in addition to alternate audio options, notably their original English-dubbed tracks. Of course, there's also loads of bonus material (brand-new interviews, rare footage and documentaries,) to tide over even the most insatiable of fans.
The films themselves, of course, stand as defining chopsocky classics that turned Lee into a global household name after his recently-lampooned 1960s run in Hollywood. Indeed, 1971's The Big Boss successfully kicked off a new—though sadly short—era of cinematic collaborations in Hong Kong with producer Raymond Chow, followed up with 1972's Fist of Fury (a.k.a. The Chinese Connection), 1972's Way of the Dragon (which featured his famous battle with Chuck Norris), culminating with 1973's Enter the Dragon, perhaps the most important action film of all time. That film would be followed up in 1978—five years after Lee's untimely death at age 32—by Game of Death, which utilized doubles for Lee's character, transitioning to posthumous footage of Lee—shot between Way and Enter—in the film's climactic fight scenes (including one against his real-life student, Kareem Abdul-Jabbar,) in ascending levels of a pagoda, wearing his now-iconic yellow-and-black track suit.
Here's the official breakdown of what to expect in this set:
Bruce Lee: His Greatest Hits Special Features
* 4K digital restorations of The Big Boss, Fist of Fury, Game of Death, and The Way of the Dragon, with uncompressed original monaural soundtracks
* New 2K digital restoration of the rarely-seen 99-minute 1973 theatrical version of Enter the Dragon, with uncompressed original monaural soundtrack
* 2K digital restoration of the 102-minute "special-edition" version of Enter the Dragon
* Alternate audio soundtracks for the films, including original English-dubbed tracks and a 5.1 surround soundtrack for the special-edition version of Enter the Dragon
* Six audio commentaries: on The Big Boss by Bruce Lee expert Brandon Bentley; on The Big Boss, Fist of Fury, Game of Death, and The Way of the Dragon by Hong Kong-film expert Mike Leeder; and on the special-edition version of Enter the Dragon by producer Paul Heller
* High-definition presentation of Game of Death II, the 1981 sequel to Game of Death
* Game of Death Redux, a new presentation of Lee's original Game of Death footage, produced by Alan Canvan
* New interviews on all five films with Lee biographer Matthew Polly
* New interview with producer Andre Morgan about Golden Harvest, the company behind Hong Kong's top martial-arts stars, including Lee
* New program about English-language dubbing with voice performers Michael Kaye (the English-speaking voice of Lee's Chen Zhen in Fist of Fury) and Vaughan Savidge
* New interview with author Grady Hendrix about the "Bruceploitation" subgenre that followed Lee's death, and a selection of Bruceploitation trailers
* Blood and Steel, a 2004 documentary about the making of Enter the Dragon
* Multiple programs and documentaries about Lee's life and philosophies, including Bruce Lee: The Man and the Legend (1973) and Bruce Lee: In His Own Words (1998)
* Interviews with Linda Lee Cadwell, Lee's widow, and many of Lee's collaborators and admirers, including actors Jon T. Benn, Riki Hashimoto, Nora Miao, Robert Wall, Yuen Wah, and Simon Yam and directors Clarence Fok, Sammo Hung, and Wong Jing
* Promotional materials
* New English subtitle translations and subtitles for the deaf and hard of hearing
* PLUS: An essay by critic Jeff Chang