Features
Best Movies Coming to Netflix in September 2022
We look toward to the surprisingly robust selection of movies Netflix is about to bring to a streaming device near you.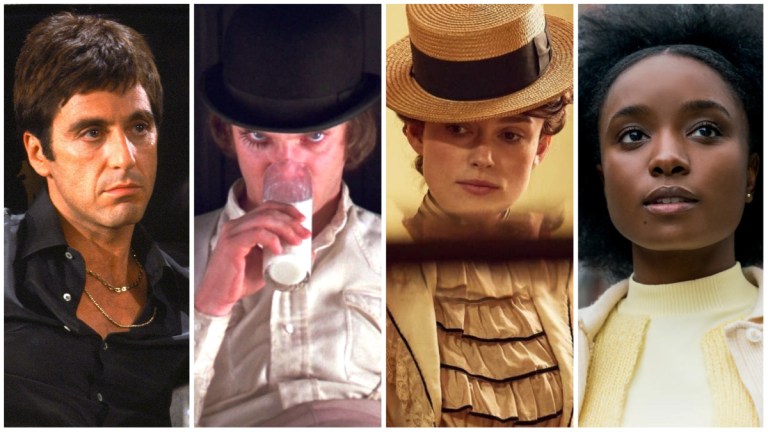 Summer is almost over. You can feel it as the days are getting longer. You can smell it as the air gets a little cooler and that first bit of foliage starts to fall. While the heat is still raging in large swaths of the U.S. (which this streaming list has been composed for), the truth is things are starting to quiet down.
In that vein, it's a perfect time to curl up with someone and "Netflix and chill" as the kids might say. It's also just a good time to revisit some old favorites, which Netflix is bringing back to the streaming service in droves. Here are the best of those gems.
A Clockwork Orange (1971)
September 1
Hardly a movie for the faint of heart—this is the type of picture that the term "trigger warning" should've been invented for—Stanley Kubrick's A Clockwork Orange remains a masterful if nightmarish descent into immorality and decadence. As Alex DeLarge, Malcolm McDowell's career-making performance still chills to the bone every time he looks into the camera and raises a hallucinogenic glass of milk, toasting to his health if not yours.
Don't be fooled. Alex is a monster—a narcissistic, insidious menace whose one redeeming quality is an affinity for Beethoven. And it's through that one sliver of humanity that Kubrick bludgeons viewers into pitying this idol of his dystopian age as Alex goes from gang leader to governmental guinea pig when he's arrested (rightfully) for murder and then psychologically tortured… with Ludwig van Beethoven music. It's challenging, bizarre, and bleakly beautiful to behold.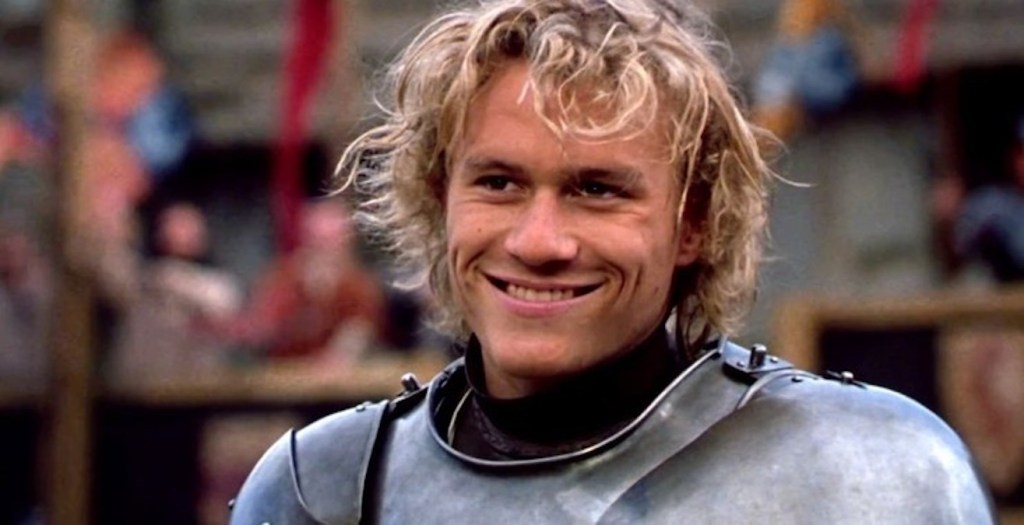 A Knight's Tale (2001)
September 1
Historical accuracy is great and all, but sometimes it can be pretty overrated. For example, it's cool to know the costumes at a medieval joust are period accurate, right down to the type of needlework real denizens of the Middle Ages would've used. But you know what's also neat? Seeing those same denizens sing Queen's "We Will Rock You" as they get ready to watch horsies go zoom.
Such is the beginning of Brian Helgeland's endlessly entertaining post-modern pastiche, A Knight's Tale. Ostensibly based Chaucer's The Canterbury Tales, this throwback to late '90s flippancy is really a boy meets girl story between hedge knight William Thatcher (a dashing Heath Ledger) and noblewoman Jocelyn (Shannyn Sossamon). It's also just a cheeky and inventive crowdpleaser. Don't believe us? Watch any scene with Paul Bettany as William's hype man…. Geoffrey Chaucer.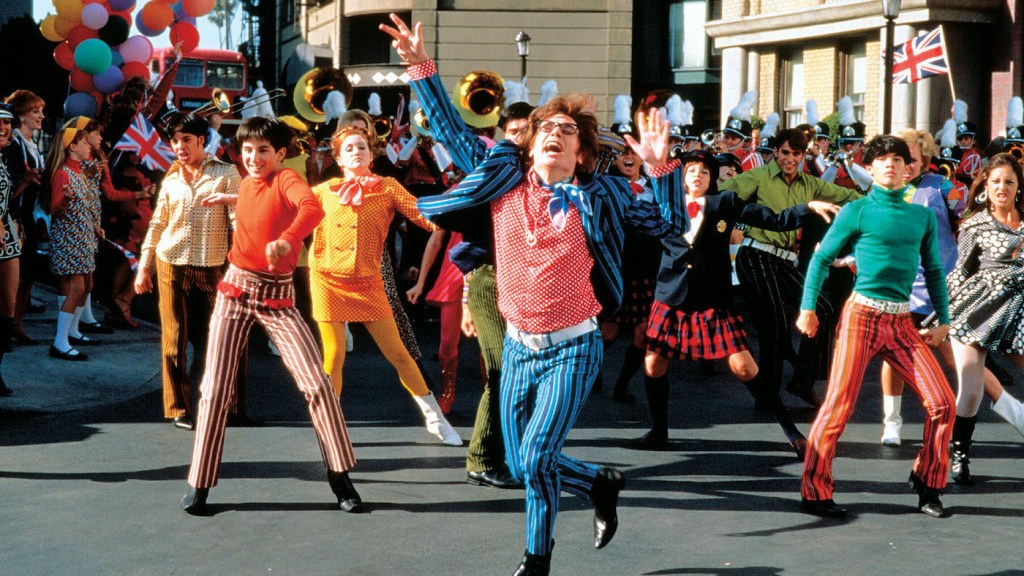 Austin Powers: International Man of Mystery (1997)
September 1
As our introduction to Mike Myers' most (in)famous roles as Austin Powers and Dr. Evil, the first Austin Powers movie is notorious in some circles due to its broad and frankly lowbrow humor. Yet there's a charm to the original of Myers and director Jay Roach's three love letters to 1960s Bondmania and the larger pop culture fads of that era. With Austin Powers created during its own '90s heyday of comedians building big, cartoonish characters and bigger brands, there was nothing larger than Myers spoofing of 007 and Blofeld.
There's also a mischievous unpredictability to the humor here, back before the jokes became formulaic in sequels, and Myers added at least one too many side characters to his repertoire. Also, despite the clear affection Myers has for the Bond movies—with the star also writing the script for Austin Powers—his mocking of the early Sean Connery and Roger Moore 007 flicks was so merciless that one could argue it caused Bond producers to run away from camp forevermore after the turn of the century. That's got to be some kind of achievement. It also acts as a time capsule for both the nostalgia folks in the 1990s had for the '60s and for the '90s itself. Honestly, baby, trust us, it's still kind of groovy.
Clueless (1995)
September 1
Some buggin' Monet you know might tell you there are better comedies on Netflix right now. As if! Writer-director Amy Heckerling's most effervescent teen comedy, Clueless, remains a timeless classic of its genre. While certainly dated in '90s trends and fashions, the genius of Heckerling's script, which is a canny adaptation of Jane Austen's Emma novel, is that it really invented most of its own style and teen vocabulary. The filmmaker did this so the movie wouldn't be dated when it released in '95, a year after it was filmed. But it also allowed her to make an all-timer that is buoyed by the affection she has for her characters and the bubbly cast who brings them to life.
At the center of that is Alicia Silverstone as Cher, a Beverly Hills princess so charming and well-intentioned that even her vanities and entitlements seem innocuous. But everyone around her, including Stacey Dash, a babyfaced Paul Rudd, Donald Faison, and the late, great Brittany Murphy, are similarly game at building a teen world that is at once recognizable and heightened. Which is why it always feels so good to revisit them and go riding with the homies.
If Beale Street Could Talk (2018)
September 1
Writer-director Barry Jenkins' adaptation of the seminal James Baldwin novel did not get the same kind of awards accolades that Moonlight (2016) enjoyed, but there are those of us who consider If Beale Street Could Talk the stronger of the two films. The picture is adapted from Baldwin's story, which by its very title speaks of a certain universality in the Black American experience. After all, Beale Street is an iconic thoroughfare in Memphis, yet If Beale Street Could Talk is set in New York. In this mid-20th century backdrop, we see the connective tissue between Beale Street and Broadway when the young romantic lives of Fonny (Stephan James) and Tish (KiKi Layne) are devastated after Fonny is wrongfully accused of a murder in 1960s Manhattan by a racist cop.
Nonetheless, Jenkins tells their story not as pure tragedy—although make no mistake that this is a tale of a seemingly eternal tragedy—but as a romance interrupted. Filmed within a nonlinear and lyrical narrative, Jenkins' camera swoons (and weeps) for these lovers and their complicated family dynamics. He also turns the camera to the audience, letting all viewers walk around Beale Street for a while.
Scarface (1983)
September 1
Brian De Palma's Scarface is a movie that does nothing by half measures. The early '80s colors and neon? Over the top. The violence? Absurdly gruesome. Al Pacino's performance as a Cuban refugee turned drug lord? Crosses the line between big and self-parody, and yet remains riveting throughout. In retrospect, the movie is a bit of '80s kitsch: decadent excess that's as flamboyant as Tony Montana's suits.
But there's a reason folks still watch and quote this movie nearly 40 years later. It's incredibly entertaining. So maybe it's time to say hello to Tony's little friend, one more time?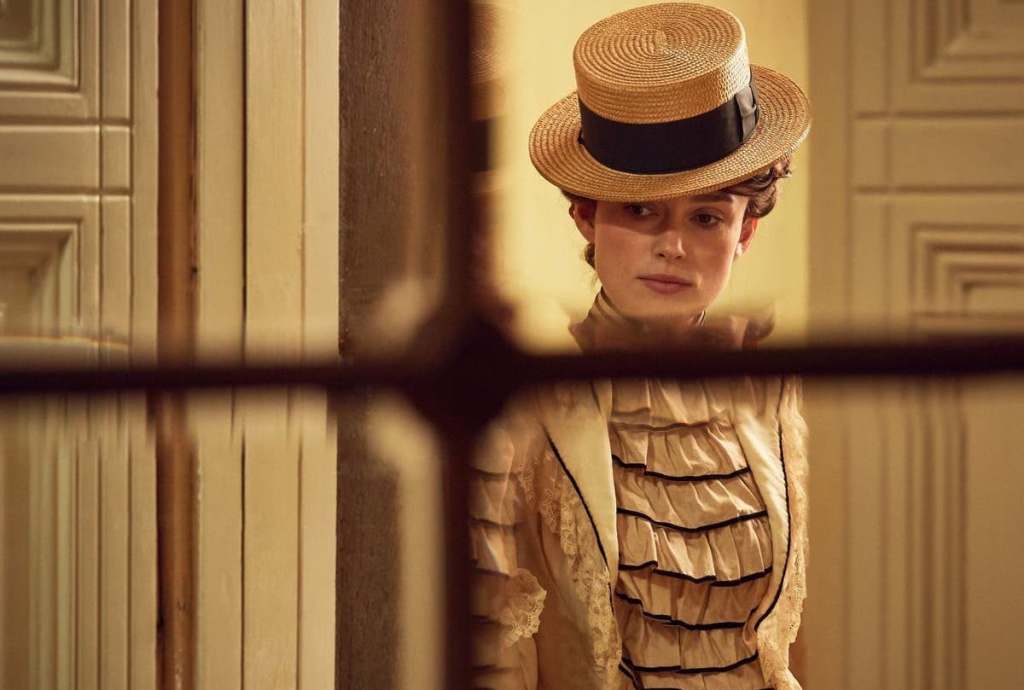 Colette (2018)
September 13
This underrated biopic about author Sidonie-Gabrielle Colette deserved a wider audience when it was released in 2018. Hopefully it will find it on Netflix now. The picture stars Keira Knightley as Colette, the unlikely idol of the Belle Époque age, which occurred in Paris during the late 19th century. Initially a young country girl who marries an aspiring writer called Willy (Dominic West), Colette created Claudine, a fictional French schoolgirl whose experiences were highly modeled after Colette's own girlhood memories. And yet, Willy published the stories under his own name claiming all the credit.
An obviously still relevant story about a woman reclaiming the agency and achievements attributed to her husband, Colette is also a nimble and provocative period piece that features one of Knightley's career best performances. More folks should see it, including you.