Sponsored
Best Free Movies To Stream on Plex in November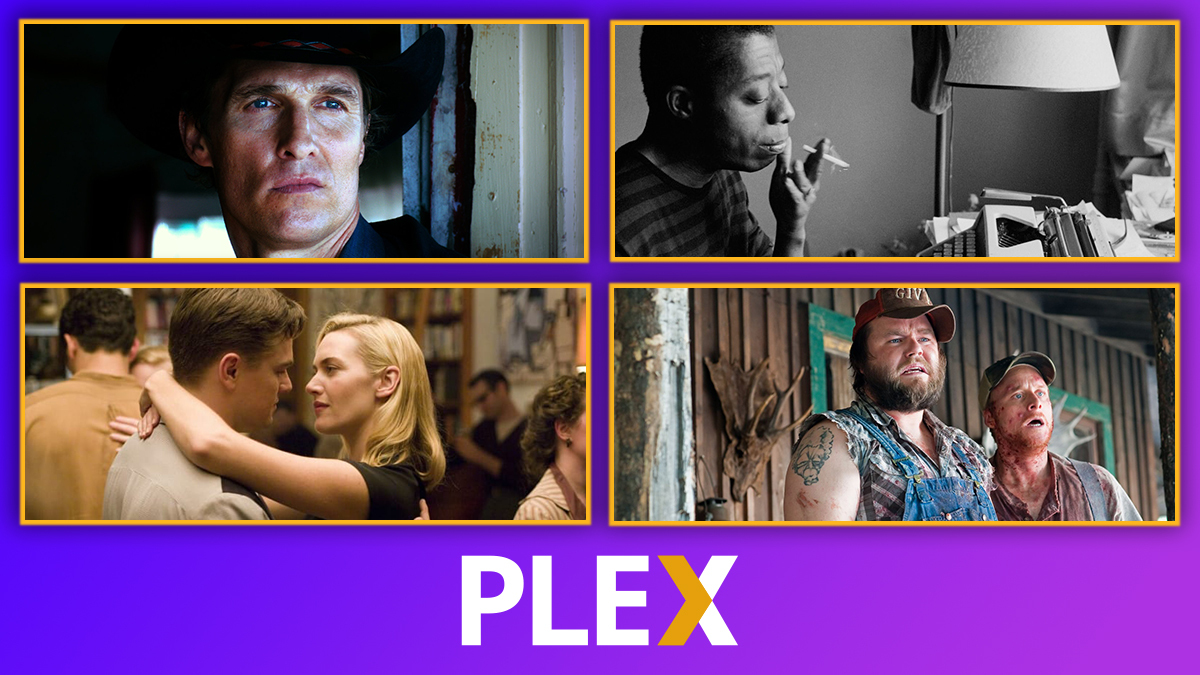 This article is presented by Plex.
Spooky season may have come and gone, but that hasn't stopped us from including a few chilling titles in this month's Plex free TV recommendations. However, our offerings aren't completely horror-leaning. November is all about feasting, and here we have a wide-variety of critical darlings for you to sink your teeth into now available to watch on the free streaming service. It's something you can truly be thankful for.
Plex is a globally available one-stop-shop streaming service offering 50,000+ free titles and 200+ of free-to-stream live TV channels, from the biggest names in entertainment, including Metro Goldwyn Mayer (MGM), Warner Bros. Domestic Television Distribution, Lionsgate, Legendary, AMC, A+E, Crackle, and Reuters. Plex is the only streaming service that lets users manage their personal media alongside a continuously growing library of free third-party entertainment spanning all genres, interests, and mediums including podcasts, music, and more. With a highly customizable interface and smart recommendations based on the content you enjoy, Plex brings its users the best free streaming experience on the planet from any device, anywhere.
Plex is always bringing thousands of new and old familiar favorites to its platform and we're here to diligently identify the best of the bunch.This month, we've got Swedish horror, social conscious documentaries, prestige melodramas and more. Hop on Plex TV now for the best free entertainment streaming and check back each month for Den of Geek Critics' picks!
Den of Geek Critics' Picks
Killer Joe
If you're looking for a good time, steer clear of the great William Friedkin's Killer Joe. However, if you're looking for a black comedy as dark as pitch populated with nasty characters in a send-up of classic film noir storytelling, then Killer Joe may just be the tragicomedy for you. Adapted from a play by Tracy Letts, Killer Joe centers on a hapless father-son pair that hire a slick contract killer played by Matthew McConaughey to murder the matriarch of their family so that they can collect the life insurance policy to pay some debts. Obviously, things don't go exactly as planned. The film's kinetic pace keeps its cruel and incompetent cast of dimwits from over-staying their welcome, and this is the performance that kicked off McConaughey's career resurgence and for good reason. Killer Joe is raw, unpleasant, but highly watchable.
I Am Not Your Negro
I Am Not Your Negro takes an unfinished book by brilliant American writer James Baldwin and uses it as a starting point to discuss Baldwin's life, passions and his home country's ugly history of racism. There's a reason I Am Not Your Negro was a modest "hit" for a documentary and took home its fair share of awards. It's stark, honest and smartly constructed around Baldwin's wit and humanity. In today's political climate, it should be considered essential viewing. Though the film seems to erase Baldwin's queerness, it's still an incendiary depiction of race relations and highlights how little progress the United States has made since the 1960s.
Let the Right One In
Based on a novel by Swedish horror author John Ajvide Lindqvist, Let the Right One In tells the heartwarming story of a lonely little Stockholm boy who becomes friends with the teenage girl next door—who happens to be an ancient vampire. Featuring stunning performances by then 11-year-olds Kåre Hedebrant and Lina Leandersson, and directed with impeccable restraint by Tomas Alfredson, Let the Right One In is exquisite character-driven horror that has in many ways set the template for the "elevated" genre offerings of the last decade. A fresh take on the vampire genre with impeccably crafted atmosphere, Let the Right One In is equal parts gorgeous and macabre.
Tucker and Dale Vs Evil
More a sophisticated comedy of errors than a horror film, Tucker and Dale Vs Evil is a loving satire of the teen slasher genre. More accurately, it perfectly sends up hixploitation films. Hixploitation is the genre of horror that relies on the stereotypes and fear of "rednecks" and "hillbillies," and the protagonists in this film are a couple of sweet good ol'boys that are grossly misunderstood by a group of judgy, yuppie teens. When Dale saves pretty college girl Allison from drowning near his recently purchased, remote cabin in the woods, her dimwitted friends try to "rescue" her from who they see as a hillbilly monster. As their rescue attempts result in horrific accidents, the teens become more convinced that they're dealing with evil hillbilly killers. Hilarity, and blood, ensue. A horror comedy with heart and a much-needed message, Tucker and Dale Vs Evil simultaneously celebrates and skewers horror genre conventions.
Revolutionary Road
Sam Mendes' faithful adaptation of Richard Yates' acclaimed novel features Oscar caliber performances from Leonardo DiCaprio and Kate Winslet, reuniting for the first time after the most successful film of the 20th century, Titanic. Exploring the disenchantment and malaise at the heart of 1950s suburbia, Revolutionary Road tackles themes of loneliness, entrapment, forgiveness, and desire. The murder's row of talent in the ensemble helps elevate what some could consider a stodgy adaptation into something more human and heartbreaking. An underrated precursor to pop culture touchstone Mad Men, Revolutionary Road deserves a revisit.
New on Plex in November
Barry Munday 
Before I Go To Sleep 
Biutiful 
Black Rock 
Bounce 
Cube 
Debug 
The Devil's Rejects 
The Disappointments 
Disconnect 
Friday The 13th, Part II 
Friday The 13th, Part V: A New Beginning  
Friday The 13th, Part VI: Jason Lives 
Friday The 13th, Part VIII: Jason Takes Manhattan 
Friday The 13th: Part VII: The New Blood 
The General's Daughter 
The Great Buck Howard 
Half Nelson 
Hector And The Search For Happiness 
High Rise 
House Of 1000 Corpses 
Hunter Killer 
I Am Not Your Negro 
I Love You Phillip Morris 
In Crowd, The 
Incognito 
It Follows 
Jack & Diane 
Killer Joe 
Let The Right One In 
London Fields 
The Love Punch 
Man On Wire 
Melancholia 
Necessary Roughness 
Open Water 3: Cage Dive 
Please Stand By 
The Queen Of Versailles 
Revolutionary Road 
Road To Paloma 
Romeo And Juliet (2013) 
Shadow Dancer 
Skin Deep 
Soul Survivors 
The Switch 
Teeth 
To The Wonder 
Traffik 
Tucker And Dale vs. Evil 
Vehicle 19 
Catch before It leaves in November
Alan Partridge 
All Is Bright 
Awake 
Black Christmas 
Blood And Bone 
The Brass Teapot 
Dead Ringers 
Diabolique 
First Kill 
Hunter Killer 
Jackie Brown 
Labor Day 
Lion 
Man Of Tai Chi 
The Naked Gun 2-1/2: The Smell Of Fear 
Naked Gun 33-1/3: The Final Insult 
The Naked Gun: From The Files of Police Squad! 
Ong Bak 2: The Beginning 
Ong Bak 3 
Ong-Bak: The Thai Warrior 
Paddington 
Skin Deep 
Spy Kids 2: The Island Of Lost Dreams 
Spy Kids 3-D: Game Over 
Two If By Sea 
USS Indianapolis: Men Of Courage 
White Sands 
Zack And Miri Make A Porno 
Still streaming on Plex
13 
22 Bullets 
3rd Rock From The Sun 
After.Life 
The Air I Breathe 
Alone In The Dark 
Arthur And The Invisibles 
Before The Devil Knows You're Dead 
Bernie  
Better Watch Out 
Blitz 
Bronson 
The Brothers Bloom 
Cake 
Candy  
Child 44 
Cleaner 
Clerks II 
Coherence 
Cold Mountain 
Colonia 
The Colony 
The Condemned 
Cube Zero 
Day Of The Dead 
Dead Snow 
Deep Red 
Derailed 
The Descent Part 2 
The Descent 
Detachment 
Diary Of The Dead 
District B13 
DOA: Dead Or Alive 
Eden Lake 
Europa Report 
The Fall 
Feast 
Filth 
Find Me Guilty 
Flowers Of War 
Flyboys 
Force Majeure 
Formula 51 
Frailty 
Freedom Writers 
The Ghost Writer 
The Gift  
Ginger Snaps 
The Girl Who Kicked The Hornet's Nest 
The Girl Who Played With Fire 
The Girl With The Dragon Tattoo 
Goya's Ghosts 
Grave Encounters 
Hannibal Rising 
Hard Candy 
Hector And The Search For Happiness 
Henry: Portrait of a Serial Killer 
Highlander 
The Homesman 
The Host 
House Of 1000 Corpses 
The House Of The Devil 
Hunger 
The Hunt 
I Spit On Your Grave 
If Only 
The Illusionist 
The Infiltrator 
Joe 
The Joneses 
Kickboxer 
King Of New York 
The Last Days On Mars 
The Legend Of Bagger Vance 
A Little Bit Of Heaven 
Lucky Number Slevin 
Maggie 
A Man Called Ove 
The Man From Earth 
The Man From Nowhere 
The Matador 
Middle Men 
The Midnight Meat Train 
Monster 
Mother 
Murder On The Orient Express 
The Ninth Gate 
Nosferatu 
Nosferatu the Vampire 
Nothing But The Truth 
Only God Forgives 
Ordinary People 
The Paperboy 
Project Almanac 
The Proposition 
The Protector 
A Rainy Day In New York 
Rec 
Red Lights 
Redirected 
Romper Stomper 
Rules Of Engagement 
Seeking Justice 
Serendipity 
Short Term 12 
The Signal 
Sophie's Choice 
Southpaw 
Splinter 
Spy Kids 
Super 
Superhero Movie 
Taboo 
Teenage Mutant Ninja Turtles (2014) 
Teeth 
Tell No One 
Timecrimes 
The Tournament 
Train To Busan  
Traitor 
Transsiberian 
Trust 
Two Days, One Night 
V/H/S 
V/H/S 2 
The Virgin Suicides 
The Void 
The Wailing 
The Way Of The Gun 
We Need To Talk About Kevin 
The Whistleblower 
Wolf Creek 
World Trade Center