News
Ben Affleck Reacts to the Justice League Snyder Cut News
With Justice League's long-sought Snyder Cut now happening, the film's Batman, Ben Affleck, gives his response.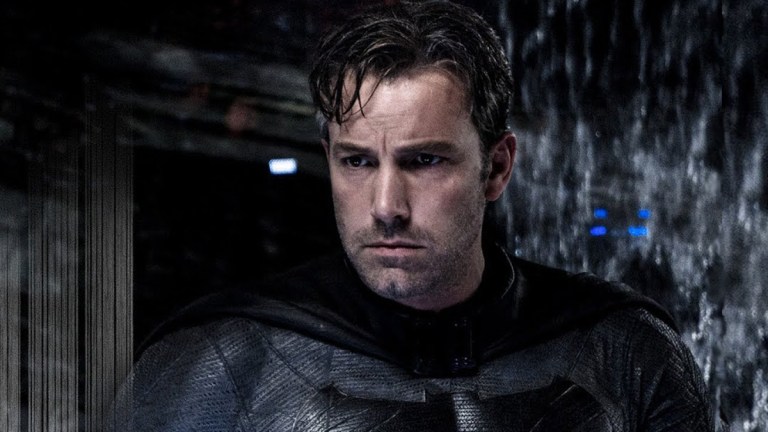 The afterglow is still prevalent amongst the fandom after the long-running hashtag-hailing "Release the Snyder Cut" movement recently achieved its objective, with the formerly mythical version of director Zack Snyder's 2017 DC megamovie, Justice League, now set for streaming platform HBO Max. While opinions on this news—just as with the film itself—remain divisive, star Ben Affleck's reaction was anything but another "Sadfleck" meme moment.
In a message sent to longtime friend/co-star Kevin Smith's Fatman Beyond podcast, Affleck—who, of course, played Bruce Wayne/Batman in the film—bestowed praise on the Snyder Cut victory; not a surprising move, seeing as he and the rest of the primary cast publicly supported the Snyder Cut movement, providing an element of prominent solidarity that arguably contributed to its realization. As he states:
"I'm very excited that Zack's getting a chance to finally see his vision realized. I think it's a great thing. I'm really excited for the fans to get to see it. And I want to say thank you to the fans because it was their enthusiasm and their passion that made it happen. Without fan support I don't think it ever would have happened. I love Zack and I love his version of the movie and I look forward to everyone getting a chance to see it."
You can view Affleck's message in full just below.
Affleck's reaction is especially interesting, since his role as Batman in Justice League—after a 2016 debut in director Snyder's Batman v Superman: Dawn of Justice—is now far back in his rear-view mirror. Indeed, Robert Pattinson has since assumed the role for director Matt Reeves's gestating DC solo movie reboot of sorts, titled The Batman, which is currently scheduled to arrive on October 1, 2021. The same goes for the film's Clark Kent/Superman, Henry Cavill, who, for all intents and purposes, has abandoned his version of the Blue Bomber, now mainly focused on his starring role on high-end Netflix action-fantasy series The Witcher, which is working on its second season.
Interestingly enough, Affleck's praise is especially intriguing, since his Batman is purportedly the center of much of what makes the Snyder Cut so unique from the theatrical version, which was finished by director Joss Whedon after a personal tragedy forced Snyder to cede the job.
Writer Chris Terrio explained in a Q&A for Batman v Superman on Vero that several "hard" and "scary" ideas were initially on tap for Justice League that were shot down by studio Warner Bros. While Batman v Superman was packed with vexing, quasi-avant-garde moments the most notable scene was Batman's "Knightmare" dream sequence, in which he—bearing an inexplicable clairvoyance—envisions a world in dusty apocalyptic ruin, overrun by invading extradimensional forces, all of whom worship the God-like power of Superman; a sequence that somewhat explains Batman's motivation in the film for hunting Superman, but leaves moviegoers without key context. However, the sequence in question only seemed nonsensical because it was designed to foreshadow a major plot point in direct follow-up Justice League.
That brings us back to the Snyder Cut, which could very well revive the nixed story development in question, which primarily involves DC's big bad, Darkseid, whose very presence—missing in the theatrical version—would differentiate the Snyder Cut. It seems that Snyder's original cut was to have Darkseid use the Jack Kirby-concocted concept of the Anti-Life equation—designed to control all sentient life—to turn Superman evil, fueled by the apparent death of Lois Lane, thus realizing Batman's Knightmare vision. However, with Batman now less intent on killing Superman, he and Cyborg concoct a plan to send Barry Allen/The Flash back in time to prevent the catastrophe; an idea that also explains another oddball Batman v Superman moment, in which Batman sees a vision of The Flash—who he'd yet to meet—who tries to explain how Lois Lane is "the key," and can be heard lamenting about going too far back.
Regardless, the planned deeds of Affleck's Batman in Justice League were excised significantly in the cutting room floor as Whedon stepped into the film with the studio's proverbial Sword of Damocles hanging over his head. However, with an apparent additional cost of $20-30 million to the film's already-inflated $300 million budget, the Justice League Snyder Cut seems likely to restore most, if not all of Batman's endeavors, which might be a reason for Affleck's positive response.
Of course, we'll have to wait and see how it all turns out when the Justice League Snyder Cut eventually arrives on streaming service HBO Max, which launches on May 27.