News
Michael Keaton Could Reprise Batman Role in Flash Movie and Other DC Films
Michael Keaton may be returning to the Batcave, according to reports that the actor will reprise his role as Batman in WB's upcoming Flash movie.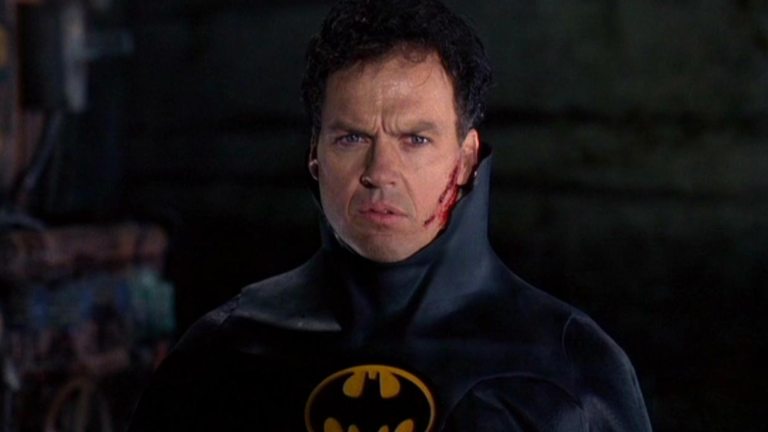 He may never play Birdman again, but new reports from THR and The Wrap claim that Michael Keaton may be set to reprise his role as Batman. Both outlets report that Keaton is in early talks to return as an older version of the hero in Warner Bros' upcoming Flash movie and that the deal could extend to other DC films. Keaton last donned the cape and cowl in 1992's Batman Returns and has since appeared in the Marvel Cinematic Universe as Spider-Man villain The Vulture.
According to THR, if all goes as planned, Keaton could be set to fill the role of a Nick Fury-like mentor helping and guiding Barry Allen (Ezra Miller) and other heroes in the DCEU. But The Wrap stressed it's unclear just how big or small Keaton's role in The Flash will be.
The Flash movie, at one point titled Flashpoint, is said to loosely adapt the comic book event of the same name that saw Barry Allen go back in time to save his mother, which altered the DC Universe in major ways. The consequences of Barry's actions will also be a way for the movie to introduce the DC multiverse to movie audiences and the idea that there are different versions of characters living in alternate universes beyond our own. This is a concept that has been heavily explored in the comics and in The CW's Arrowverse but that DC movies have so far avoided introducing to more general audiences that aren't as in the know.
Introducing the multiverse in The Flash would be a way to cleanly bring in Michael Keaton's Batman to the current movie universe, despite the fact that his character history would directly clash with the DCEU's own Batman, previously played by Ben Affleck. The multiverse could also be a way to explain why Matt Reeves' The Batman seems to exist outside of the confines of the DCEU.
Just how much hopping Keaton's Batman will do across the multiverse remains to be seen, but his Gotham City recently appeared in the Arrowverse crossover event Crisis on Infinite Earths, itself an adaptation of the brilliant comic book series that established how DC's inter-dimensional cosmology worked. In the TV adaptation, the Gotham City where the Tim Burton movies take place is located on Earth-89, one of the Earths that was erased from existence during the event.
Coincidentally, Crisis on Infinite Earths also saw Miller's Barry Allen meet TV's Barry, who is played by Grant Gustin. It's unclear whether this means that this was a teaser to how the TV and movie universes will interact going forward as DC pushes the multiverse onto the big screen. We also don't know if the erasure of Earth-89 will be part of Keaton's Batman's backstory in The Flash and beyond.
While the Keaton news is certainly very exciting, especially to this writer who grew up watching the Burton movies, it's also important to note that things could change, especially when it comes to this Flash movie. This DCEU project has been in development for years and has been a revolving door for directors and writers since it was announced in 2014. At different points, Seth Grahame-Smith, Phil Lord and Chris Miller, Rick Famuyiwa, and John Francis Daley and Jonathan Goldstein have all been signed on to direct. And let's not get started on the list of writers, which include Lord and Miller as well as a team-up between Grant Morrison and Ezra Miller at one point.
Most recently, WB gave the keys to IT director Andy Muschietti, who will direct from a script written by Christina Hodson (Birds of Prey). Time will tell if this is finally the team that sticks.
WB is planning to begin production in Q1 2021, according to The Wrap, although that's subject to change depending on the ever-evolving COVID-19 situation. The Flash is currently slated for a June 3, 2022 release date, but we expect that date to definitely change.
We will, of course, keep you updated as we hear more!