News
Avengers: Infinity War: Ross Marquand Dishes on His Surprise Role
Amongst the chaos of Avengers: Infinity War was a surprise character, played by The Walking Dead actor Ross Marquand.
Warning: SPOILER content for Avengers: Infinity War.
Avengers: Infinity War may have obliterated its box office competition in predictable fashion, but its array of occurrences was anything but predictable. One example of this idea arrived with the surprise return of a character who's long been absent from the Marvel Cinematic Universe. However, a different actor portrayed said character, one who's undoubtedly familiar to fans of AMC's The Walking Dead as Aaron, Ross Marquand, who now sheds light on this movie role.
Ross Marquand called in to SiriusXM's Entertainment Weekly Radio this morning, providing some intriguing insight into his surprise Avengers: Infinity War role as the returning Captain America: The First Avenger big bad (and former HYDRA head), Johann Schmidt, a.k.a. The Red Skull, who was played in the 2011 film by Hugo Weaving. However, Weaving, who has long been forthright about not wanting to reprise the role, was absent, which left an opportunity for the master impressionist, Marquand – a self-professed Marvel fan who used to draw the character as a child – to nab the role in Infinity War, calling it a "geeky pleasure."
Indeed, Marquand effectively used his skills as an impressionist to mimic Weaving's Red Skull to a degree accurate enough to leave moviegoers fooled into thinking that Weaving had returned. Yet, his version of the Red Skull was, by design, not quite human, existing in the far reach of the galaxy on the planet Vormir as a black-shrouded spirit (with the same crimson countenance,) serving as the keeper of the Soul Stone, relaying Jacob-Marley-like portentous tidings to Thanos about the grand sacrifice required to procure the powerful Infinity-Gauntlet-completing prize.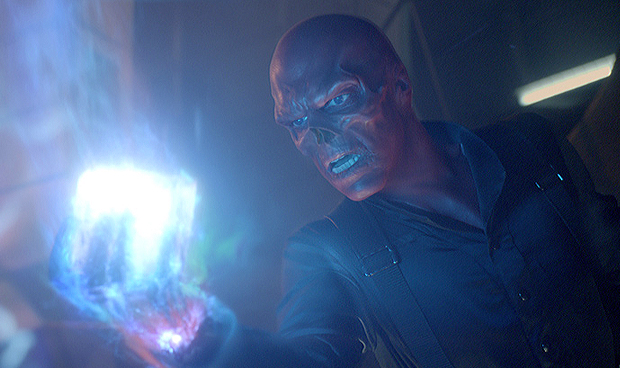 It's a fitting fate, since First Avenger saw the character exploit, for the purpose of power and conquest, one Infinity Stone (Space), which was embedded within the object known as the Tesseract. Of course, some 70 years later in the timeline, in the beginning of Infinity War, Thanos manages to acquire the Tesseract (and thus, the Space Stone). Yet, the Red Skull's original avarice and malice was met with a kind of eternal punishment, which, as Marquand muses, brought the character "great pain, but also great wisdom."
Marquand also implies that the Red Skull's non-corporeal state also explains any differences one may have spotted from Weaving's version, stating:
"The biggest thing that Marvel wanted to do was come as close to the iconic role that Hugo Weaving did seven years ago and pay homage to it while also giving it a new flavor. Because Red Skull, once he touched the Tesseract, he goes into this intergalactic astral plane for 70 years. And as [directors] the Russo brothers pointed out to me — because I was trying to do a straight voice match to Hugo's performance — and then they said, 'You know, he's been by himself essentially in this intergalactic prison of his own making for 70 years. He's going to sound a little different. So, we want him to have this kind of ethereal almost ghost-like quality to his voice, so if you can do that.' I think the reference they might have given is Yoda-esque."
According to Marquand, his handle on the voice performance took about a week and half to achieve, at which point, he sent his audition. After having flown to L.A. to follow up on the audition, his manager called with the news that he'd already landed the role. Fortuitously, the gig worked around his schedule on The Walking Dead, which required him to immediately return to Atlanta. However, one thing Marquand could not do was tell anyone on the set about the good news – that even included Michonne actress Danai Gurira, who's also in Infinity War, reprising her Black Panther role as Okoye (in a repeat display of badassery). Indeed, while The Walking Dead is a famously secretive set, its efforts are dwarfed by Marvel's measures. As Marquand explains:
"No. I didn't tell anybody. These NDAs [Non-Disclosure Agreements] on these things are no joke. I literally did not tell anybody until it was out. I told my friend who I brought to the premiere because she had to know how I got tickets, and I said, 'I can't tell you who I'm playing, but I can tell you I am a part of this. But you can't tell anyone.' It was just a few days before the premiere, and I said, 'Would you like to come?' She said, 'Of course,' and I said 'But you cannot tell anybody I am a part of this. I haven't even told my parents. I've told no one.'"
Consequently, this role leaves a major elephant in the MCU room regarding the possible return of the Red Skull (as played by Marquand), possibly in 2019's yet-to-be-titled Avengers 4 or even a prospective fourth Captain America film (Chris Evans's contract status notwithstanding). It certainly would be a fitting return, since the character is, arguably, Cap's signature nemesis. When asked that inevitable question, Marquand responds cannily:
"I don't know. I can't speak to that, and I think that I would obviously love to replay that role again anytime. It's such a rich character, especially now that he's gone to this intergalactic hellscape and he's found his own prison there — not to quote Creed. That was a Creed song, right?"
Avengers: Infinity War is looking to take you higher, to a place where it's playing at theaters right now.