News
Avengers: Infinity War Casts Carrie Coon as Proxima Midnight
One of TV's best will play the villainous Proxima Midnight, one of Thanos' Black Order, in Avengers: Infinity War
While Thanos is unquestionably the biggest, baddest villain coming to Avengers: Infinity War, he's not coming alone. He's bringing his whole Black Order with him, a group of creepy aliens who may not match Thanos in raw power, but sure do in ruthlessness. The short version is, that team consists of characters with exceedingly metal names like Ebony Maw, Corvus Glaive, Black Dwarf (known as Cull Obsidian in the film)…and Proxima Midnight.
Like most of the Black Order, Proxima Midnight was created by Hickman and Jerome Opena for the huge Thanos vs. Avengers crossover, Infinity. She's Corvus Glaive's wife, and she has an energy spear that she routinely uses to do exactly what you would expect someone with an energy spear to do. To give you an idea of what Proxima Midnight's power levels are like, she actually killed a version of Thor in the comics. She's rather tough to kill, herself.
Usually this kind of baddie is just CGI cannon fodder, but Avengers: Infinity War is going the extra mile, casting Carrie Coon (Fargo, The Leftovers) as Proxima Midnight. Radio Times revealed the news in an interview with Joe and Anthony Russo. We're big fans of Carrie Coon, who has been turning in tremendous work on two of the best shows on television.
Check out what they look like in the movie…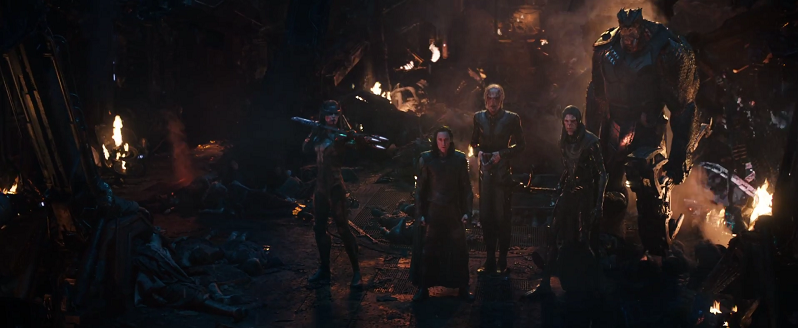 We've written more about the Black Order in detail here if you need to catch up. 
Avengers: Infinity War and its cast of thousands opens on April 27.