News
Avengers: Age of Ultron Nixed Vision's Junk After Some Consideration
Avengers: Age of Ultron director Joss Whedon reportedly wanted us to see more of Vision during his Marvel Cinematic Universe debut, until the moment he got exactly what he wanted.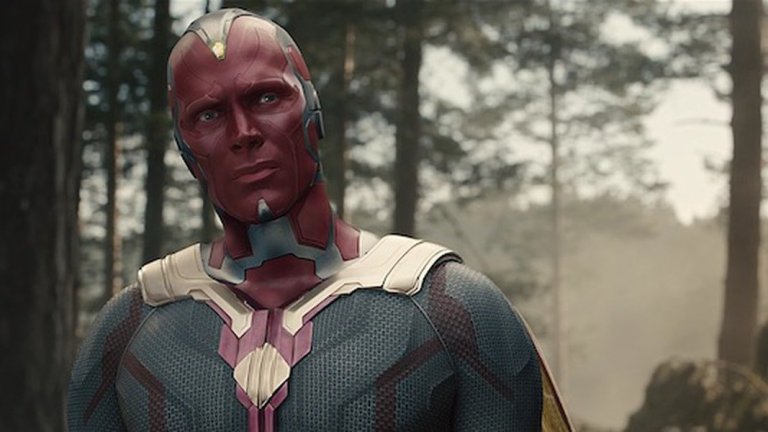 In another world, in another universe, in another life, in another dimension, we all know what Vision's package looks like outside of that fan art you thought you deleted but keeps being re-blogged and is now deep-fried beyond all recognition on Imgur. According to WandaVision star Paul Bettany, Vision's penis almost made it into Avengers: Age of Ultron after orders for its creation came straight from director Joss Whedon in the midst of making Marvel's second blockbuster team-up film.
Bettany revealed the story of Vision's nixed tallywacker in an interview with Lights, Camera, Pod, recalling that Whedon was very keen for the Avengers to witness the birth of Vision in a much more natural state during his 2015 introduction into the MCU.
"I know Joss Whedon apparently really, really wanted the rendition of him, when Vision first is born, before he was clothed, he was like 'He's gotta have a penis,' And everyone — Kevin [Feige], Louis [D'Esposito], I mean everybody was like, 'I don't know, Joss…I mean…I'm not sure,'" Bettany explained, adding Whedon argued that "He has to have a penis. I want to see some drawings of penises."
Bettany, who has been doing the rounds promoting Marvel's new Disney+ series where he reprises the role of Vision alongside Elizabeth Olsen's Scarlet Witch, thinks evidence of the synthezoid's schlong process might still be out there, despite Whedon ultimately rejecting his own call for the bare necessities.
"Actually, somewhere is the rendition of Vision's birth with these penises and they put them all up on the wall," the WandaVision actor revealed. "And they all went in and they sat down and Joss went, 'Yeah, I'm 100-percent wrong, I don't need to see any of these.'"
At the time of writing we're only three episodes deep in WandaVision, and the question of how Vision has sprung back into existence after perishing at the hands of Thanos in Avengers: Infinity War has not yet been answered. Some Marvel fans have expressed their frustration with the series' slow burn storytelling, but Bettany promises that all will be revealed soon, and that the spinoff show will also have a major impact on the MCU going forward.
"I think they're going to be massively surprised by the end of the show," he said. "I really think people are going to be like, 'Oh my God!' And they're going to look at the MCU in a whole new light, and also have a much deeper understanding of what direction it's moving."
New episodes of WandaVision are streaming on Disney+ every Friday.