News
Aaron Sorkin: Donald Trump Made The Trial of the Chicago 7 Movie Possible
Speaking at TIFF, Aaron Sorkin talks about the creative evolution process of Netflix's The Trial of the Chicago 7, and why Donald Trump's support for anti-protestor violence was pivotal in it going from play to movie.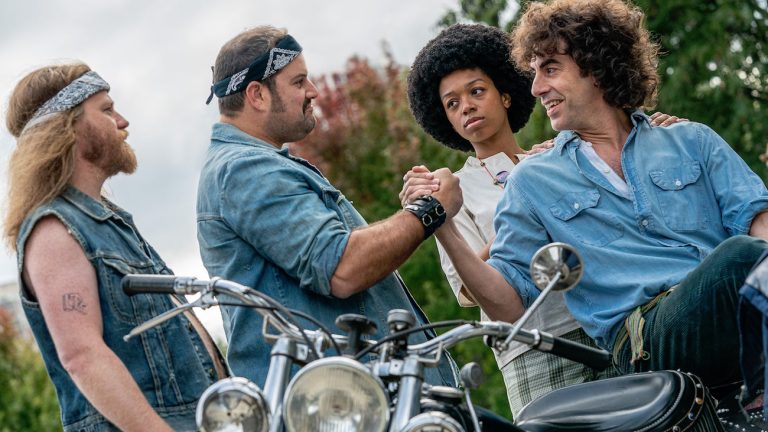 Aaron Sorkin always wanted The Trial of the Chicago 7 to be a movie. Ever since Steven Spielberg first broached the subject of adapting the story of how eight men were charged with conspiracy to incite a riot during the Democratic National Convention of 1968, it's been a project Sorkin has thought about, toyed with, and rewritten over the last 14 years. But what finally led Sorkin to forego his stage play for something bigger and more cinematic is when the events of the heady days of 1968 began seeing echoes in the 21st century. What happened was Donald Trump ran for president.
"I asked DreamWorks if I could try writing this as a play," Sorkin said Monday during an industry talk for The Trial of the Chicago 7 at the Toronto International Film Festival. By this time, the film had already gone through several drafts, with directors like Paul Greengrass and Ben Stiller attached at various stages. But the project never seemed to get off the ground. Still, in his heart, Sorkin knew he wanted it to be a film—he even noted earlier in his conversation with moderator Elvis Mitchell that "in the end I wanted to show was the riots and [that's] really what it came down to."
And sadly the treatment of protestors, especially at national political events, soon became very relevant.
"What got it made were two things happening at once," Sorkin explained. "I directed my first movie Molly's Game, and Steven was sufficiently pleased with it. He said, 'You know, you should direct Chicago 7.' That happened at the same time Donald Trump was holding huge rallies and was getting nostalgic for how in the old days they used to take that guy out of here on a stretcher. They used to beat the crap out of him, punch him in the face, talking about protestors that way. Trump started telling people to go back where they came from."
Sorkin is referring to Trump's first presidential campaign, which began when he descended on an escalator to say most Mexican immigrants are rapists. Throughout the following 18 months, the man who would become the 45th President of the United States campaigned with rhetoric that celebrated committing violence against protestors at his rallies. He even mused he'd "look into" paying the legal fees for a supporter who sucker-punched a protestor at a North Carolina rally in 2016. (He didn't.)
All of which Sorkin sees echoes of in the pressure-cooker that was the summer of '68 and the carnival-like atmosphere created by the trial of seven protestors who were being blamed for the riots that broke out in Chicago during the DNC Convention.
"There's a black and white photo of both Chicago Seven supporters and Chicago Seven haters," Sorkin said, "and in this photo were three signs, and this was in 1969: 'America Love It or Leave It,' 'What About White Civil Rights?' and 'Lock 'Em Up.' So we just thought this is relevant. This isn't a history lesson; this is going on now. And as I said, the world just kept more and more mirroring the events of the movie."
The actual events of the trial of the Chicago Seven are well-documented, even as their story has been obscured by time. Following a tumultuous year already rocked by riots and protests due to the Vietnam War—and then the assassination of Civil Rights Leader Dr. Martin Luther King Jr. and anti-war Democratic contender Robert F. Kennedy—tensions were high in the summer. Hence a coalition of anti-war activists gathering in Chicago to stage protests during the convention for soon-to-be Democratic nominee Hubert Humphrey, who'd been President Lyndon B. Johnson's vice president during the Gulf of Tonkin. Among the anti-Vietnam protestors were the Youth International Party (Yippies) and the Students for a Democratic Society.
Mayor Richard Daley denied protestors permits, thinking it would dissuade them from gathering—not to mention calling in 12,000 police officers and 5,000 Illinois National Guardsmen. Instead conflict broke out in Grant Park on the afternoon of Aug. 28. Soon tear gas was deployed, and clubs, and the police were quickly attacking innocent bystanders who were watching. The Walker Report, written by a National Commission created by President Johnson, ultimately attributed blame for the riots and violence to an aggressive police force instigating a "police riot," yet still eight men were rounded up for the high-profile trial that Sorkin's movie dramatizes.
Among the defendants were Abbie Hoffman, Tom Hayden, Rennie Davis, Jerry Rubin, David Dellinger, and Bobby Seale, the latter a co-founder of the Black Panther Party who did not know the other seven men and called for having a second trial… which eventually occurred after Judge Julius Hoffman attempted to make an example out of the Black man. Talking about it now in regards to The Trial of the Chicago 7, Sorkin noted that most of the eight (and soon seven) men didn't know each other, which made charges of conspiracy fairly incredulous. However, the defendants were carefully selected to best sway the jury.
"It's cast by the government like a great caper movie," Sorkin said with a hint of grim humor. "It's as if the government foresaw there would be a movie about this one day and they wanted it to be good."
It's a movie that might also shine some light on a subject that even Sorkin was hazy on for most of his life. When Spielberg first mentioned the project to him, he had only the faintest idea of who the Chicago Seven were.
"It was in 2006 when Steven Spielberg asked me to come to his house on a Saturday morning," Sorkin recalled. "He said, 'I really want to make a movie about those terrible riots in Chicago in 1968 at the convention, and then at the crazy conspiracy trial that followed.' And I said that sounds great, I'm in! And I got in my car, and on the way home I immediately called my father and said, 'Dad do you know anything about riots that happened?'"
He also noted during the conversation that the movie was written and shot before the familiar but heartbreaking tragedies of George Floyd, Breonna Taylor, and Rayshard Brooks dying at the hands of police. Those recent events have sparked a new, generally more widely accepted wave of protests that are demanding equality and an end to anti-Black violence.
"The similarities between [this] and today are chilling," Sorkin said. "The movie was relevant when we were making it. We didn't need it to get more relevant, but it did."
The Trial of the Chicago 7 premieres on Netflix on Oct. 16.