Features
8 big 80s movies that never got sequels – but nearly did
Ghostbusters 3. Wall Street 2. Tr2n. Heathers 2. The 80s is proving to be a rich source for new sequels. But which films are thus far untainted?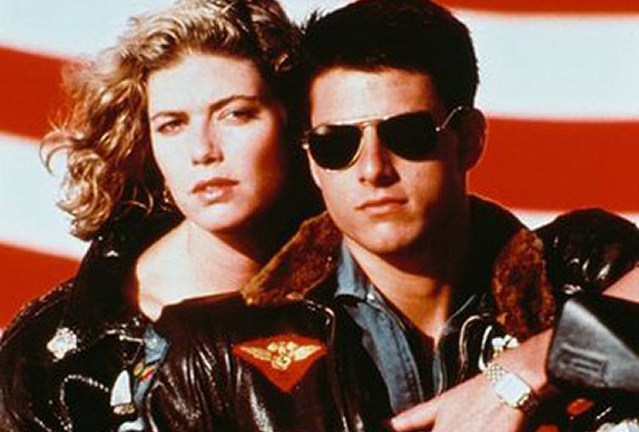 ame has been remade. The Last Starfigher is inked in for a new version. There are new Ghostbusters, Tron, Wall Street, Heathers and Flight Of The Navigator movies that are in various stages of production.
But what about the big hits of the 80s that still stand alone, despite attempts over the years to spin new instalments out of them? Glad you asked, actually…
Top Gun
If you discount the reuniting of all the talent involved in the literal car crash that was Days Of Thunder, it's still a surprise that one of the most iconic and successful 80s films of all, Tom Cruise in Top Gun, remains a standalone production. One with over $350m at the worldwide box office to its name, we should add.
That's not to say that there hasn't been talk of sequels over the years to it, and one nearly got off the ground in the aftermath of the original's success. Cruise was believed not to be keen back then (reportedly asking at one point for an obscene amount of money to discourage the idea), and the military had little desire to allow filming around their very latest technology if you believe the stories. Eventually, Paramount bailed on the idea of Top Gun 2.
Sequel talk arose again last year when a story emerged last summer about a Top Gun sequel/reboot that would see Cruise as an instructor, training a cocky female pilot. Cruise, however, is still reported to be non-plussed by the idea of a Top Gun sequel, and a standalone film it has thus remained. Would you rule out a remake with the likes of Zac Efron in it, though? Sadly, we could all-too-easily see that happening. Shudder.
Flashdance
Paramount again, and it once more had a huge hit on its hands when Adrian Lyne's Flashdance blasted its way to box office glory. On its original US theatrical run, back in 1983, it picked up nearly $93m (the third biggest film of the year, behind Return Of The Jedi and Terms Of Endearment), and the assumption was that a sequel would soon follow. It would, you'd think, be a bit of a no-brained.
Paramount certainly seemed to be pressing ahead with the project, and it's reported that the studio even got to the stage of holding auditions for dancers for a possible Flashdance 2. But the project, this time, petered out for unknown reasons, and the film hasn't reared its head since. We'll see if that holds if the remake of Footloose does decent business…
E.T.
Given that for many years it was the top grossing film of all time at the US box office, it was unsurprising that once upon a time sequel talk surrounded E.T. Even though the original is a perfect standalone story, Steven Spielberg reportedly did some development work on a follow-up, that would have seen Elliott kidnapped by aliens, and E.T. coming to the rescue.
The working title was Nocturnal Fears, but Spielberg soon realised that a second film was a bad idea and left it alone. Earlier this year, though, it was reported that Steven Spielberg and Drew Barrymore had been kicking around the idea for a fresh E.T. movie, but nothing concrete has come of that.
Blade Runner
It took a long time for Ridley Scott's groundbreaking science fiction epic to bank enough money and earn enough support for people to consider making a sequel. But the film's reputation eventually grew to the kind of sky-high status that saw the enthusiastic reception of The Final Cut boxset in recent times, and its fanbase is sizeable.
Considering that there are novels in place that take up the story of Deckard post-Blade Runner, it's unsurprising that Ridley Scott has toyed with the idea of a new Blade Runner film. His first attempt was reportedly called Metropolis, but a battle over rights is believed to have killed it. Then there's Blade Runner Down, a project that also died in development hell.
However, stories still circle about a Blade Runner 2 of sorts. While there's some doubt as to whether it'll ever hit the screen, one of the writers of Eagle Eye, Travis Wright, is apparently the latest to have a stab at writing a screenplay, and Scott himself, back in 2007, confirmed that he was considering making a follow-up. As things stand though, Blade Runner remains a one-off (in more than one sense).
Ferris Bueller's Day Off
Several John Hughes films could all land on this list, given that so few of his films ever spawned follow-ups. And as the man responsible for some of the most popular teen movies of the decade, that's something of a surprise. Sure, occasionally you get talk of a Sixteen Candles follow-up or something of that ilk, but it's surely to the credit of Hughes that he leaves his films be. Never is that more the case than 1986's Ferris Bueller's Day Off, which hit at the box office and made a star of Matthew Broderick (actually, more of a star of Matthew Broderick, if we're being accurate, given that he wasn't doing too badly for himself in the 80s as it stood).
There was certainly some potential there, but it was in 2007 that talk of a potential follow-up actually surfaced.  A script – which had nothing to do with Hughes – was reportedly doing the rounds entitled Ferris Bueller 2: Another Day Off, which would have seen the title character just about to turn 40. Broderick, however, quickly ruled out returning to the character again, and the Hughes 80s canon remains intact. We assume that the screenplay headed for the shredder as a result…
Police Academy
Just joshing…
The Goonies
Ah, what would the 80s have been without them? For a certain generation, of which this writer is a proud member, The Goonies was the iconic 80s movie. And when, in 1985, it delivered good numbers for all concerned, and moved on to become an enduringly popular title, sequel talk was inevitable.
Nothing really happened in the aftermath of the film's immediate release, although we suspect a few conversations at the least took place. In the last decade, director Richard Donner has admitted that he's tried to get some form of sequel off the ground, and its executive producer, Steven Spielberg, isn't resistant to the idea. There's also been talk about a big budget production, or a straight-to-DVD follow-up, depending on what rumour mill you subscribe to (even a musical!). Sean Astin has gone on record in the past and called a sequel a "certainty", although Corey Feldman wrote on his blog "it's just not gonna happen".
And right now, that remains the case. It's not immune to a sequel/reboot/remake at some point, but as of now, The Goonies remains a standalone piece…
The Dark Crystal
Jim Henson is a bit of a Den Of Geek hero, and in the 1980s, he was turning out – as well as the genius of the Muppets – some interesting movies. Both Dark Crystal and Labyrinth regularly get spinned here, but it was arguably the former that left some room for a follow-up. And with a $40m US box office take in 1982, at a time when $40m was a lot of money for movie executives, it surely had a shot.
But it never happened, in spite of reported murmurings. And once again, it's only in recent times that talk of a further Dark Crystal movie has surfaced. This one may come to fruition, too. Work is apparently underway on a straight-to-DVD follow up to the film (have they not seen the savagery of the Lost Boys DVD follow up?), which may be fully animated (although Genndy Tartakovsky, who is attached to the project, is insistent on puppets). At the time it's released, this film will, with a heavy heart, be removed from this list.
Beetlejuice
Surely the film that put Tim Burton on the map, and certainly the one that swung him the director's chair on the first Batman movie (bringing, of course, Michael Keaton along with him). Released to acclaim for its sparkling originality and the vision of its director back in 1988, it also soaked up solid box office numbers, and that led Tim Burton to consider revisiting the character.
Burton, therefore, commissioned a script called Beetlejuice Goes Hawaiian (really), that would have mixed in the macabre joy of the title character with, er, a surfing movie. Both Keaton and Winona Ryder were reported to be keen, but Burton then went off to make Batman Returns, and the project got shelved. Rewrites carried on afterwards, and apparently Warner Bros offered Kevin Smith a stab at it as late as 1996.
Time, however, has likely killed the project, even though Keaton is reportedly still open to the idea. Tim Burton, though, is believed to have now ruled it out entirely.
As a quick aside, here are films that  got sequels, but you may not have seen them/want to forget them:
Dirty Dancing: Havana Nights Road House 2: Last Call Lost Boys: The Tribe Blues Brothers 2000 Grease 2 (even if you don't remember it, Michelle Pfeiffer does…)