News
World of Warcraft: Shadowlands -Ardenweald Zone Revealed
Ardenweald adds a beautiful and compelling new realm to the World of Warcraft.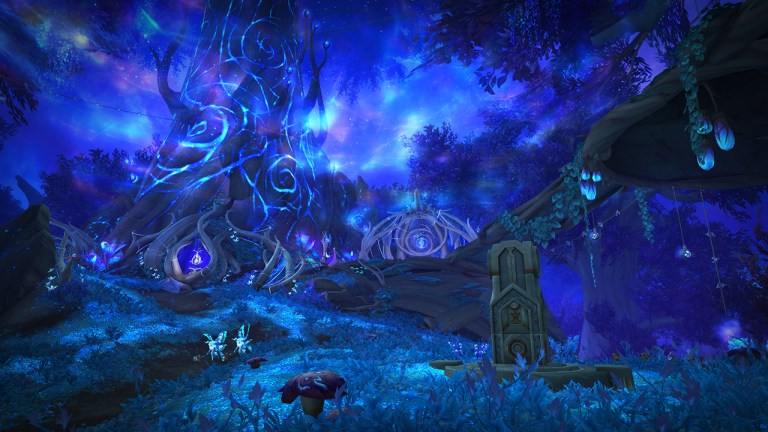 The World of Warcraft team has revealed a new realm called Ardenweald which will play a major role in the game's upcoming Shadowlands expansion.
"The ethereal umbral forests of Ardenweald are where wild spirits return after their time on the mortal plane come to an end so that they can again be reborn," reads a post on the World of Warcraft blog. "However, this lush afterlife paradise has suffered greatly from the mysterious anima drought plaguing the Shadowlands. Everything that grows here has begun to wither, and the cycle of reincarnation is in peril unless things change—and swiftly."
For those who missed the Shadowlands reveal, it seems that the concept of the afterlife in World of Warcraft will play a major role in the game's expansion. Basically, it sounds like the fabrics of the afterlife are being attacked and corrupted by various forces, and it's going to be up to players to restore some of the balance.
The blog also outlines some of the creatures and figures you'll meet in Ardenweald. They include the "fierce and daring Vorkai," the "loyal, polite, and graceful" Sylvar, and the leader of Ardenweald, the Winter Queen. Check out the blog for more info on some of Ardenweald's other inhabitants.
WoW fans will also want to note that Ardenweald is the home of the Night Fae Covenant. As previously outlined, covenants are groups you can pledge loyalty to after reaching max level and exploring the initial four Shadowlands zones. Joining the Night Fae Covenant will not only reward you with a unique class combat ability but will also grant the player the ability to teleport short distances in the world and move at an increased speed. You'll also receive a variety of cosmetic rewards from the covenant.
The reveal of this new area is just one of the ways that Shadowlands has been capturing the attention of WoW fans everywhere. Following the widespread disappointment of the Battle for Azeroth expansion, many felt that World of Warcraft needed something of a fresh start. Shadowlands may just offer that with its level squish which will reduce the level cap back to 60 as well as new concepts such as Torghast, Tower of the Damned: a kind of roguelike infinite dungeon that we were incredibly impressed by.
We'll bring you much more on Shadowlands as Blizzard has confirmed their intentions to share additional information about the expansion in the near future.