News
The Lord of the Rings: Gollum Trailer Showcases "Prince of Persia" Style Stealth Game
The Lord of The Rings: Gollum promises an intriguing blend of familiar and new lore as well as pure stealth gameplay.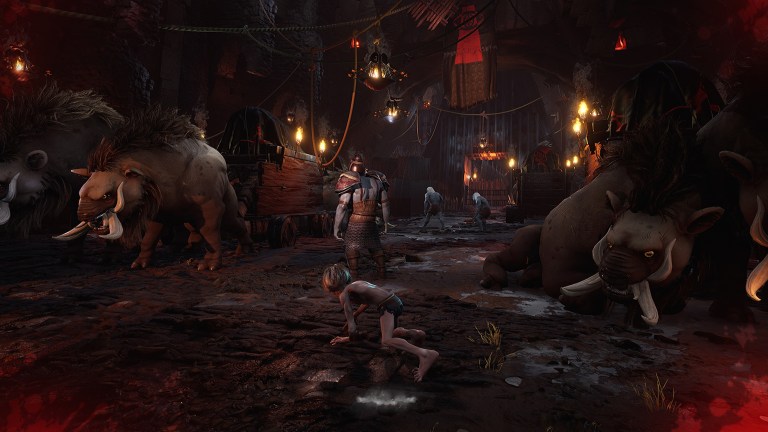 A new CG trailer for The Lord of the Rings: Gollum has arrived alongside fascinating gameplay details that better explain the project's premise.
"The game mixes stealth with vertical climbing parkour," says lead game designer Martin Wilkes in an interview with IGN. "If you want a reference you might think of it as similar to Prince of Persia. It is mostly a non-combat game, but Gollum will be able to stealthily take out enemies. However, this will not be easy and always come with big risks. We want players to carefully weigh these encounters. After all, Gollum's strengths lie in cunning not combat."
That last line seems to be the key point to consider. Gollum will not be able to effectively battle enemies head-on, which means that you'll need to utilize environmental hazards and distractions in order to make your way through the game's most dangerous areas. Interestingly, Wilkes also briefly referenced times that Gollum will need to rely on various allies' special abilities in order to survive. However, he may have spoken about that aspect of the game a little sooner than intended.
"We cannot wait to talk about this but it's still a bit early for that," says lead narrative designer Tilman Schanen. "Keeping in mind the scope and timeline of our narrative, we have to closely consider who Gollum would even be able to meet, where, and when. This means that for the most part, they will play smaller – but in some cases very significant – roles in the story."
Speaking of story, the team reveals that players will have the ability to influence the direction of Gollum's plot through choices they make along the way. Basically, there will be times when you must choose between what Gollum would do and what Sméagol would do. Such choices may seemingly have obvious consequences and implications, but Schanen says it's really not as simple as that.
"It won't be like you're going to end up destroying Middle-earth because you never made a Sméagol choice," notes Schanen. "In the end, of course, Gollum's fate is pretty much determined by the books. But your decisions can and will have effects, for example, for other NPCs in the game. Some decisions will have a bigger impact, others very little. Just as in real life."
Your decisions will ultimately help (or hinder) Gollum's attempt to escape Mordor with his life and the ring. We ultimately know where that story ends, as Schanen mentioned, but the team rightfully notes that not every chapter of this story has necessarily been written yet.
"We follow Tolkien's story quite strictly and only take some freedom for purposes of gamification or sometimes simplification," says Schanen. "Tolkien doesn't describe Gollum's story before he appears in the book in great detail. So mainly, we draw from small notes in the appendices and second-hand reports from characters like Gandalf. Since we need to fill in many gaps, it gives us quite a bit of creative freedom to pursue our narrative vision."
So far as the world-building is concerned, developer Daedalic Entertainment once again expresses their desire to honor the books.
"Peter Jackson's movies are fantastic but our game is based on the original book license," says Wilkes. "The source material for both is, of course, largely the same. Our world follows the same descriptions and is also in parts inspired by the same artworks as were the movies. Their influence on popular culture has been tremendous, so we have to be mindful of players who might only know Middle-earth from the two film trilogies."
Art director Mathias Fischer clarifies that the team wants to create their own world and style but also do not intend to "deviate entirely from the iconic shapes that are familiar from the movies." You can get a better idea of the relationship between old and new by checking out this CGI trailer that tours some of Gollum's landscapes.
This all sounds fairly promising if you're a fan of pure stealth games and The Lord of the Rings. We'd still love to see the game in action before making any further judgments, but we'll certainly be keeping you updated on this project as it nears its 2021 release date for PS5, Xbox Series X, and PC.