Features
The Judge Dredd Arcade Game That Never Was
A scrolling arcade brawler featuring Judge Dredd? It almost happened in the mid-90s, but was never officially released...
This article comes from Den of Geek UK.
Violent law enforcer Judge Dredd arrived at the dawn of the videogame era. First appearing in the second issue of British comic 2000AD in 1977, he was far from your typical sci-fi hero. A walking judge, jury and executioner in a despotic future society, Dredd emerged fully-formed from the imaginations of writer John Wagner and artist Carlos Ezquerra. Dredd's stories were full of action, sly political satire and grim humour – and readers couldn't get enough of him.
The character seemed like the perfect fodder for a videogame, yet it took a surprisingly long time for such a thing to appear; a company called Beam Software released a Dredd game for the ZX Spectrum, which was a side-scrolling action game that didn't manage to capture much of the comic's gritty bite. That same year, another British company had plans to release a Dredd game of their own, but they went bust before it could be released. Things looked up for Dredd fans when Virgin published a new Judge Dredd game in 1990, but this too received middling reviews ("Ho hum", wrote Your Sinclair critic, David Wilson).
Another Dredd game wouldn't appear for another five years, when Probe Software released a tie-in platformer to go with the Judge Dredd movie made that same year. Fast-moving and violent, the Judge Dredd console game didn't contain much of the comic's satirical humour, but it was at least more faithful to the spirit of the character than the film was. 
What most Dredd fans wouldn't have known back in the 1990s is that US company Midway – then famous for its controversial Mortal Kombat games – was working on a Dredd game of its own. At the time, Midway's games were immediately recognisable thanks to their digitised graphics, which used live-action footage of actors and scale models to give 2D game characters a more realistic edge. It was a technique used to memorable effect in Eugene Jarvis' anti-drugs shooter Narc and the aforementioned Mortal Kombat, and Midway's Judge Dredd looked very much like a combination of those two games.
In essence, Judge Dredd was a scrolling brawler akin to arcade hits from rival companies, like Capcom's Final Fight or Tecmo's Double Dragon. Through the early 90s, Konami had enjoyed considerable success with its own range of fighting games based on familiar film, comic book and TV properties – Teenage Mutant Ninja Turtles, The Simpsons, and X-Men: Children Of The Atom were all broadly the same game, but the multiplayer co-op action and colourful graphics kept the profits rolling in.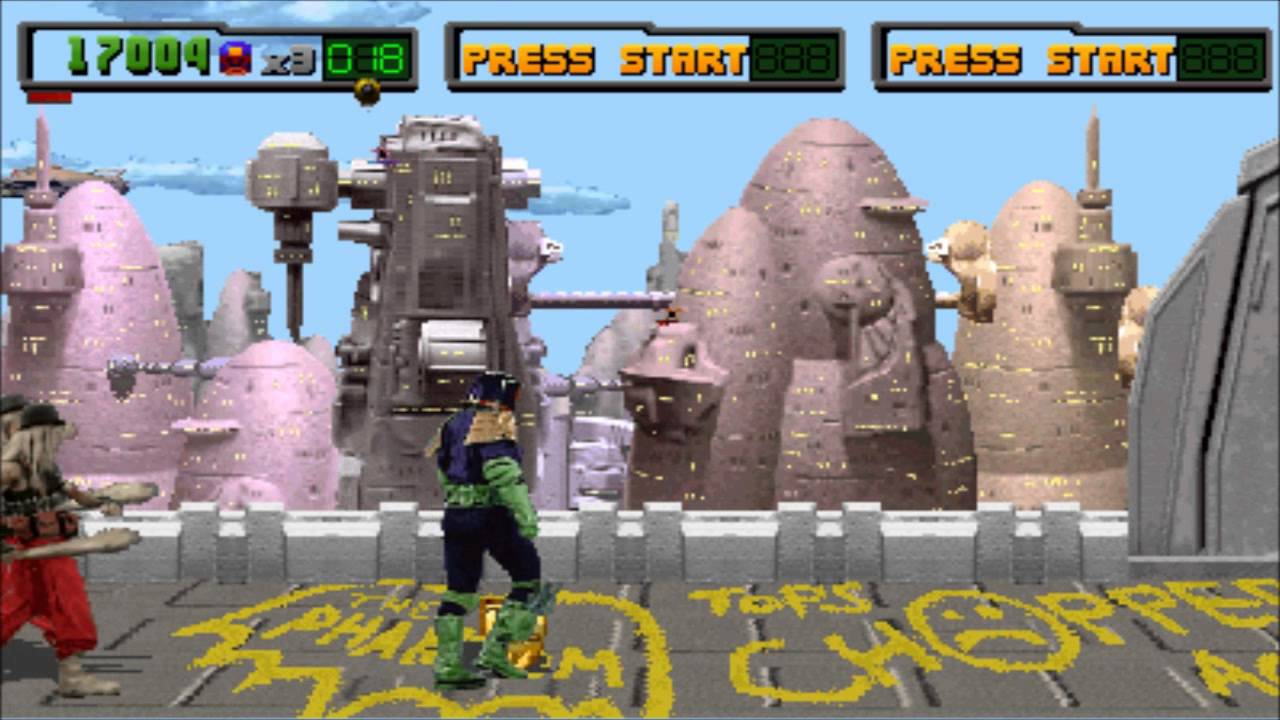 Judge Dredd was greatly inspired by Konami's Turtles game in particular; indeed, Judge Dredd co-programmer Jake Simpson recalls that Midway had a Turtles arcade cabinet in the office at the time his game was being put together. Midway acquired the rights to the Judge Dredd name earlier in the 1990s when it was announced that it was soon to become a Hollywood film; with the law enforcer surely about to enjoy an explosion of interest, it seemed like a good time to start planning a game based on his bloody exploits.
What resulted, then, was a fairly typical-sounding beat-em-up, albeit with Midway's digitised twist. It saw Dredd battle across Mega City One, largely using his fists and feet to maintain law and order. Foes included rank-and-file thugs carrying bats or throwing trash cans, giant sewer rats, and a tall, topless man wearing a bowler hat. 
What was impressive about Judge Dredd was the quality of its background graphics – for the first time in a game, Mega City One actually looked like a proper futuristic city – tall, exotic buildings loomed in the background, flying vehicles raced overhead, and humorous advertisements and notices provided a clear nod back to the comic – one sign even references the recurring character, Otto Sump. 
Midway's Judge Dredd game was finished to the point where a sum total of four prototype cabinets were produced and sent out for testing in Chicago, according to this interview with Gaming Hell. Unfortunately, it seems that the audience response to Judge Dredd wasn't positive; a test report (also published at Gaming Hell) suggests that scrolling fighting games were falling out of favour at a time when one-on-one, competitive brawlers like Street Fighter II and Mortal Kombat were all the rage – suddenly, three-player co-op games like Judge Dredd just weren't fashionable anymore.
Another complaint was Dredd's tendency to punch and kick all the time. Shouldn't he be using his gun a bit more often? These and other faults flagged by testers could have possibly been fixed, but the decision was ultimately made to scrap Judge Dredd entirely. Attempts were made in 1994 to revive the project, with a further internal document from Midway arguing that the 18 months worth of work already put into the game could still be salvaged.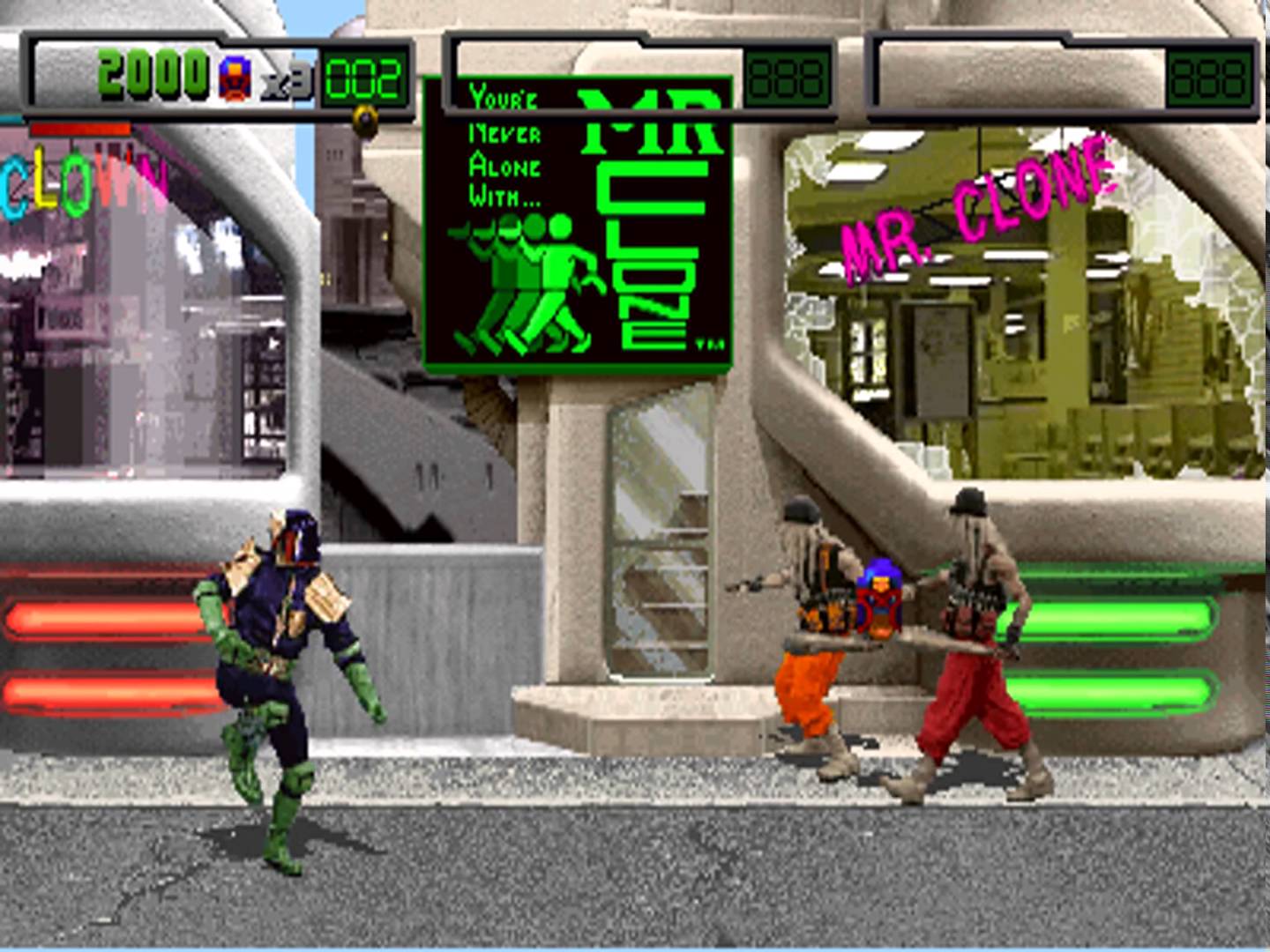 For some reason, this never happened; neither did another, even later suggestion to rework the game's assets and turn it into a rail shooter akin to Midway's earlier licensed hit, Terminator 2.
"In retrospect we should have finished this," programmer Jake Simpson admits. "Midway paid for the license and we should have completed it. We probably could have in a month. I remember the meeting where we all sat there and looked at each other and just shrugged and said 'What were we thinking?'. We were young and stupid. Enough said."
The Judge Dredd game was never officially released, but there's at least a sliver of good news to emerge from the story: its code was dumped on the web a few years ago, and can now be played via MAME.
Simpson describes his team's work on Judge Dredd as "a labor of love." At least this way we get to see the hard work that went into the Dredd game that never was.