Features
The Game Awards 2021 Announcement and Reveal Predictions
Which major upcoming games will be revealed and featured during The Game Awards 2021?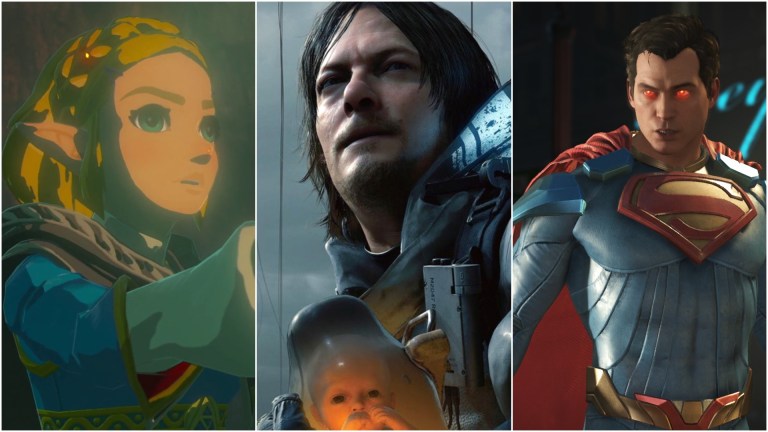 Despite the show's name, recent years have proven that The Game Awards is as much (if not more of) a platform for studios to make major announcements as it is a chance to celebrate the best games and creators of the year.
While the Game Awards team has been hyping up a series of major reveals that have fans buzzing, nobody is entirely sure what we can realistically expect from this year's show. The Game Awards crew has done a great job of keeping that ship from leaking too much, and even the most "solid" rumors about the event come with a disclaimer that reminds us that absolutely anything could happen.
With that in mind, here are a few Game Awards announcement/reveal predictions that feel like fairly safe bets (as well as a couple of big swing predictions thrown in there just for fun).
Chrono Cross Remaster/Remake Reveal
We previously talked about the rumored Chrono Cross remake/remaster that Square Enix is supposedly working on, but a new set of rumors surrounding that project suggest that it could make its debut during The Game Awards.
There does seem to be quite a bit of smoke around this fire. My gut says that it might be a little too early for Square Enix to fully showcase this game, but I wouldn't put it past them to show a brief teaser for the project and at least tell us which platforms it will eventually be available for.
Senua's Saga: Hellblade II Gameplay Trailer
It's been a shockingly long time since we've received any updates about Hellblade II, but a strong series of recent rumors indicate that Ninja Theory's sequel could be prominently featured during The Game Awards 2021.
I tend to think that a lot of major developers are going to refrain from revealing too many games during this year's Game Awards (due to the fact that next year will be more "traditional" in terms of major events), but this does feel like the kind of game that the Xbox team might "lend" to the event. 
Hideo Kojima's Next Project
While it's true that we're not that far removed from Death Stranding (relatively speaking), there's definitely a lot of buzz around the possibility that Hideo Kojima will at least tease his next project during The Game Awards.
Of all the "big swing" predictions surrounding this year's show, this one feels the most realistic. Not only are Kojima and Game Awards host/organizer Geoff Keighley pretty close, but I can't imagine that Kojima is waiting for some other major show to reveal his next game. 
Sonic Frontiers Gameplay Trailer
This one is honestly a bit of a cheat as pretty much everyone involved with Sonic Frontiers and The Game Awards has been subtly hinting that the game will be at the show in some capacity. It's closer to a guarantee at this point.
My guess is that we'll see quite a bit of Sonic Frontiers at The Game Awards. Sega seems to be all-in on this particular Sonic game, and that feels like a better place to present it than something like E3 (where too many other major announcements would probably drown it out).
Resident Evil 4 Remake Reveal
While the recently released VR version of Resident Evil 4 felt like the closest we would get to a "proper" Resident Evil 4 remake, it sounds like Capcom still intends to fully remake that beloved game.
There's still some debate about whether or not that rumored remake will make significant changes to the original's gameplay, but it certainly seems like Capcom is getting close to the point where they're ready to reveal this project that we all just kind of assume exists at this point.
The Legend of Zelda: Breath of the Wild 2 Title Reveal
Some fans are guessing that Nintendo will reveal some Breath of the Wild 2 gameplay footage during The Game Awards, but I highly doubt that they would choose to showcase one of their biggest upcoming games during anything but one of their own broadcasts.
However, there's a pretty good chance that they will at least reveal the sequel's actual name during the upcoming show. Unless that name ends up spoiling something significant about the game's plot (which some theories suggest is a strong possibility), that feels like a pretty good middle-ground announcement Nintendo could make that helps keep the game in the conversation until their next Direct broadcast.
Dragon Age/Mass Effect Trailer
It's pretty difficult to tell what's going on at BioWare these days, but given that the studio has used previous Game Awards events to showcase their upcoming Mass Effect and Dragon Age projects, it makes sense that they would choose to do something similar at this year's show.
Dragon Age would probably be the safer of those two bets, but there is a chance that Mass Effect is further along in development or at least in a position where BioWare feels like it's the better game for them to show at this time.
Injustice 3 Teaser Trailer
While there's some debate about what NetherRealm Studios is actually working on at the moment, my gut says that the studio will stick to the current rotation and try to release Injustice 3 before finishing Mortal Kombat 12.
WB just doesn't have a strong enough presence at other major gaming shows for them to possibly justify sitting on this project and wait to reveal it until sometime next year (if it is indeed ready to be shown as recent rumors suggest it is).