News
PS5 DualSense: Where to Buy the Black and Red Controllers
If you're lucky enough to own a PS5, here's how you can buy these impressive new red and black DualSense controllers.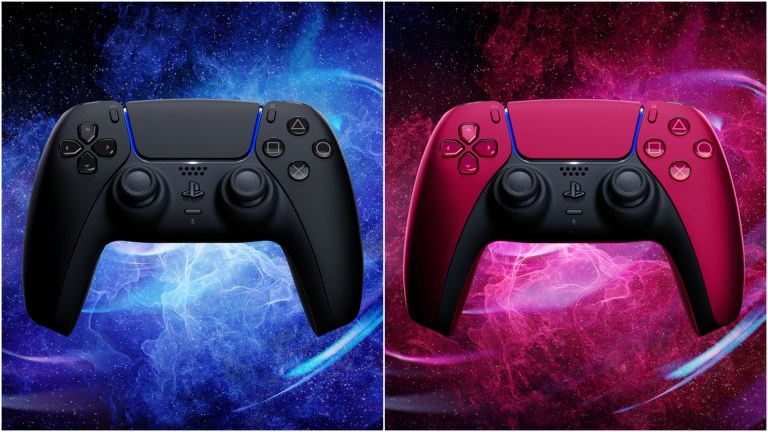 Despite all that talk about white and black being the official PS5 colors, Sony has revealed that they will start selling special red and black PS5 controllers.
"Today, we're thrilled to introduce two new colors that will be joining the DualSense controller lineup starting next month: Midnight Black and Cosmic Red," reads a post on the PlayStation blog. "Midnight Black features two subtly different shades of black with light grey detailing to reflect how we view space through the night sky, and Cosmic Red offers a striking black and red design inspired by the unique vivid shades of red found throughout the cosmos."
While the black controller is a natural choice for those who hoped the PS5 controller would match the "base" color of the PS2, PS3, and PS4 controllers, the red option is obviously quite striking and, as the PlayStation team says, both are "designed the colors around the theme of 'galaxy' as it felt like a natural progression from the original PS5 and accessories designs."
So when will you be able to get these controllers? Well, if recent years have taught us anything, it's likely that you might have to battle an army of scalpers before you have the chance to grab one, but here's what we know about where to buy the first official alternate PS5 controllers:
When is the Release Date for the Midnight Black and Cosmic Red PS5 DualSense Controllers?
So, the bad news is that the PlayStation team hasn't revealed the exact global release date for these new PS5 controllers. Instead, they've noted that "this new lineup of colors will be available at participating retailers globally starting next month" and that "the exact date will vary by location, so check your local retailers for availability."
The PlayStation website lists the release date for these controllers as June 11, but again, it doesn't sound like that's necessarily a global release date. While many retailers in most regions will likely have them available around that time, you may have to check in with your preferred source closer to that date in order to see when you'll be able to buy them.
Where Can You Buy the Midnight Black and Cosmic Red PS5 DualSense Controllers?
You can pre-order these controllers from the PlayStation website starting right now. If you choose to do so, they should ship to your location on June 11, but you'll probably want to contact the PlayStation Direct team (or pre-order the controllers and keep an eye on any shipment updates) to make sure they'll actually get to you around that time.
The wording of the PlayStation Blog post suggests that these controllers will be available through major retailers like Amazon, Best Buy, and GameStop, but none of those retailers have updated their websites with listings for these new controllers as of the time of this writing, so it seems like your best bet for getting one as soon as possible is to pre-order it through the PlayStation website.
How Much Do the Midnight Black and Cosmic Red PS5 DualSense Controllers Cost?
Here are the currently listed prices for every official PS5 controller as they appear on the PlayStation Direct store:
White/Black PS5 DualSense Controller: $69.99
Midnight Black PS5 DualSense Controller: $69.99
Cosmic Red PS5 DualSense Controller: $74.99
You might be able to find slightly different prices via other retailers (I've already seen some stores sell the White/Black model for $59.99), but it sounds like the Cosmic Red model will be the most expensive across the board.