News
Mortal Kombat 11 Klassic Skin Pack Proves the Movie Still Rules
Christopher Lambert, Bridgette Wilson, and Linden Ashby reprise their roles from 1995's Mortal Kombat movie in the latest round of Mortal Kombat 11 DLC.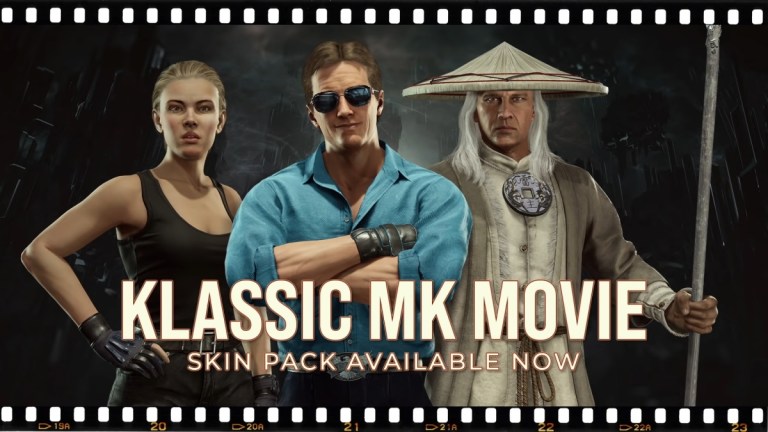 One of Mortal Kombat 11's initial creative blunders ended up being one of its greater strengths in the long run. As a bit of stunt casting, NetherRealm decided to replace Mortal Kombat X's Tricia Helfer with MMA and WWE star Ronda Rousey as the voice of series mainstay Sonya Blade. Considering the excess of dialogue in the game's story mode and countless pre-fight exchanges, Rousey's questionable delivery turned a lot of people off on the character. It's no wonder the studio didn't bother giving Sonya any lines when Mortal Kombat 11: Aftermath added a second story mode campaign.
Belgian DJ Dimitri Vegas also became a Sub-Zero skin and also recorded voice lines for the classic fighter for some reason. As you'd expect, Vegas' delivery is bad but also hilarious in a "Why does this even exist?" kind of way.
That's not to say that all celebrity voice acting is bad in this game. In a truly inspired move, NetherRealm brought in Cary-Hiroyuki Tagawa to play Shang Tsung as both the host of the game's Krypt and as the first DLC character. Tagawa's portrayal of Shang Tsung in the 1995 Mortal Kombat movie has made him the most iconic take on the character, so it's an absolute treat to see the game model the character after his cinematic depiction, down to recreating his infamous "Your soul is mine!" close-up as his victory animation. The Aftermath story mode is written entirely around Tagawa, who chews up the digital scenery as the villain. God bless NetherRealm Studios for it.
Soon after, the guest characters arrived. Arnold Schwarzenegger didn't have time to voice the Terminator, but he did have his face scanned and he hand-picked an impersonator. Peter Weller reprised his role as RoboCop, Keith David brought his trademark throat gravel back to Spawn, and Sylvester Stallone got to be John Rambo one more time. And if you do a Rambo vs. Rambo match, one of the two hints that he's actually Rocky Balboa, so there's that!
Now we have the Mortal Kombat 11 Klassic MK Movie Skin Pack. Wow, that's a mouthful. Adding to the Shang Tsung fun, you can now play as Sonya Blade, Raiden, and Johnny Cage as portrayed by their 1995 actors!
Up first is "Island Bound" Sonya Blade as portrayed by Bridgette Wilson. 1995 was a good year for Wilson, who was also Adam Sandler's third grade teacher and love interest in Billy Madison. While her action sequences in the movie weren't top tier, her constantly annoyed look made her a staple of the Mortal Kombat movie. She didn't know what the hell was going on, but man, she did NOT have time for any of that shit.
Next is "Earthrealm" Raiden played by Christopher Lambert. Raiden didn't do any real fighting in the first movie, but he was there to deliver lots of exposition, advice, and pure snark in his French accent — there was something truly wonderful about the way he pronounced "adversaries." With the video game version of Raiden being seen as damaged goods due to how much of a bumbling doofus he's been in the last few installments, we could use Lambert to liven him up a bit. Fun fact: Lambert even starred in a French commercial for Mortal Kombat 11, where he effortlessly defeated another player by using Raiden.
Finally, there's "Hollywood Kombatant" Johnny Cage with none other than Linden Ashby. The most quotable character in a movie full of quotable characters, Ashby's Cage is a dopey egomaniac with a hero within. Naturally, the sequel told you how bad it was going to be from the very beginning by recasting and then immediately killing Johnny for the sake of making Sonya feel bad for a scene or two. As much as I love Andrew Bowen's portrayal of Johnny in the last few games, Ashby walked so Bowen could run. Or Ashby split so Bowen could punch?
The three movie skins are available right now.
Where is the rest of the Mortal Kombat movie cast? Why aren't they in Mortal Kombat 11 yet? Well, as cool as Sub-Zero and Scorpion looked, they were silent henchmen and don't have enough personality between them to really get the nostalgia treatment. Goro's a moot point as his only appearance in Mortal Kombat 11 is his mummified corpse in the background of one of the stages, though Kevin Michael Richardson did recently reprise the role for Mortal Kombat Legends: Scorpion's Revenge.
Robin Shou as Liu Kang and Talisa Soto as Kitana are possibilities, especially since they're the only ones who came back for Mortal Kombat Annihilation, but I don't think anyone would be all that excited about their skin pack.
Finally, there's Trevor Goddard as Kano. Sadly, Goddard left us back in 2003. Goddard became so iconic as Kano that the games decided to give the character an Australian accent to tie into the movie version.
Who knows? Maybe one of these days they'll put Art Lean in one of these games. You remember Art Lean, right? Guy who compliments Johnny early in the movie? Is sort of a friend to the heroes? Gets killed by Goro?
Well, he was there!