News
Marvel's Avengers Beta Gameplay Footage Revealed
Check out almost five minutes of footage from the Marvel's Avengers beta, including a brand new mission that we've not even played yet!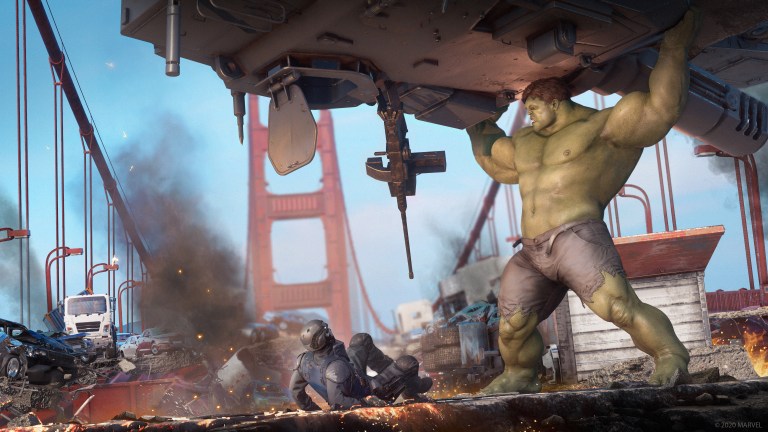 Marvel fans will soon be able to get their hands on Marvel's Avengers, a new action-adventure game starring Earth Mightiest Heroes from Tomb Raider developer Crystal Dynamics. Before its release in September, the studio is launching a beta where players will be able to try out many of the characters and activities in the game. Included in the beta build are several main story missions, including the A-Day sequence long-teased by publisher Square Enix, as well as a few War Zone, Drop Zone, and Iconic Missions. There are even a few boss fights to complete!
The beta includes four of the six playable Avengers in the full game: Hulk, Black Widow, Ms. Marvel, and Iron Man. Each character has their own distinct powers and abilities as well as a few customization options. Fans interested in checking out some of the alternate skins in the game will get a sneak peek at some really cool ones in the beta. The Joe Fixit skin for the Hulk is a particular favorite of ours.
Last week, Den of Geek got early access to the beta on the PS4 and we tried out everything it had to offer. We came away very impressed with the world-building and combat system but the environments, level design, and enemies were a very mixed bag. Black Widow and Kamala Khan rule, though! You can check out full hands-on impressions here.
Ahead of this weekend's PS4 beta, we have some gameplay footage from the beta (courtesy of Crystal Dynamics) that gives you a taste of all the things there are to do in the game as well as some of the combat. You'll also get a look at one section of the beta that we've not even played yet, a mission set in the "Eastern Seaboard" part of the game's War Table.
Watch the beta footage below:
Marvel's Avengers is out on Sept. 4 for PlayStation 4, Xbox One, PC, and Google Stadia. It's coming to PlayStation 5 and Xbox Series X later this year.
If you're interested in participating in the beta, here is the schedule of when you can do so:
August 7-9 – PS4 pre-order customers can join the closed beta
August 14-16 – All PS4 owners can join the open beta, and PC and Xbox One pre-order customers can play the closed beta
August 21-23 – Open beta across all platforms
Stay tuned for more of our Marvel's Avengers beta coverage, including an interview with the team at Crystal Dynamics!