News
Immortals Fenyx Rising: Release Date and Trailer
Immortals Fenyx Rising could be the Zelda-like game we need while we wait for Breath of the Wild 2.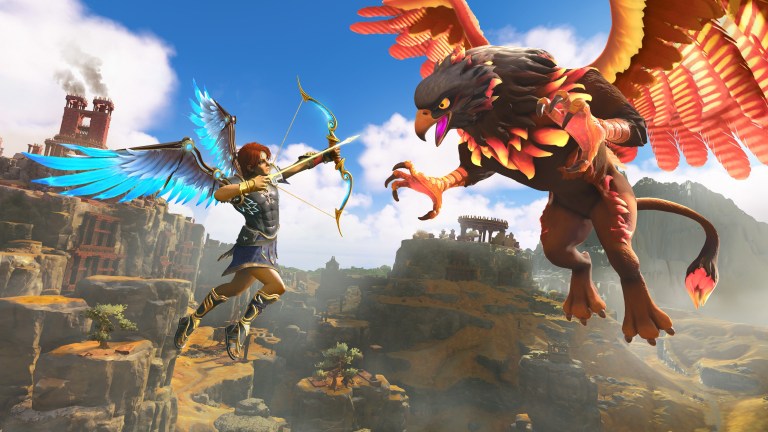 During a recent digital event, Ubisoft showcased Immortals Fenyx Rising (the game previously known as Gods and Monsters).
The name may be different, but Immortals Fenyx Rising doesn't appear to have changed in many other major ways since we saw the Gods and Monsters trailer in 2019 (at least on the surface). Both featured colorful environments, an emphasis on mythological monsters, and more than a few reasons to suggest that Ubisoft was trying to make their own Breath of the Wild with a little Assassin's Creed tossed in.
Based on the footage and impressions that we've seen thus far, it does seem that those comparisons are valid. Actually, we can't emphasize enough just how closely this game resembles Breath of the Wild. From grander concepts (such as the colorful art style and large, open environments) to very specific callbacks to Nintendo's hit (most notably, Vaults spread throughout the map that contain complex puzzles you'll need to use physics to solve), Immortals Fenyx Rising is enough to make Breath of the Wild blush. The game even includes a cooking system.
The title's Assassin's Creed elements are largely found in its combat mechanics and upgrades. In fact, anyone who played Assassin's Creed Odyssey will probably feel right at home with this title's basic action and upgrade systems. That's hardly a surprise considering the creative talent and technical DNA that Immortals shares with Odyssey, but again, the similarities are noteworthy.
That's not to say that Immortals is simply a reskinned blend of those two titles. For instance, it features a fairly basic create-a-character option that lets you decide the basic design of the game's protagonist (you'll also have the option of changing their looks as you progress).
The game's defining feature, though, has to be its Greek mythology design elements and character concepts. Yes, we saw some of that in Odyssey but that game didn't lean nearly as heavily into the mystical and magical as this game will. If you ever find yourself watching Clash of the Titans and just want to jump into a similar world for a few hours, then you might like what you see in this trailer:
We're not sure if Immortals will find the room to carve its own legacy in a world where millions have played and loved Breath of the Wild, but it could offer a Zelda-like distraction as we wait for Breath of the Wild 2. It should also be noted that the title is being developed by Ubisoft Quebec, which recently became a notable name in the Ubisoft scandals after it was alleged that members of the studio's management were encouraging an atmosphere of harassment.
Immortals Fenyx Rising is scheduled to be released on December 3 for Xbox Series X/S, Xbox One, PlayStation 5, PlayStation 4, Nintendo Switch, Epic Games Store, Uplay, and Stadia.