Sponsored
How Naraka: Bladepoint Reimagines Battle Royale
Ahead of Naraka: Bladepoint's next major update, we speak to developer 24 Entertainment about the unique battle royale's past, present, and future.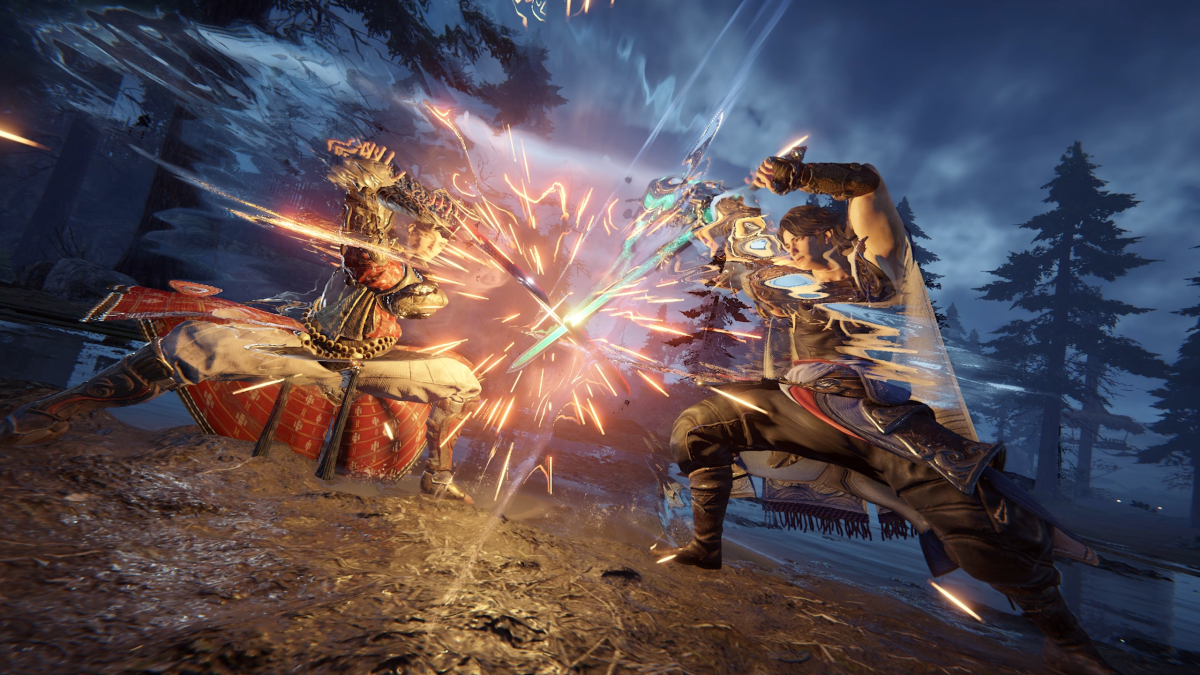 This article is brought to you by NetEase.
Amid a hyper-saturated battle royale landscape, Naraka: Bladepoint stands apart with its frenetic, close-quarters melee combat and stunning visuals inspired by ancient Chinese mythology. The game has amassed an avid following since it launched globally on Xbox and PC back in 2021, and its community is primed to explode in popularity following the recent announcement by developer 24 Entertainment that the game will launch on PlayStation 5 and go free-to-play on all platforms starting on July 13th.
Naraka: Bladepoint supports cross-platform play, and with a major influx of new players joining the fray thanks to the new free-to-play model and the debut of the PS5 version, now is the perfect time to hop into the game if you haven't tried it yet.
"PS5 players will receive special items as a welcome gift, including the Ryuzan Frost Reflection Katana skin and two Immortal Treasure boxes," Ray Guan, Lead Producer at 24 Entertainment, tells Den of Geek. "And for a limited time, PS Plus members get extra items including an exclusive Headgear, various Treasure Scrolls and experience boosters, trial periods of new skins for the female heroes, more Immortal Treasure boxes, and much more."
What makes Naraka: Bladepoint so engaging is how distance and proximity affect combat, which is melee based but incorporates grappling and ranged attacks for balance. In developing the game, the team at 24 Entertainment found the battle royale format to be the perfect setting for their combat systems. "No matter where you hide, you MUST face others as the environment circle shrinks," Guan says. "And with the ability to grapple, you suddenly have all the agility to chase an enemy or retreat. The system we have allows all sorts of play styles and feels very freeing."
Becoming proficient at the game requires a measure of finesse and tactical thinking. There's a rock-paper-scissors counter mechanic as a foundation, but truly, success is only achievable through precise timing and a lot of practice. Thankfully, the game is beginner-friendly and offers tutorials that new players should absolutely take advantage of to get a hang of the fundamentals of the game, like the fluid, gravity-defying traversal and the host of different heroes and weapons that each have their own feel.
Though the game can seem intimidating to dive into head-first for new players, Guan has a couple of tips to help beginners up their game early.
"Rule number one: don't panic and learn how to counter," he advises. "It's not that hard to perform a nice counter. A normal attack streak will always follow with a charged attack, and that's your time to be ready with a counter. And don't forget to try the one-click Counter function."
Players can join matches either solo or in trios, and Guan recommends for those opting for the latter to be mindful of which heroes your team chooses. "Some combinations of heroes can make for better teams. For instance, Viper and Valda can do a perfect ult-combo."
While the game is switching to free-to-play, players will still have full access to all of the game's content, including game modes, heroes, weapons, and cosmetics. New players will be able to choose from beginner-friendly heroes Tianhai, Viper, Matari, and Zipin Yin to start and can unlock the rest of the heroes via progression. There are distinctions between free and paid players: Free-to-play players will need to reach level 50 to access ranked play and level 20 to access lobby chat, while owners of one of the game's paid versions can play Ranked at level 20 and chat at level 5, for instance. But again, all players will have access to all of the game's content.
24 Entertainment is celebrating the game's two-year anniversary by offering players a ton of new events and rewards, which is in line with how they have been supporting the community both in public and behind the scenes since the game's beta days. "We've spent a lot of time going through players' feedback on Discord and Reddit, and watching NARAKA content on Twitch and YouTube," Guan says. "Each time we release new content, features, and other game updates, we secretly dive into our community and see how players feel."
Every three months, the game enters a new season and is supported with fresh content like new heroes, weapons, and modes. A recent update saw the debut of the faction-based Spirit Well Mode, which sees teams vie for control over Spirit Wells to accumulate points. "MMO players might feel familiar with this new mode, but of course, we had to bring it to our game in full NARAKA style!" Guan says. "Spirit Well is very newcomer-friendly and it allows the action to stay at a high level. It's our first real effort into team-vs-team gameplay, so if we see positive feedback from the community, we will consider creating more team modes."
A forthcoming addition to the hero roster is Tessa, a mischievous warrior from the Herald's Psylith who belongs to the Tushan faction, a people who have the ability to communicate with Nine-Tailed Foxes. She'll be debuting on August 9th, and Guan and the team are thrilled to finally unleash her on the battlefield.
"We made considerable effort to make Tessa a visually stunning character," Guan says. "We know fans have been looking for more details ever since we teased her previously and we know they will not be disappointed!"
From new brand partnerships to crossover content, 24 Entertainment looks to continue to build interest and expand Naraka: Bladepoint's audience. The tandem launch of free-to-play and PS5 support is the game's biggest milestone since its initial release, and the future looks bright for the most original battle royale on the market.
"We are excited to see players challenge one another across different systems!" Guan beams. "The game really delivers something for all fans."
For our full interview with the Naraka: Bladepoint team, be sure to check out the video below: