Features
Fortnite: How to Unlock Darth Maul
You don't have to become the apprentice of Darth Sidious to acquire this skin, but you will have to undergo some trials worthy of a Sith.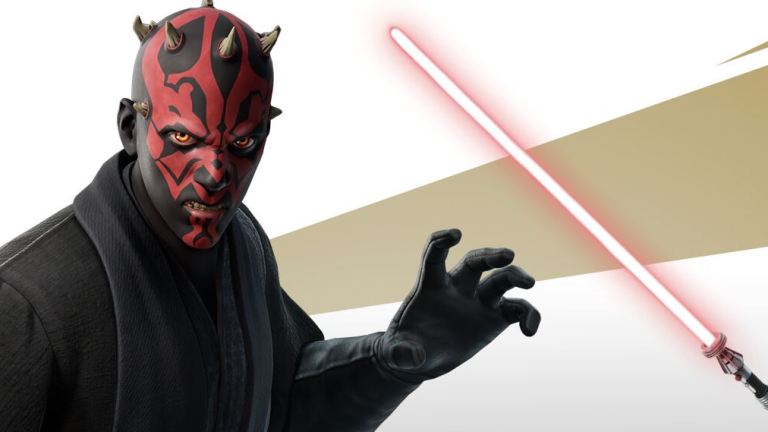 May the fourth…er, Force…be with you. Star Wars is coming back to Fortnite, and this time the clones are attacking. You can unlock plenty of cosmetics during this event, all pulled from Star Wars: The Clone Wars. Admittedly, most of the available character skins consist of different flavors of Clone Trooper, but the costume everyone's going to want is the most famous Sith to grace Star Wars since Darth Vader: Darth Maul. And we're going to tell you how.
To start your path down the Dark Side of the Force, you need to Find the Force. We mean this literally, as the majority of this Fortnite event's cosmetics, including Darth Maul, are locked behind Find the Force quests. Each quest provides a small reward of Galactic Reputation; the more you earn, the more you work your way up through the Force, and the more cosmetics you acquire. If you want to play as Darth Maul, not only do you need to max out your Galactic Reputation, which caps at 11,000, but also fork over 1,000 V-Bucks (around $8) to unlock the Find the Force premium track. But when you do, you get a free Coruscant Guard skin as a bonus. Plus, the premium track offers its own set of rewards along the way.
You can keep track of your Find the Force quest progress by clicking on the "View Quests" button in the Find the Force tab. Here are all of the quests that are currently available:
Land during Find the Force (5) – 200 Galactic Reputation
Learn Force abilities at Rift Gates in different matches (3) – 200 Galactic Reputation
Search a Republic chest – 200 Galactic Reputation
Hire a character – 200 Galactic Reputation
Damage an enemy player that is wielding a lightsaber or DC-15 Blaster – 200 Galactic Reputation
Destroy objects with Force abilities or a Star Wars weapon (50) – 200 Galactic Reputation
Collect ammo at named locations (250) – 200 Galactic Reputation
Launch Kinetic Ore with a Star Wars weapon (2) – 200 Galactic Reputation
Travel 500 distance on foot at night – 200 Galactic Reputation
Travel 1,138 distance in vehicles – 200 Galactic Reputation
Travel 1,000 distance while sprinting – 250 Galactic Reputation
Travel 327 distance while sliding – 250 Galactic Reputation
Survive Storm Phases (25) – 250 Galactic Reputation
As you can probably tell by this list, even if you finish all these quests, you won't have enough Galactic Reputation to acquire Darth Maul. While that is true, Fortnite is releasing two new mission collections on May 7 and May 12. Moreover, If you finish 12 quests in one set, you earn a Sith Holocron. Collect all three, and you can descend onto the battlefield on a glider patterned after Darth Maul's ship, the Sith Infiltrator. What better way to strike fear into the hearts of your enemies?
If you stick to it and show your missions no mercy, you should be running around as Darth Maul before the event is finished. Have fun and may the Force be with you.