News
Diablo Immortal Release Time: When Can You Install and Play the Game?
After a long wait and more than a few debates, Diablo Immortal is finally here. Here's a breakdown of when you'll be able to install and play the game.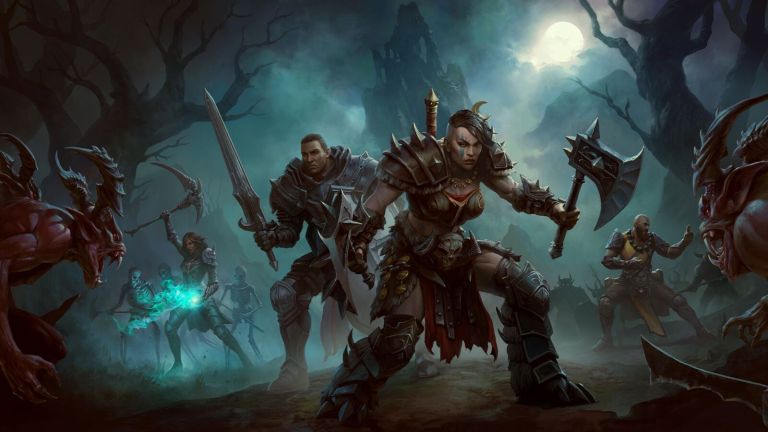 Activision Blizzard is currently under investigation following accusations of harassment, discrimination, and fostering a hostile work environment. You can read more about the investigation here.
After years of hype, several changes, and more than a few debates, Diablo Immortal is finally set to launch this week. As is sometimes the case with modern video game releases, though, figuring out what time you'll actually be able to install and play the game can be a nightmare worthy of the Diablo franchise.
Let's start with the basics. Diablo Immortal is a free-to-play game that will soon be available for Windows PCs as well as iOS and Android devices (please see here for exact system specifications). Many PC and mobile gamers will be able to install and play Diablo Immortal starting on June 2. Because of global time zone differences, though, some users will not actually be able to start playing the game until June 3. Here are the specific global launch times the Diablo Immortal team has set for the game's official launch on June 2/3:
10 a.m. PST
11 a.m. MT
12 p.m. CT
1 p.m EST
6 p.m BST
7 p.m CEST
2 a.m KST (June 3)
3 a.m. AEST (June 3)
If it helps, here's a map that showcases some of the game's release time zones: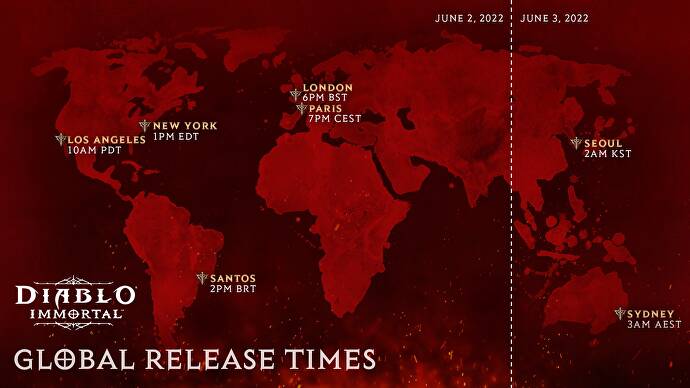 If you're interested in installing Diablo Immortal on your PC, you're actually able to do so right now via Blizzard's Battle.net launcher ahead of the game's official launch. If you're interested in installing the game on your iOS or Android device, though, you will need to wait until the game is officially launched in your region. Fortunately, Diablo Immortal does support cross-play and cross-progression between PC and mobile, so playing on one platform first doesn't mean having to start over when you start playing the game on another.
Interestingly, it also seems that Diablo Immortal may have launched a bit early on some mobile devices. Mobile users from various regions have reported that they're not only currently able to install the game on their devices but are actually able to start playing the full experience. Officially, the game's representatives informed us that "Diablo Immortal will begin early rollout on iOS and Android. You may begin to see the mobile version propagate at this time and some regions may begin receiving access to the full game." While that seems to suggest that mobile users in some regions will need to wait to receive access to the full game, I've already seen users from North America and South Korea report that they're currently able to install and play the mobile version of Diablo Immortal. At this time, it's not clear which regions do and do not currently have access to that version of the game.
As always, please keep in mind that video game launches are notoriously difficult to get right. While Diablo Immortal's early mobile rollout may help server congestion a bit, you should expect the usual array of technical issues and log-in problems. There's a very good chance that you won't be able to start playing the online game as soon as it is launched. However, it's generally best to at least try to log in as soon as possible in order to see what the server situation looks like.
So should you play in Diablo Immortal in the first place? As always, the answer depends on your personal preferences and (in this instance) your current feelings towards Activision Blizzard as a company. For those who detest the very idea of a mobile Diablo game, though, I will say that my early time with the game strongly suggests that Immortal is significantly more substantial than the mobile cash-in some feared it would be. Time will tell if Diablo Immortal lives up to its potential and avoids the allure of excessive microtransactions, but there is certainly something to the game. At the very least, it's certainly worth giving the free-to-play game a shot and seeing if its best features help make up for the bad reputation many still associate with the game's name.